Why 'Psycho' And Its Slashing String Score Still Thrills
Play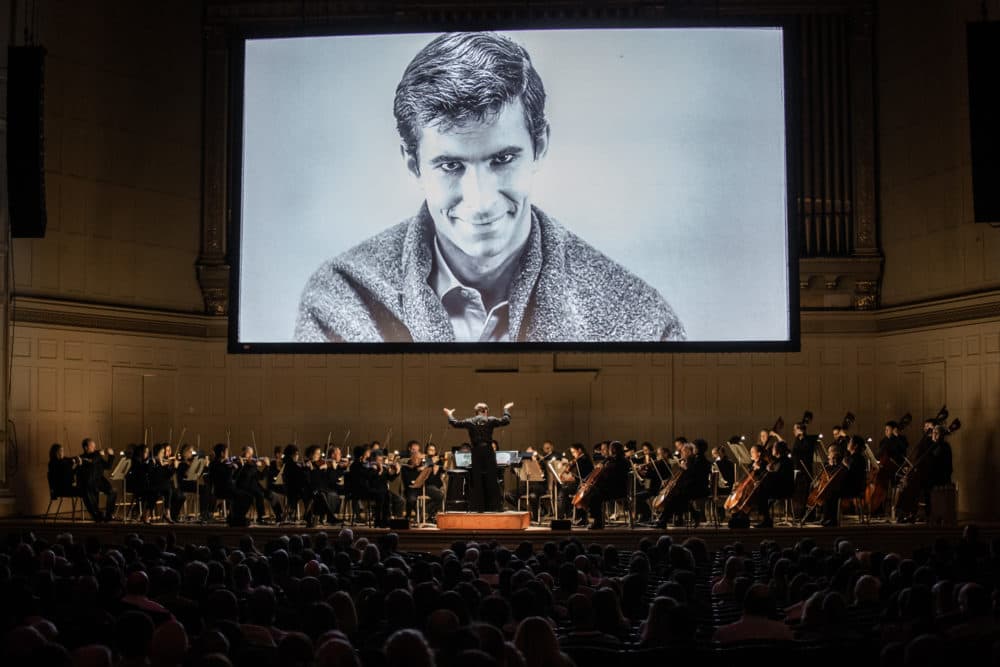 This article is more than 4 years old.
Even if you haven't seen it, there's a good chance you'd still recognize the iconic, slashing music from Alfred Hitchcock's classic, creepy movie "Psycho." Composer Bernard Herrmann conjured the score for the 1960 horror film. This year for Halloween, members of the Boston Pops are performing it live as the Bates Motel looms overhead on the big screen.
Days before the live performance at Symphony Hall, conductor Keith Lockhart joked that he's been re-watching the movie more times than might be healthy to get ready. He hadn't seen it in decades — probably since high school — and said re-visiting "Psycho" now is revealing surprises, like "how subtle Alfred Hitchcock was, and how actual little gore there is in that movie. So much of the violence is done by suggestion" — and through the music.
In the film, a young woman named Marion runs away from her past with a stolen stash of cash. She checks into a hotel on a desolate road — and never checks out, after encountering a lonely, disturbed innkeeper named Norman. Hitchcock heightened the tale's suspense with severe camera angles, clever editing and Herrmann's now iconic music.
"Bernard Herrmann was a masterful composer," Lockhart explained. "He was one of those people of the great post-World War II era who really defined what the Hollywood musical score would become."
Herrmann worked with Hitchcock on other films including "North by Northwest" and "Vertigo," but "Psycho" is singular. Hitchcock shot the movie in striking black-and-white; Lockhart said Herrmann set out to match it with a black-and-white score. To do that the composer used only stringed instruments — not a full orchestra.
"Especially non-musicians, they'll be amazed at the number of sounds made in that score that are made by string instruments," Lockhart predicted. "It adds a certain monochromatic texture to it I think was absolutely deliberate."
At rehearsal Lockhart and 50 string players worked through sections of the score while the movie played above them. The combination was potent. Anticipation grew as the infamous shower scene approached.
Turns out the stabbing strings were not Hitchcock's idea. Lockhart said, as the director was making the movie, he didn't think Marion's brutal murder needed music.
"He just wanted the sound of the knife thrusts, her screams, the water in the background, her grabbing the shower curtain," Lockhart said. "Herrmann disagreed — but you couldn't say, 'No,' to Alfred Hitchcock — so they got all the way to showing the rush prints of the film and Hitchcock was very unhappy with the way that scene was playing. Herrmann said, 'Well, I wrote some music for it would you like to hear it with it?' "
The rest is history.
"It was a great call," according to Los Angeles film composer Kathryn Bostic, who was recently an artist-in-residence at Berklee College of Music. "It could have been a complete bust. But his choice of those high strings, you felt it — you felt her agony, and her horror. You felt it from her."
That's one of many reasons why the score to "Psycho" is one of Bostic's favorites.
"It's so visceral, it's so authentic that you never feel like, 'Oh, I've heard this before,' or 'Oh, I know this so well, here's what's going to happen next,' " she said. "You feel it before you hear it."
BSO violist Rebekah Edewards loves "Psycho" too. She deconstructed the shower scene for me on her instrument.
"All you hear is one chord, which is a mix of like a major and a minor, so it's just chaos," she told me before her bow emitted the tell-tale shrieks. "You hear violins, violas — everybody — really high."
The musician said Herrmann attained what he set out to do, "that is, just the simplicity that he wanted to match with the black-and-white of the film."
Edewards points to another technique used to fuel tension: repetition.
"I guess that reminds you of another movie, 'Jaws,' where it's repetitive and you're wondering when is it going to change and like scare me," she said. "So I think stuff like that is just brilliant."
She has performed "Psycho" before with the Minnesota Orchestra and said it was a blast. "I love being entertained by these old movies, and now I get to be actually a part of it, not just watching."
But musician Susan Hagan admitted to being a little freaked out.
"I have actually never seen, 'Psycho,' " she told me, laughing. "I know about the shower scene and I avoided it."
Even so, the double bass player is excited for the live experience — on Halloween no less — and said her section will deliver a deep, foreboding sense of dread.
"We don't have a lot of like you know fast notes," Hagan explained while holding her instrument moments before rehearsal. She played an atmospheric part that was light and floaty, before illustrating col legno (a technique where you hit the strings lightly with the wooden part of the bow for a percussive effect).
"It's going to be the combination of everybody playing together, which is going to be most powerful," Hagan said.

Herrmann's music carries the movie audience along, like a sinister tour guide.
"Especially in a horror film where people want to be scared, they wouldn't be coming to the movie otherwise," Lockhart said, "they need to be directed, something needs to nudge them to open that door."
Even if they might not like what they encounter on the other side.
---
Members of the Boston Pops perform the score of "Psycho" alongside the film on Wednesday, Oct. 31 at 8 p.m. at Symphony Hall.
This segment aired on October 31, 2018.