At Illuminus, This Artist Brings Her Nightmare To Life With Ice Installation
Since she was 10 years old, Teresita Cochran has dreamt of tsunamis darkening the horizon and spilling through her bedroom window. A child of the '80s, news of the earth's ozone depletion brought on Cochran's recurrent dreams of flooding in her family home on Cape Cod. The house, which has belonged to her paternal family since the turn of the century, is in one of the regions likely to be consumed by flooding without action against climate change.
Cochran remembers feeling panic as she learned more about climate change, then termed the greenhouse effect, in school. "I remember writing about it and thinking, 'Well, that's really scary,' but then not knowing what to do because I was 12," Cochran recalls.
Her sculpture "Boston 2070" transforms these fears into a call to action. Cochran's sculpture will be part of ILLUMINUS, a free public art festival that will bring a spectacle of music, lighting installations, visual art and other works to Downtown Crossing. The festival, which is free of charge, is meant to provide an accessible entry point into deeper conversations about Boston's future with audiences that reflect "an accurate image … of what Boston actually is demographically speaking," said executive director Jeff Grantz.
"Boston 2070" features the city's skyline cut from steel and sheathed in a thick block of ice. Mounted on a podium, the icy form is bordered by four industrial strength heat lamps controlled by motion sensors.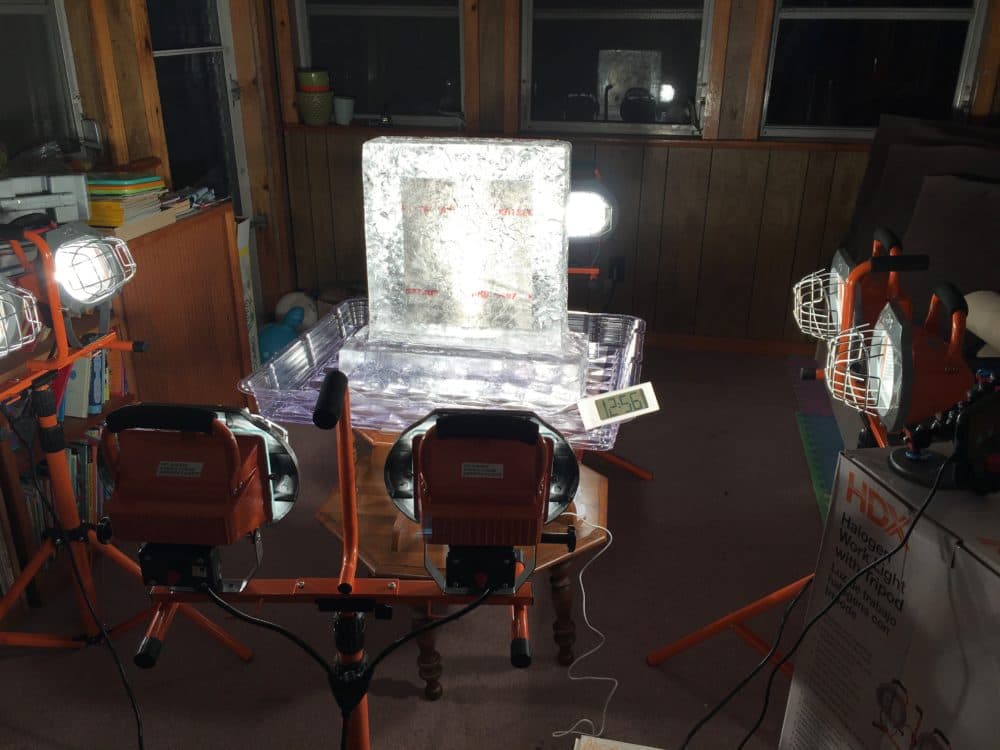 As guests enter the sculpture's radius, the motion sensors activate the lamps such that the heat begins to melt the ice. The more guests the sculpture draws in, the more lamps turn on and the faster the ice liquifies. As the skyline beneath the ice becomes visible, water accumulates in a basin and slowly rises around the cityscape. Eventually, when the ice has completely melted, guests see a familiar Boston in a state of crisis: water surrounds the steel city at the projected sea level in 2070 — six feet above current levels.
During the time Cochran created "Boston 2070," the United Nations' scientific panel released its landmark report warning that without a major restructuring of world economies, climate related crises, such as massive food shortages, wildfires, historic droughts and inundating coastlines could come as soon as 2040.
Boston city officials have been preparing for the future with initiatives such as Climate Ready Boston, which aims to develop resilient solutions to prepare the city for climate change.
Cochran's piece focuses viewers' attention on the deleterious effects of human presence in the environment. As viewers interact with the work and activate the lamps, they witness the impact of their presence as the city's bordering seas rise ominously.
In Cochran's metaphor, individual action is meaningful but not sufficient. Though viewers may be tempted to walk away from the sculpture in an effort to slow the meltdown, they will inevitably be replaced.
From a young age, Cochran's relationship to climate change issues were defined by early experiences that showed her what sustainable human relationships with the earth could look like. She recalls, "My mother is from India, and I grew up going to India and watching people eat on banana leaves. I loved how close to the earth that was, how sustainable it was."
But fear also played a role. Those nightmares of waves crashing through her childhood home have never truly subsided.
Though many artists have responded to impending climate crises, Cochran's experiential approach stands out. Where viewers of artworks are often passive consumers of information, Cochran's participants are essential to the completion of the work. Designed to endure five hours of display, the icy exterior of "Boston 2070" will be noticeably diminished after just two minutes of viewing.
"The goal is to make the viewer be left with something because of their participation in the sculpture melting and the cityscape sinking," Cochran said.
Artists like Cochran are making work on climate change in an era marked by a wealth of data but a lack of mass mobilization. Viewers of "Boston 2070" may find themselves wondering what they or their loved ones will do to survive when the sea level rises six feet. Cochran sees powerlessness and guilt as necessary emotions on the path to action, but the ethos of her work stands decidedly in opposition to fatalism.
Her work seeks to generate relationships between people and images that foster, in her words, "a community of people who are ready to ask, 'What we can do?'"
---
"Boston 2070" can be viewed at the ILLUMINUS Festival on Nov. 2 to 3.