Kindling Light To 'Audacity Of Bigotry': Boston Synagogue Mourns Pittsburgh Victims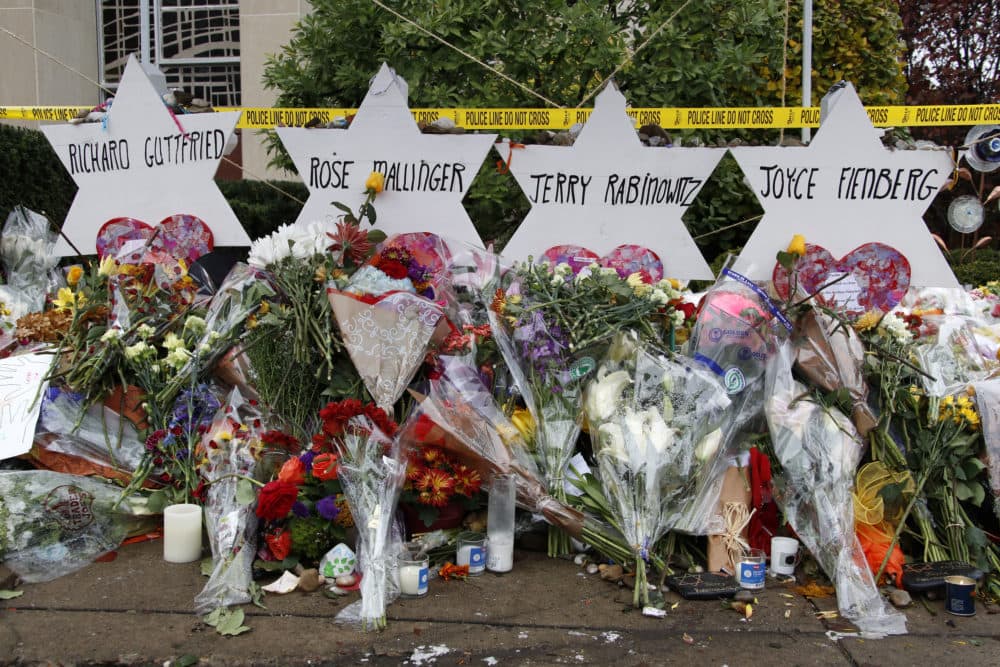 This article is more than 2 years old.
As victims of the Pittsburgh synagogue shooting were buried Friday, a synagogue in Boston held a "Shabbat of comfort" that served as a rallying call to fight hate.
While there were some rituals of a regular Shabbat at Temple Israel — a young girl performing a ritual on the eve of her bat mitzvah and the blessing of a newborn — it was not your everyday sabbath. The service was held in solidarity with many others across the country.
State and Boston police guarded the front and back entrances of the synagogue while security searched the bags of those filing into the standing room only service. An overflow room was set up, with the service live-streamed and projected on to a screen. Politicians — including Gov. Charlie Baker, Mayor Marty Walsh, Sen. Ed Markey and presumptive U.S. Rep-elect Ayanna Pressley — were also in attendance.
Rabbi Elaine Zecher said the gathering was to kindle light — like they do every week — but noted, "we need leaders who assert, unequivocally, that hatred must be squelched."
"Love must be legislated if we are to live in a world in which every person sees the good in the other," she said. "This moment demands an uprising of courageous moral leadership. That is our call."
Markey told an applauding crowd that the community must "heal the world of hate."
"We cannot build a wall of hatred around our nation with no more Muslims or Jews or Mexicans or immigrants," he said. "In America, we believe in the freedom of speech, not the freedom of hate speech. ... We believe in the freedom of religion, but not just one religion. All religions."
Walsh noted vandalism at Joseph P. Tynan Elementary School this week, involving racist graffiti calling for the death of black children. He said bigotry has been "reawakened" across the country and in Boston.
Despite instances like that one, he said, he was heartened by how Bostonians offered light in a dark situation. "[Friday] morning, the students were welcomed," he said. "There to greet them were the Jewish community and all the faiths, lighting the way with love."
Walsh said he knows that when a Jewish household is in mourning, a door or window is left open "to share the burden of grief and keep a welcoming spirit alive."
"That's what we'll do in Boston," he said. "We'll leave a door open."
After political leaders spoke, a prayer was said for the Tree of Life synagogue. Toward the end of the service, the congregation read the 11 names of those killed in the attack. Throughout the night, clergy and politicians mentioned the two people gunned down at a Kentucky Kroger grocery store simply because they were black.
During the "Shabbat of comfort," clergy from across the state took the stage and locked arms to offer words of comfort and peace.
Linked in the prayer chain, Nancy Taylor, a minister of Old South Church in Boston, prayed that "the hideous evil of [last] Saturday opens Americans' eyes to the audacity and consequence of bigotry."
"Transforming dismay into rage and rage into power," Taylor said. "Uniting America in purpose, both sacred and patriotic, overwhelming prejudice with understanding."
Before giving the benediction, Temple Israel's Rabbi Zecher said she is "outraged" by people who say attacks like the one in Pittsburgh should not be politicized.
"We will not stand idly by," she said to a standing ovation. "We will do what we do: command love. ... We will move forward, placing words of love on our hearts."