East Bostonians Use Storytelling Project To Show How Gentrification Is Changing Their Neighborhood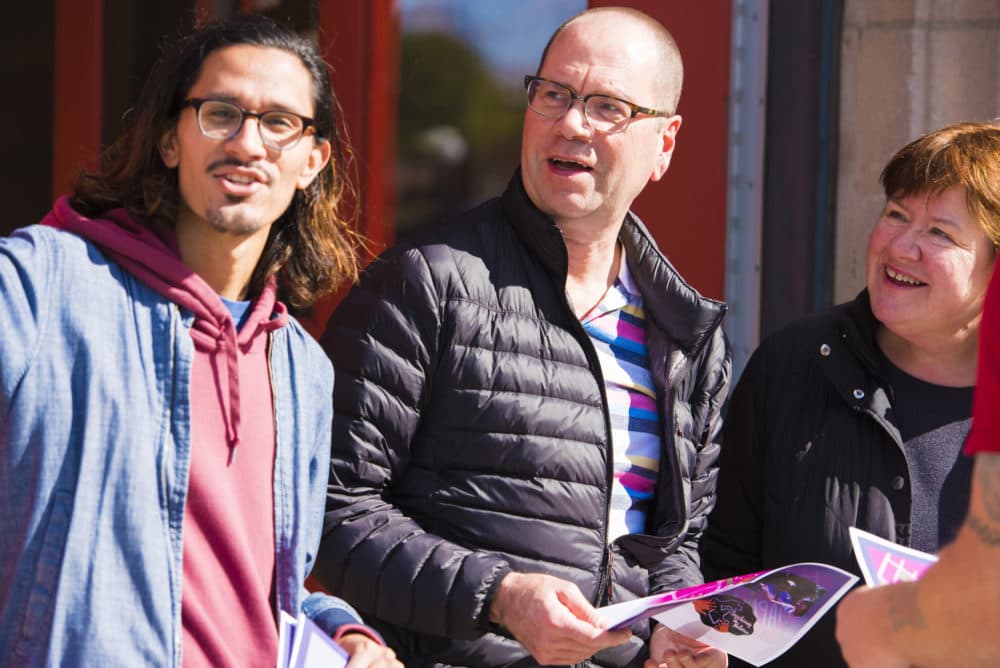 This article is more than 2 years old.
Every day in East Boston's Maverick Square, the voice of a woman selling tamales breaks through the busy streets. "Taaamalessss," she yells, with a rhythmic cadence. There's also a mango vendor close by, selling the juicy fruit to neighbors of varying skin tones. These scenes are the ones that some East Boston residents feel are in danger as the primarily Latino neighborhood undergoes a revitalization.
To capture what's at stake, some residents have taken to telling the stories of the details, people, places and vibe that make East Boston singular. They've been sharing the anecdotes, like the one about the tamale vendor, in a recorded and live storytelling series, "Constelación de Historias," about life and housing in the transforming neighborhood.
The project — lead by ZUMIX radio station manager Brittany Thomas with the Center for Cooperative Development and Solidarity (CCDS) and Stand for Democracy — strives to connect East Boston residents around the issue of displacement. ZUMIX is a youth-powered community radio station.
There have been three events so far, the fourth and final affair, "The Story Loft," occurs on Thursday, Nov. 8. The idea to address gentrification with inventive storytelling came about when Thomas kept hearing show hosts and guests on ZUMIX radio discuss housing concerns on the air. It seemed to be on everyone's mind.
She sought to make the "super isolating and anxiety-producing issue" feel less so and to "flip the idea that gentrification is something that happens, like it's [an] unavoidable result of an economic system" that can't be helped.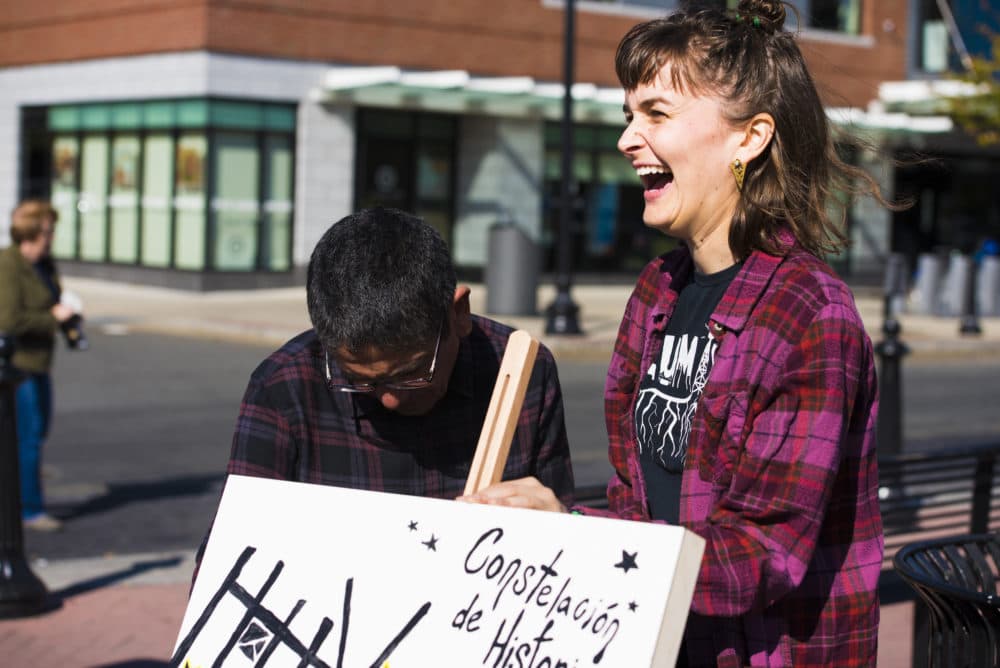 The stories, some told in Spanish and English, highlight the unique identity and culture of the neighborhood and what residents hope for its future. In one clip, Eastie resident Steve Snyder tells the story of the tamale vendor, saying it reminds him of South America. "I was here 20 years ago when it [East Boston] was an Italian community and there was someone selling Italian things. It just always seems cyclical. I don't know if the tamale lady will be here in 20 years," Snyder says in the recorded audio clip.
In another story, a resident points out a vacant lot where two bow-front buildings were demolished to make way for a modern development.
ZUMIX host Cristian Palma says an increase in rent spurred his family's move from East Boston a few years ago. "I know almost everybody on the street. Well, not so much anymore because a lot of people are moving out," the 16-year-old told me.
Despite the distance from his new home in Lynn, Palma still considers the "shabby, lovable" neighborhood of East Boston home. He notices the influx of people moving to the neighborhood and asks, "Why take an interest now?"
Eastie, diverse in food, people and culture, is in the midst of transformation, with the redevelopment of old buildings and the construction of new, increasingly expensive apartments. Its proximity to downtown and the airport, along with the existence of a waterfront make living there attractive.
As the neighborhood shifts, some residents are feeling the squeeze. "There's just a lot of anxiety you hold as tenant," explains Thomas. "It's a lot to just walk down the street and … to sort of feel in the air that kind of uncertainty," she says.
Luz Zambrano, a longtime resident and homeowner, receives weekly letters from people who want to buy her home. She sees the neighborhood changing into more of an "upper-class community," but does not believe in waiting for "the government or for people in power to change our daily lives," she explains.
As the co-founder of CCDS, she works with residents to help them leverage their skills through the creation of co-ops. Zambrano thinks the "Constelación de Historias" series provides a way for everyone, especially people who, because of their immigration status, might feel "invisible to the neighborhood … the city, and the country" develop leadership skills and become aware of their power.
The rollout for "Constelación" is happening concurrently with the Boston Planning and Development Agency's (BPDA) community-driven "Plan: East Boston." BPDA city planners, Jared Staley and Kristina Ricco, along with BPDA community engagement manager, Jason Ruggiero, attended the "Constelación de Historias: Soundwalk in Eastie" event last month.
BPDA officials listened to stories at the event and encouraged visitors to sign up for an advisory board. Overall, they've received "more than 35 nominations," Ricco said in an earlier interview, and once chosen, the advisory group will help "guide the planning process to make sure that we're hitting all the right topics … and prioritizing things appropriately," she said.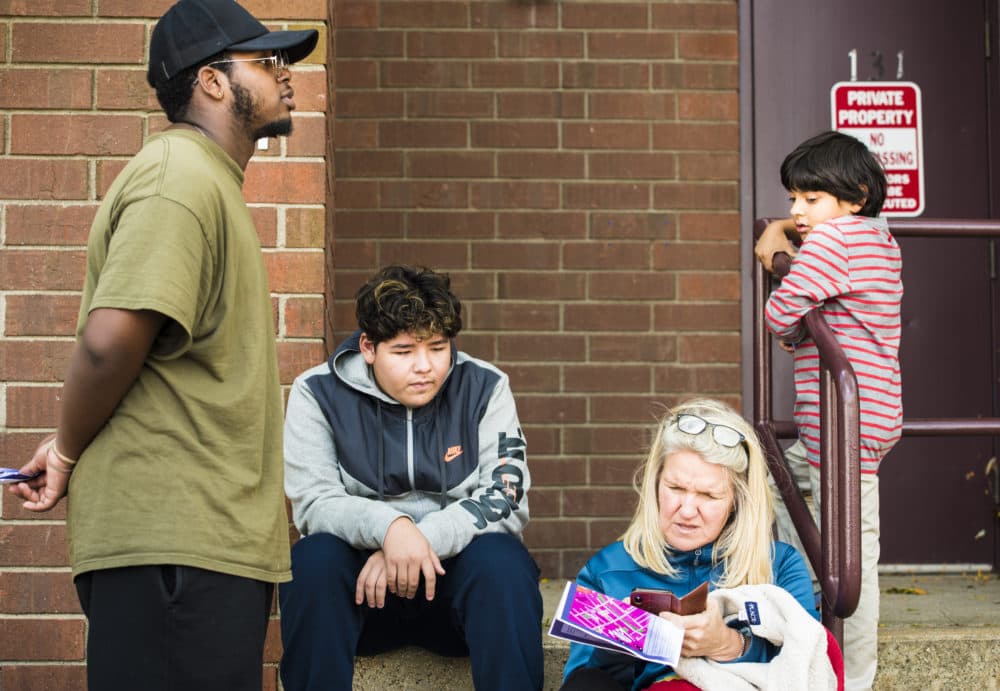 "Constelación de Historias" was developed with funding by the Association of Independents in Radio (AIR)'s national initiative, Localore LIVE grant. In August, the program's first event was an audio challenge, where some of the youth, including Palma, taught attendees how to record audio and how to document their own stories.
The following month, the recorded stories were shared at a visual and audio installation at the third annual ZUMIX radio block party. In October, soundwalk visitors followed a map of the Maverick Square area of Eastie, while listening to tales about the people who bring the places on the map to life, and the community groups working to resist displacement in the neighborhood.
The project wraps up with "Constelación de Historias: The Story Loft" at ZUMIX this week and will include music by the station's youth Latin Ensemble, a long-form story by Gloribell Mota, co-director of Neighbors United for a Better East Boston, and a multimedia presentation of stories from the "Constelación" series.
This project, borne out of a need to be seen and heard, has threaded a seemingly tight-knit community even closer together through learning and sharing. And, though there are no easy solutions to building a just housing environment, Thomas thinks residents need to "be creative and think big about alternatives in housing and city planning." Over the last few months, "Constelación de Historias," Thomas says, made space for those "interactions where that kind of thinking was possible."
---
"Constelación de Historias: The Story Loft," takes place Thursday, Nov. 8, from 7 to 9 p.m. at 260 Sumner St., Boston. Admission is free. Listen to "Constelación de Historias."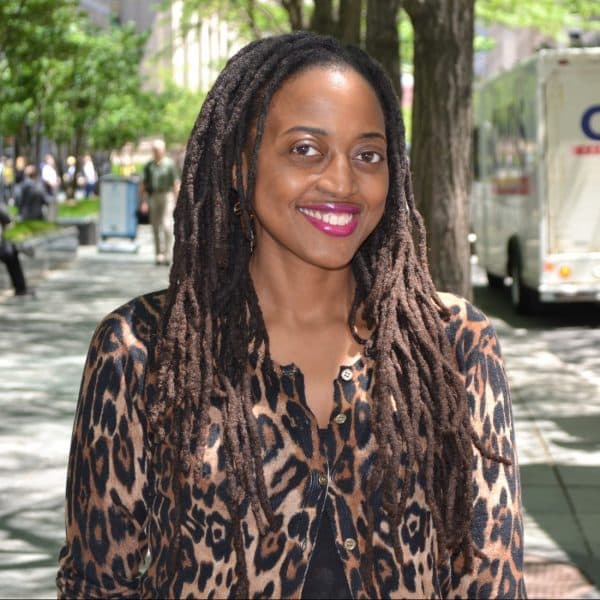 Jacquinn Sinclair Performing Arts Writer
Jacquinn Sinclair is a freelance arts and entertainment writer whose work has appeared in Performer Magazine, The Philadelphia Tribune and Exhale Magazine.