Baker And Warren Are Popular Among Almost All Demographics In Mass.
Gov. Charlie Baker, a Republican, and Sen. Elizabeth Warren, a Democrat, both won their elections this year by large margins. The standout success of both a Republican and Democrat for statewide office means that many voters supported both Baker and Warren. We don't know to the person who these voters are, but exit polling gives a sense of their demographics.
They're men and women; young and old; white, black and Hispanic; college educated and not; and even Democrats, Republicans and independents. Baker and Warren hold broad appeal with almost every demographic group, according to exit polls conducted by Fox News, NORC and The Associated Press.
This may be expected for Warren in a Democratic stronghold like Massachusetts, but it's Baker's broad appeal that deserves a closer look.
Two-thirds (67 percent) of Massachusetts voters marked their ballot for Baker. But the full extent of Baker's dominance is most apparent comparing his margin across demographic groups to Warren's. For example, Baker nearly matched Warren's vote share among women (64 percent versus 67). Even in subgroups where Baker lagged Warren, he handily beat expectations. Fully 92 percent of black voters supported Warren, while 47 percent voted for Baker, a 45-point difference.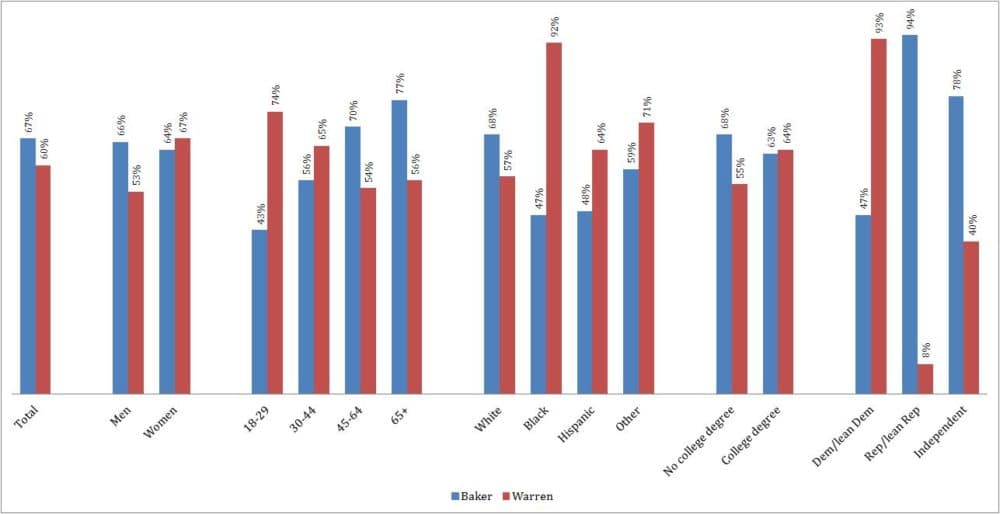 Winning nearly half of the black vote is impressive for any Republican, and a major improvement over Baker's poor performance among black voters in 2010 and 2014. It helps explain his 47 percent share of Democrats. Sure, it's less than the 93 percent who voted for Warren, but collecting nearly half of the opposing party's voters is nothing to sneeze at.
The exit poll data doesn't provide an exact figure for those who voted for both Baker and Warren, but it does provide a proxy. In a political do-si-do, Warren won a majority of Baker fans, while Baker split Warren supporters. Nearly half (49 percent) of voters with a favorable view of Warren voted for Baker. Likewise, 58 percent of those with a favorable view of Baker voted for Warren.
This was foreseeable. Before the election, we estimated ticket-splitters would represent 30 percent of the electorate. The crossover voters were skewed Democrat since few Republicans showed any interest in supporting Warren. Her crossover appeal has always been minimal and remained so this week.
Deep blue Massachusetts has historically elected Republican governors, but Baker's margins are especially impressive considering his first election in 2014 was decided by only 2 percentage points in a good year for Republicans nationally. Baker could claim a new mandate, though his public comments have pointed toward continued incrementalism and few bold ideas.
For Warren, the question is whether her strong showing in Massachusetts can translate to a national appeal for her highly anticipated 2020 presidential run. Her polarizing tendencies in Massachusetts potentially foreshadow her challenge of building national cross-party appeal. Warren won her re-election with 60 percent of the vote, but only 36 percent of Massachusetts voters from this exit poll say Warren would make a good president.
But for now, both Baker and Warren can enjoy their victory laps. They earned it.
Maeve Duggan is research director at the MassINC Polling Group and a contributor to WBUR. She tweets @maeveyd.