Airbnb Sues Boston Over Short-Term Rental Rules
Play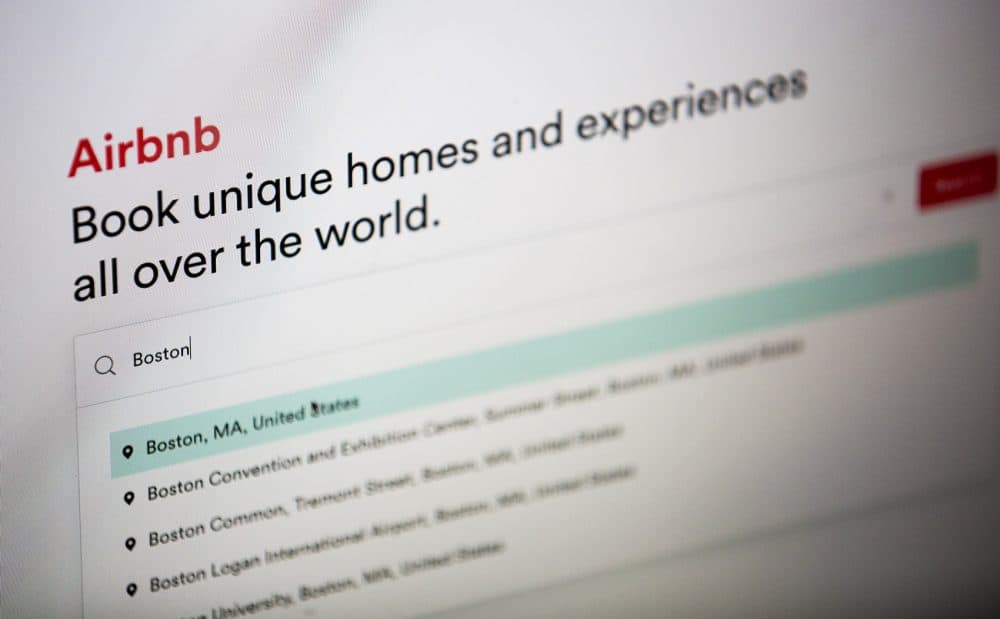 This article is more than 4 years old.
Airbnb is suing Boston in federal court. The company says city regulations on short-term rentals, slated to go into effect on Jan. 1, are "Orwellian."
Boston wants to try to protect the affordability of its housing stock. And the city contends that Airbnb threatens that by encouraging investors — instead of people in need of housing — to buy homes to use as de facto hotels.
Boston officials said they cannot comment on pending litigation.
Boston City Councilor Michelle Wu, who has been leading the effort to regulate short-term rentals, says the city has lots of rules about what sort of businesses can be conducted in homes. For instance, you can't run a dog grooming business from your home.
"And much of that is in recognition that what you do in a particular location could have impacts to your neighbors and abutters," Wu told WBUR. "So, when an area is designated as residential, that means certain protections are in place."
The new rules, passed in June, permit short-term rentals through home-sharing services, only for people who live on the premise and with extra space.
But Airbnb argues in its lawsuit that several requirements of the new rules violate both state and federal laws, including a federal law that protects online companies from being held accountable for the actions of site users.
Airbnb refused any additional comment on Tuesday.
"Airbnb is extremely reluctant to acquiesce to any kinds of regulations that are going to restrict their growth," said urban planning professor David Wachsmuth of McGill University. He investigates the impact short-term rentals have on cities across the world.
Wachsmuth says Boston joins cities like New York and San Francisco, which have faced lawsuits from Airbnb.
"Boston, like every other city that is confronting a large growth in short-term rentals, has a very compelling public policy case for restricting short-term rentals," he said, "particularly trying to restrict the commercial operators who are running short-term rentals as de facto hotels, taking housing off the market."
Wachsmuth says Airbnb has had limited success in court, and predicts the new rules will go into effect in Boston in January as scheduled.
Correction: An earlier version of this post incorrectly stated that London is among cities that have faced lawsuits from Airbnb.
This article was originally published on November 13, 2018.
This segment aired on November 13, 2018.