Willie O'Ree, First Black Player In NHL, Honored At Hall Of Fame
04:15
Play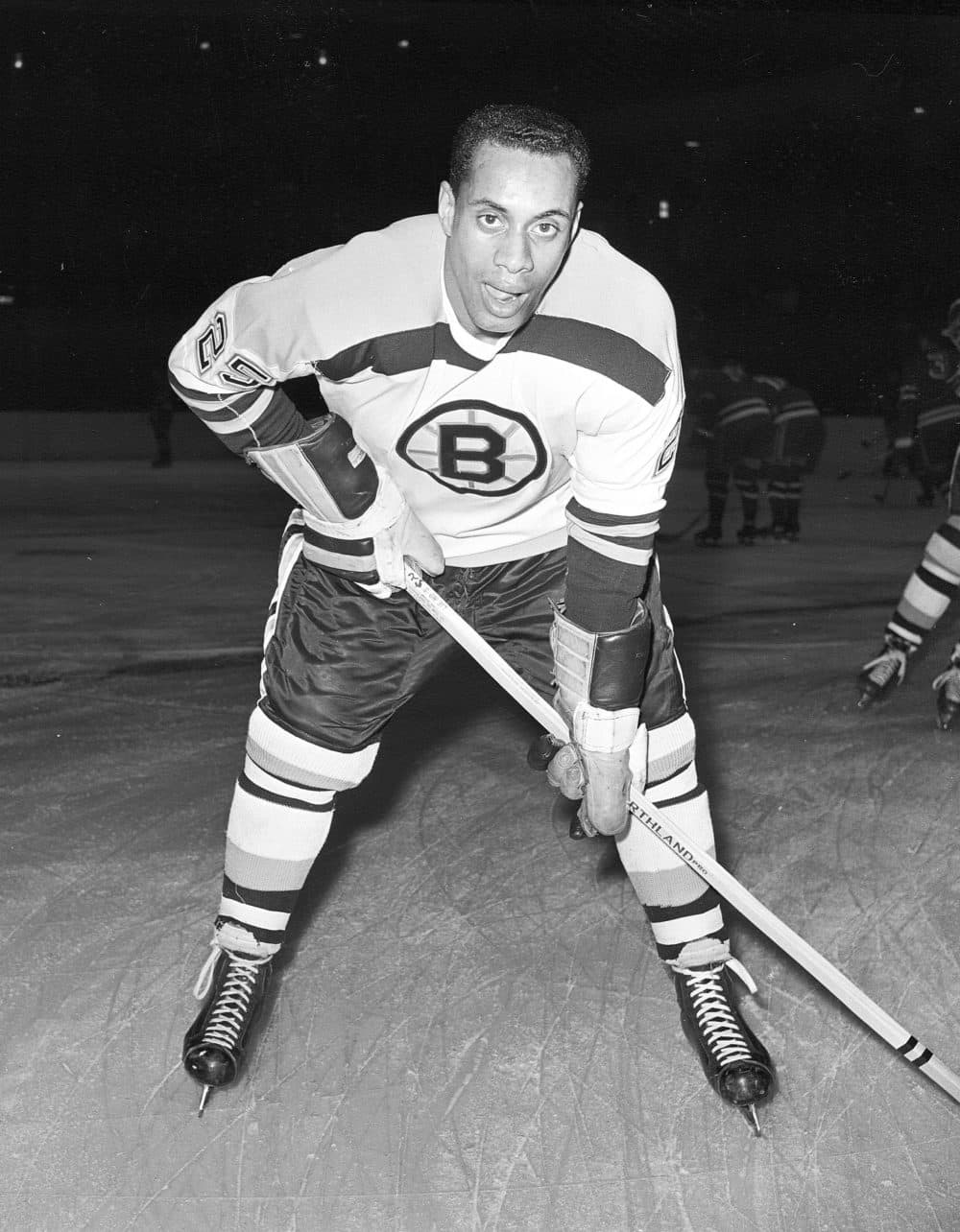 This article is more than 1 year old.
Willie O'Ree, the first black man to play in the NHL and on the Bruins, was inducted Monday into the Hockey Hall of Fame in Toronto. Today, the number of minorities playing professional sports is at its highest ever — but the NHL is still 97 percent white.
To talk about the man who broke the NHL's color barrier 60 years ago — and how far we've come, and how far we still have to go — Kwame Damon Mason joined Morning Edition. He directed the film "Soul On Ice" which is about the history of black ice hockey players in the U.S. and Canada.
The following transcript has been lightly edited for clarity.
Bob Oakes: So tell us what drew you to this story of Willie O'Ree.
Kwame Damon Mason: What drew me to Willie's story and the story of many other black athletes who played hockey was the simple fact that I discovered the story of the colored hockey league of the Maritimes, which was around 1895 to about 1930. In discovering that story and that history, I became more fascinated as a hockey fan to find out more about where black athletes have come from and their history toward the game, and where the game is today and where the game could possibly go in the future.
What makes Willie O'Ree special?
What makes him special is the simple fact that day in and day out, he thinks the game, he talks about the game, he loves the game and he loves to inspire young children to get involved in the game.
Willie is always out there as the ambassador to the NHL diversity program — going out to schools, detention centers, and talking to kids about getting on the ice, staying on the ice, staying in school, reaching your goal, having a dream — setting those goals for yourself to become a better person and a better person on the ice.
How did he respond back in the day to the racial backlash that he faced?
He had an older brother who was very much his mentor, and his older brother got him ready for what he would see out there in the real world. And one of the lessons he spoke to him about was the simple fact that people will say anything and everything that gets you off your game. But remember they're just words — as long as they don't put their hands on you — they're just words. And you let it go in one ear and out the other. And he took that to heart.
Hockey players have to be mentally prepared in so many different ways before a game. But for a black athlete, back then, they also had to mentally prepare themselves for verbal abuse.
But diversity has not gone very far in pro hockey since Willie O'Ree's day as we pointed out back in the beginning.  The league is still 97 percent white.
There's still a long ways to go. And I think one of the biggest hurdles for the league and for the industry of hockey is to do a better job of telling stories telling stories about Mike Marson and telling stories about Willie or telling stories about P.K. Subban — telling stories about all these great black athletes who have contributed to the game so that the fans can be more relatable to them and they can also inspire young black kids to say, hey, maybe this is the sport I'd like to pick up and try.
This article was originally published on November 13, 2018.
This segment aired on November 13, 2018.