Main Health Center In Roxbury Beset By Turnover And Turmoil, Staffers Say
Play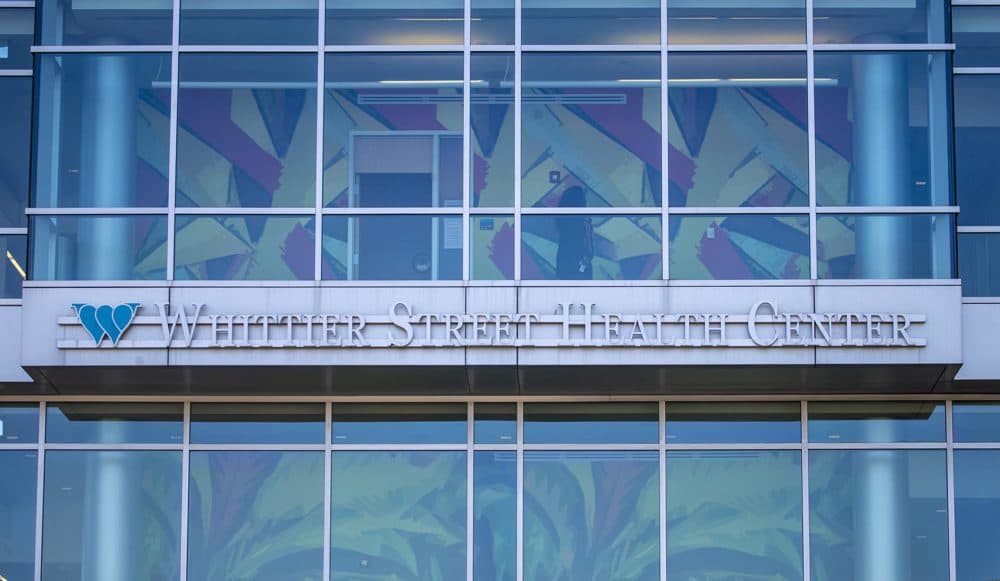 This article is more than 4 years old.
In 2016, almost as soon as Dr. Sherar Andalcio started working at the Whittier Street Health Center in Roxbury, he faced a problem: He was being asked to care for HIV-positive patients, but did not have the needed training. When he asked for the supervision of an HIV specialist, he says he received only a PowerPoint presentation.
Still, Andalcio kept seeing HIV-positive patients. In fact, even more patients, under pressure he describes as the result of a sky-high turnover rate among the health center's doctors.
"Patients are just left in the dust without a capacity to transition their care," he says, "and so when they need certain things — like refills, paperwork, blood work, etc. — it has to go somewhere, and so it goes to the providers that are still there. But there isn't the capacity to actually get the work done, and to take care of these patients, and so we're really providing sub-optimal care."
Andalcio has left the health center. He says he was seeing up to 24 patients a day without needed support staff and became worried he might make a medical error. He says his complaints about the increased number of patients and the lack of support, and his warning that health care was suffering, had gone unheeded. To make sure patients had time to be assigned new doctors, he gave three months' notice. But instead, he was fired a month later.

Whittier Street's human resources director says Andalcio and other physicians were not expected to treat HIV-positive patients, just to refer them to other medical personnel at the clinic trained to treat them. Andalcio says that's not true. He adds that if an HIV-positive patient was put on his schedule, he felt legally obligated to take care of that patient. Three employees who worked with Andalcio confirm he was directed to provide treatment to HIV-positive patients.
Andalcio and 15 other current and former health care providers who spoke to WBUR describe Whittier Street, the main health center in the predominantly black and Latino Boston neighborhood of Roxbury, as beset by worsening turmoil in recent months — copious firings, financial trouble, personal conflict.
"It's a real disservice to the community, to the patients, and it's a real lost opportunity, especially in a community that's poor and that has suffered historically," Andalcio says.
They point to Frederica Williams, the clinic's CEO for the last 16 years, as a central source of the problems. She opposed a recent attempt there to unionize, but staffers say the problems at Whittier Street have been building for years, in a toxic mix of financial pressures and a high-conflict management style.
Williams initially invited WBUR to the health center to interview her and other employees, but later said she was too busy.
Though she did not speak, 15 nurse practitioners, nurses, other employees and board members contacted WBUR to defend the health center or Williams. Some said it was at Williams' urging.
"I think our executive director has done an outstanding job," says the chairman of Whittier Street's board, Pastor Gerard Bell. "The doors are open, and we're fighting tooth and nail to ensure that they remain open, and that we provide a patient-centered high quality of excellence and health care."
'A Real Scrappy Place'
Community health centers began in the 1960s in Massachusetts, with the lofty goal of providing high-quality care to neglected communities. But they have tended to struggle financially, often unable to cover their costs.
So "these health centers began to be run more under a certain kind of corporate model, a more harsh, maybe, economic model," says Dr. John Jewett, who worked in urgent and primary care at Whittier Street until he was laid off in October. "In some health centers — not all — like Whittier, the CEO became the dominant decision-maker."
Sonia Lipson was a nurse practitioner at Whittier Street when Williams first arrived.
"It was around the time when there was an effort to professionalize, which many of us appreciated needed to happen," Lipson recalls. "The health center had been a real scrappy place up until then, and was well-loved in the community, but the facilities were falling apart, and there were problems with funding. Billing wasn't done well."
But that professionalization, she and others say, came with a price.
"Things started to feel really much less friendly," Lipson remembers.
Clinical social worker Bill Dain, who worked at Whittier Street until he was laid off in October, does not blame Williams for the squeeze. "There's not enough money, so you gotta be more productive," he says. "The more people you see, the more money comes in and we can survive economically.
"I must say about the director that she has built up an incredible center, and one must recognize that she's been fabulous, very intelligent and very competent in building up, I'm going to call it a business," Dain adds. "Sometimes people who are good at making businesses great don't know how to manage people."
Andalcio takes a darker view. "Bottom line, they care about the money, the revenue they create," he says. "So the first question is: 'How can we increase revenue?' Not: 'How can we take care of sick people?' "
The pressure for rapid throughput of patients grew so great, he says, that "many clinicians are forced to see patients within 15 minutes." Think, he adds, "about the quality of care that can be provided to a patient in 15 minutes. I mean, you could barely check a blood pressure and get vital signs and find out why they are there in 15 minutes."
'Reprimanded, Intimidated, Even Fired'
Whittier Street's financial crunch may be common among community clinics, but internal emails and interviews with 16 current and former doctors, nurse practitioners and nurses reveal a pattern of people either being forced out after they raised concerns or resigning out of concern for the safety of patients.
"There's a real tone of disrespect," says Caitrin MacDonald, who resigned as  a nurse practitioner at Whittier Street. "People don't feel like they can make suggestions and be free to speak up [...] and bring evidence-based practice to the clinic."
"It's especially frustrating when you have a lot of good ideas about how to make patient care better, but you're not listened to," says Jewett, the primary care doctor who was laid off in October. "So you inevitably try to speak up a little bit at Whittier to try to let the managers know that there are better ways of doing things. But when you do that, you often get reprimanded, intimidated, even fired."
"Numerous providers have been fired simply for speaking up," Jewett says.
Jewett is one of six health care providers who report feeling forced out for speaking up. In addition, they report the center's long-time much-beloved medical director was similarly forced out. He could not comment because he signed a non-disclosure agreement.
Jewett says he was reprimanded for sending emails to Williams asking her what role a new medical director would play, and about the impact of a large increase in the number of primary care patients at the clinic. He claims he was fired in August for organizing a union, for contacting a board member about problems at Whittier, and for sending an email to the medical director about the patient load of each health care provider.
He says he was placed on administrative leave after the union intervened.
Whittier Street did not respond to a request for comment on Jewett's claims.
In June Whittier Street medical providers voted to unionize. Sixty-six have joined 1199SEIU, the big health care union.
Williams dismissed 14 people right before the union election, but rehired them after Boston Mayor Marty Walsh intervened.
The union says Whittier notified it in October that it was laying off an undetermined number of people.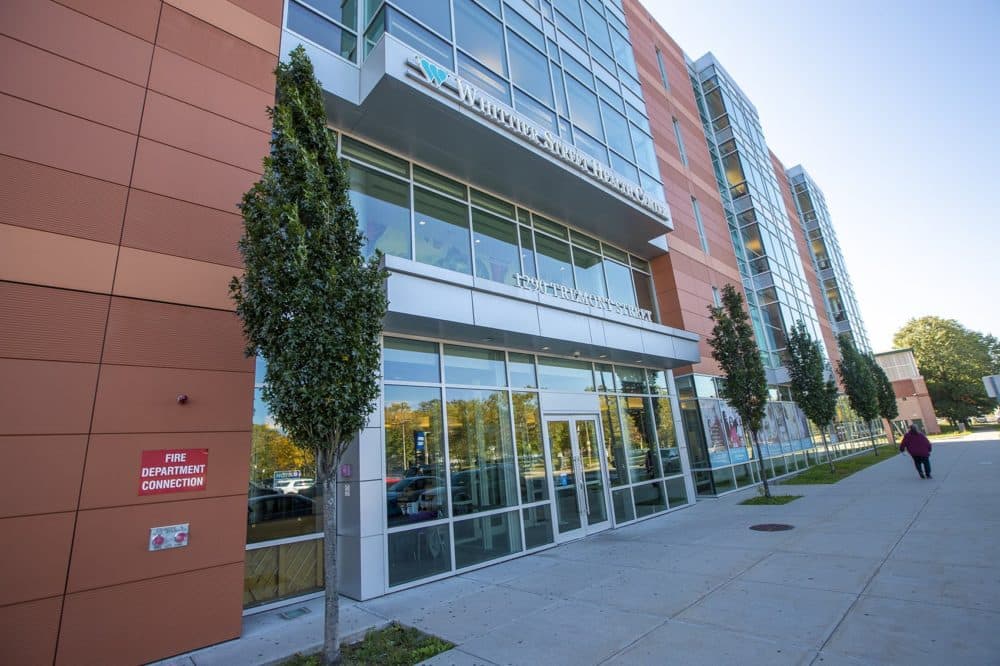 Current and former health care providers at Whittier Street tell WBUR that many of the people who were previously laid off are the same people who led the union effort, including Jewett. They believe they were forced out for raising concerns about the provision of health care at Whittier Street and for later organizing a union.
Through a public relations firm, Williams declined to comment on the latest layoffs and denies any intimidation.
In an email, she says that turnover is a major issue at health centers in general, because these clinics hire medical staffers new to the profession who move on after getting one or two years of experience.
But four of the providers who say they were forced out from Whittier Street in the past four years had spent years working there.
By Andalcio's calculation, of the 22 doctors and nurse practitioners working in primary care and OB-GYN two years ago, 20 have left.
Whittier Street declined to provide numbers on turnover.
'I'm Up Nights Worried For My Patients'
The personnel turnover comes amid a financial crunch. Whittier Street says last year, it did not maintain a minimum operating reserve required in its mortgage. The center says it is fully current on its mortgage payments, but Williams's executive assistant said in an email last month that the center is trying to avoid defaulting on its building mortgage.
Bell, the chairman of Whittier Street's board, notes in an email that to help clear a budget gap, Williams is taking a more than $50,000 pay cut this year.
Before that cut, Williams earned a base salary of more than $413,000, slightly more than the CEO of the East Boston Health Center, which serves more than three times as many patients, and tens of thousands of dollars more than the CEOs of Codman Square Health Center and DotHouse Health, both of which serve slightly more patients.
One entire program at Whittier Street has been dropped: orthodontics. But it's unclear whether that's due to the clinic's financial difficulties. In May, an email from the chief financial officer showed orthodontics was one of only four departments making money.
But soon after Dr. Michael Abedon, who ran the program until he was laid off in October, showed up at a union rally in the summer, he received an email telling him the program was being closed because it was losing money. So now, he says, 60 patients, mostly teenagers, are left without an orthodontist.
"Many, many are at the very end of their treatment," Abedon says. "There are some that all they need are their braces taken off. I can't do it. They won't let me do it."
Whittier Street says it dropped orthodontics because it wants to focus on general dentistry, and orthodontic patients will be appropriately transferred to care.
But Abedon says because most are patients of MassHealth, Massachusetts' Medicaid program, and MassHealth has already paid for their treatment, no one else will take them.
"I'm up nights worried for my patients," Abedon says. "I don't know what to do. Who can help my patients?"
Andalcio, too, describes a disturbingly abrupt exit from his clinic work. As he was seeing his last patient, he says, "HR director comes down to get me, and so I tell my patient: 'Hey, sorry, I'll be right back.' "
But he was not able to get back to his patient. He was handed a stack of severance checks and a non-disclosure agreement.
"I get walked out to the car," Andalcio says. "I give him my badge. As I'm driving off, a couple of minutes later, he says: 'Actually, you do need to sign that document. We're going to cancel the checks until you sign the document.'"
Andalcio refused. Whittier Street canceled the checks.
The health center declined to comment, saying they could not discuss personnel matters.
The solution to the clinic's current woes, says psychotherapist Ragan McNeely, a former Whittier Street employee, is for Williams to go.
"When you work in a place where there is so much division, so much fear, so much inability to just speak openly, you can't make improvements," McNeely says, "and frankly, your co-workers drop, and you find out later what happened to them, but management won't tell you. That's the painful part. People disappear, and you reach out to them, and you find out, yeah, that happened to you, too."
McNeely was laid off in October. He believes it's because he supported the union.
The National Labor Relations Board is investigating union charges that the health center is refusing to provide information, including financial information, and is retaliating against employees for union activity. Current and former employees say they hope the union will force the health center to operate with transparency.
Many who still work there express affection for the clinic as a widely beloved Roxbury institution.
"Honestly, I love Whittier Street," said Julianne Ahern, a pediatric nurse practitioner. "I've been very fortunate. I've been supported. I was believed in. I was nurtured. We've initiated great programs in my time here. We're really meeting needs of the community that weren't previously met. I believe in the work we're doing."
Those who have left, too, still believe in the clinic's mission.
"I would have preferred to stay at Whittier in Roxbury," Andalcio says, "but I realized that I couldn't work as a doctor and do a good job if I remained."
This segment aired on November 20, 2018.