15 (Mostly) Local Holiday Gift Ideas For Feminists
This article is more than 4 years old.
You don't have to be a woman to be feminist, but this holiday season why not show your any-age, any-gender, any-size, wildly passionate egalitarian some affection with a little nod to their most dearly-held principles. Our feminist gift guide takes inspiration from mostly local women-made products, women-led businesses, or women-centered experiences — since sometimes the gift of quality time is the most meaningful gift of all.
Fun, Fearless, Feminist Field Trips
Take in the Salem witch trials, the formation of the witch archetype, and how horror movies capitalize on fear — all from a feminist perspective. Four-hour "Up With Witches" or "What We Fear" tours include stops at historic sites, multiple museums and lunch. The tours operate as part of HausWitch, a home goods shop in Salem founded on the belief that "self-care is a radical, feminist act."
---
Don't Worry, Bike Happy — And Safe
Give the gift of a steadier hand at the wheel, and perhaps on life, with a lesson from the activist bike teachers at Somerville's Bicycle Riding School. Susan McLucas has been teaching riders of all ages to see "the glorious future" since the mid-1980s. Feminist scholar Pata Suyemoto calls herself an "urban shaman" among other things. These inspiring teachers even know how to fix a bike and can teach your feminist, too.
---
Spice It Up Some More With Curio Spices
Curio Spice Co. concocts aromatic blends of international spices packaged in captivating containers, but it's also a mission-driven, woman-owned benefit corporation. After a decade of visiting spice farms around the world, self-taught cook Claire Cheney opened her Cambridge shop hoping to play a role in combating worker exploitation in the commodity spice trade. Whenever possible she sources from women business owners and cooperatives that support female education. All of the Curio-branded products are made by women. Cheney recommends a three-tin gift box as a potential stocking-stuffer. Other standouts you can buy at the shop or online include a blend of Cambodian Black Pepper with Maine sea salt, a Sri Lankan cinnamon blend, an 11-volume "Flavor Library," and a pickling kit. Vah vah voom!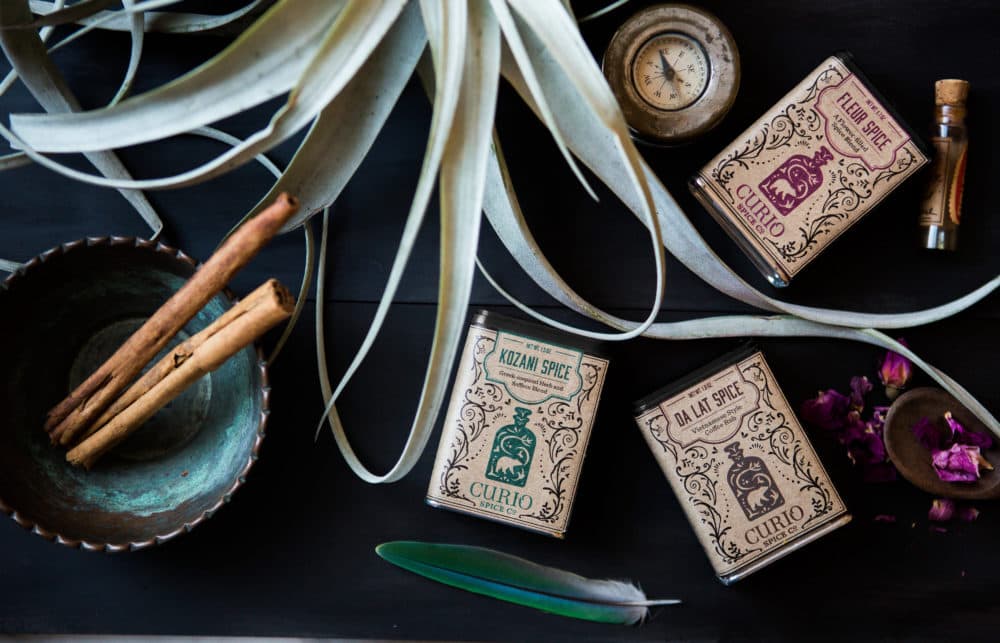 ---
Get Political With Books From A Book Store Collective
Volunteers run the Lucy Parsons Center, a radical independent bookstore and community space in Jamaica Plain, so the open hours can vary. But pop in and you'll find all kinds of items to instigate political action within "every wing of the progressive movement" — books, pins, journals — either new or (progressively) used. Some titles are in Spanish. Named after firebrand labor advocate and anarchist Lucy Parsons, the shop has previously called Central Square, Davis Square and the South End home.
---
Badass Cheeses Named After Strong Women
Hooray for complex, woman-inspired cheese! Newbury-based Dancing Goats Dairy produces an entire series of hand-crafted "homages des fromages" honoring strong women, including Josephine Baker, Misty Copeland and Jane Goodall. (The peppery, aged Ruth Bader Ginsburg sold out after the Kavanaugh hearings. Go figure!) Owner/cheesemaker Erin Bligh's pasture-raised herd is free of antibiotics, hormones and animal rennet. Buy from the Dancing Goats Dairy farm shop in Newbury or find other sellers through the website.
---
Make A Mess With Sheila Pepe At The deCordova
Some feminists just want to spend the day at a museum! Sheila Pepe's mid-career retrospective, "Hot Mess Formalism," is filled with drawings, sculptures and crochet that break the boundaries of sex, gender and class. Pepe went to MassArt and the Museum School before moving to Brooklyn, so in our minds she's homegrown. The show features more than 70 autobiographical pieces that channel her perspectives on queer identity and feminism. (Check out our feature on her exhibit.)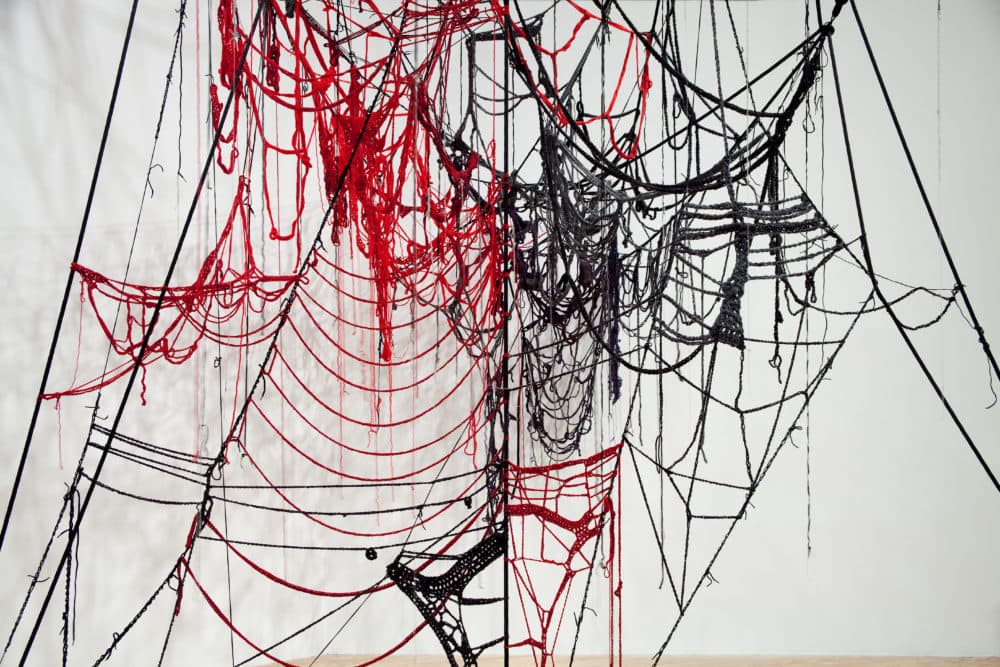 ---
Feminist And Goofy Fruiterus Pins
Crafters have the craftiest ideas. This recommendation may not be local, but it sure is a lot of fun. You can find pretty much anything ("Feminist," "Slay," "Love Every Body," "Intersectional") screened on a T-shirt or stamped into a metal piece of jewelry through Etsy. One clever/sweet creation that caught our eyes is a pineapple-uterus hybrid pin — a so-called "fruiterus" – that we're adding, well, just because!
---
Craftivism For You And Your Feminists
Or try your hand at making your own feminist-themed gift at Gather Here in Inman Square, where "choice" takes priority. Owner Virginia Johnson created the community "stitch lounge" and she runs it on top of her job as a costume designer for films shooting in Massachusetts. There are adorably radical cross-stitch kits ("Queer," "Queen," "Feminist"), protest knitting patterns and "The Resistance is Handmade" canvas bags Johnson created to honor "craftavists working night and day to bend the moral arc of the universe toward justice." Ten percent of tote proceeds benefit the ACLU of Massachusetts. Sign you and/or yours up for a subversive class — there's even one on sewing your own jeans, that fit your body, as a feminist act.
---
Chin Up, Knives Out, At Shiso Kitchen
Give your feminist the empowering gift of sharp blade know-how with a "Knife Skills" class by chef Jessica Roy. The former Le Cordon Bleu instructor refers to herself as a "Left-Handed-American-Female Sushi Chef." You may have seen Roy competing on the Food Network show "Cutthroat." She leads intimate, relaxed, hands-on cooking lessons, tastings, demonstrations and food parties in her fully-equipped Somerville culinary space, Shiso Kitchen. Then there's the 1.5-hour slicing and dicing knife skills workshop. In an email Roy joked, "No need to bring your own knife — unless you really want to."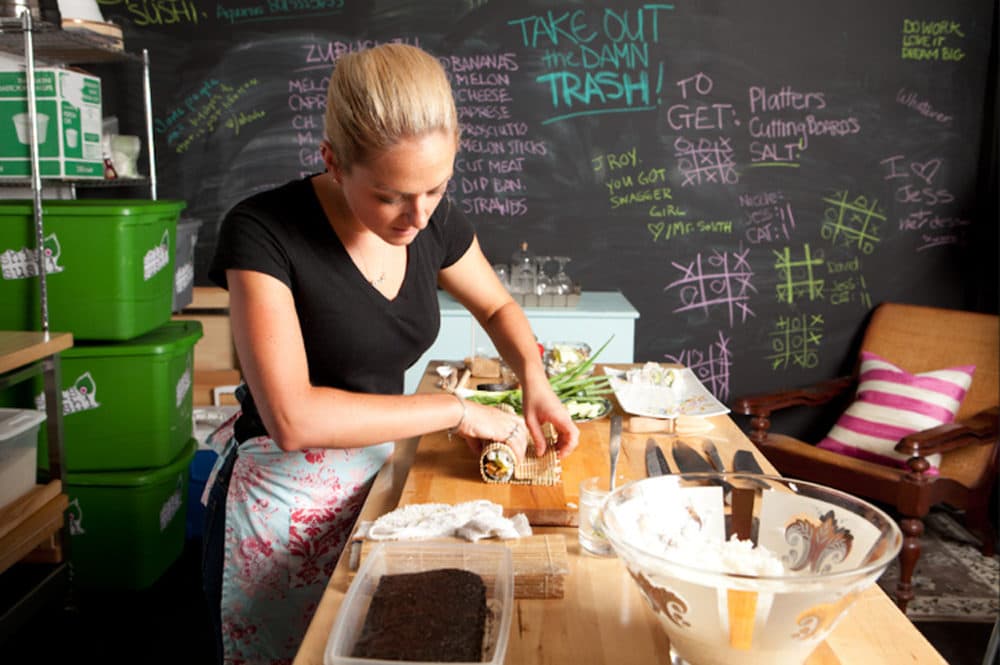 ---
Go Punk, Go Vintage, Or Go Home
For your beloved rocker feminist, check out Hilken Mancini's hidden gem of a vintage clothing shop in Jamaica Plain, at 40 South Street. You're guaranteed to nab an original bad Christmas sweater, not one of those truly offensive knock-offs. Mancini co-founded Girls Rock Campaign Boston and plays in the garage band The Monsieurs. Other gift ideas: Keep your eyes open for an upcoming Monsieurs show or buy one of their albums.
---
Give A Feminist Beer Geek What She Really Wants: Beer Love!
Throughout history women made beer. Delicious beer. They're still at it, and their numbers are increasing. Celebrate their legacy and your feminist beer geek with a hand-selected six pack of local beers from women-led breweries. You can mix it up at the (also women-founded) retail franchise, Craft Beer Cellar. Co-owner Suzanne Schalow recommends a combo that includes Lamplighter Rabbit Rabbit (Double IPA), Night Shift Whirlpool (New England-Style Pale Ale), Aeronaut Hop Hop & Away (New England-Style Session IPA), Notch Session Pils, Cambridge Working Class Hero (Session Saison), Samuel Adams, Sam 76 (Kolsch-Style). Cheers!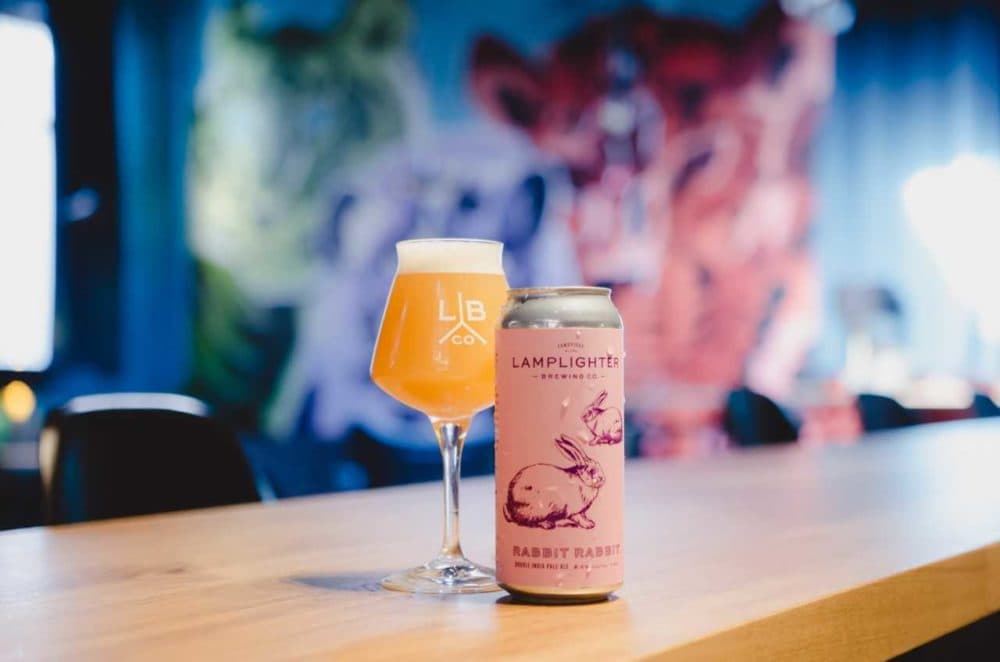 ---
Wild, Sometimes Funky Wines At A Women-Driven Wine Bar
Nestled in the Fenway, Nathálie is a cozy, stylish wine bar that focuses on natural, small-batch and woman-produced wines. Owner Haley Fortier opened this location in 2018 after nurturing a devoted audience for low-intervention, off-the-beaten-path wines at her sister location in Downtown Crossing, haley.henry. Before striking out on her own, Fortier worked with another female culinary pioneer, Boston chef Barbara Lynch. Every by-the-glass-wine at Nathálie is woman-created. Take your oenophile partner/friend/lover/family-member over for a glass and bite to eat, or give them a gift certificate.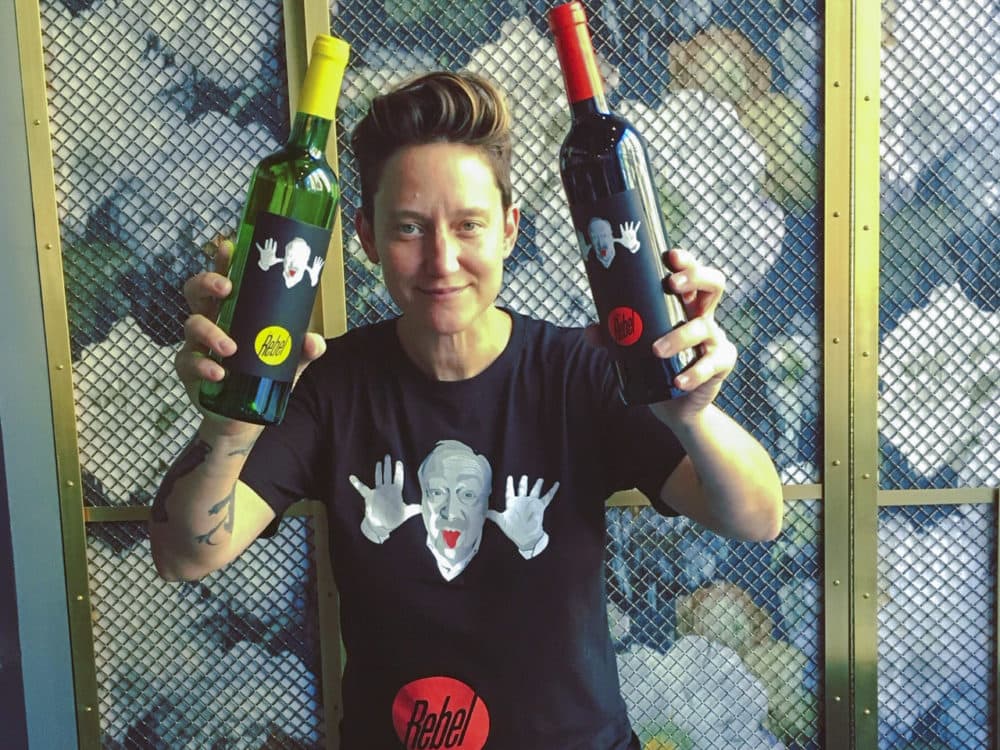 ---
Women-Made Treasures At Queen of Swords
As the story goes, the two sustainable floral designers behind Queen of Swords decided to open their thoughtfully-curated small shop after pulling that bold, regal image from a deck of tarot cards. Their website beckons us to "to find objects forged by makers to be admired, products supporting causes to care about, and many totems and treasures crafted by powerful female entrepreneurs." Accept their siren call and you'll find responsibly-crafted books, bags, delicious body products, apparel, incense, accessories, jewelry and ceramics at their Union Square shop and online.
---
Little Feminist Locked Diary, Or Keep Your Thoughts To Yourself, For Now
Write and be free! OK, this recommendation isn't locally-made, but you can find these adorable and inspiring locked journals in the Museum of Fine Arts, Boston gift shop. Feminists of all ages can express their deepest feelings and thoughts while still feeling secure. Adorable caricatures by illustrator Lydia Ortiz celebrate historic heroines including Rosa Parks, Gloria Steinem and Frida Kahlo. If you shop at the MFA rather than Amazon be sure to swing through the Art of the Americas wing to see the only painting by Frida Kahlo in New England.
---
Walk Among Historic Heroines With Your Everyday Heroines
From Back Bay's mudflats to the isles of East Boston, every Boston neighborhood has an important story of women's history. The Boston Women's History Trail features these stories with an array of walking tours, from private to self-guided. The South End tour, for example, stops at Harriet Tubman Square, where two statues by African-American women sculptors commemorate the heroine's incomparable efforts to end slavery.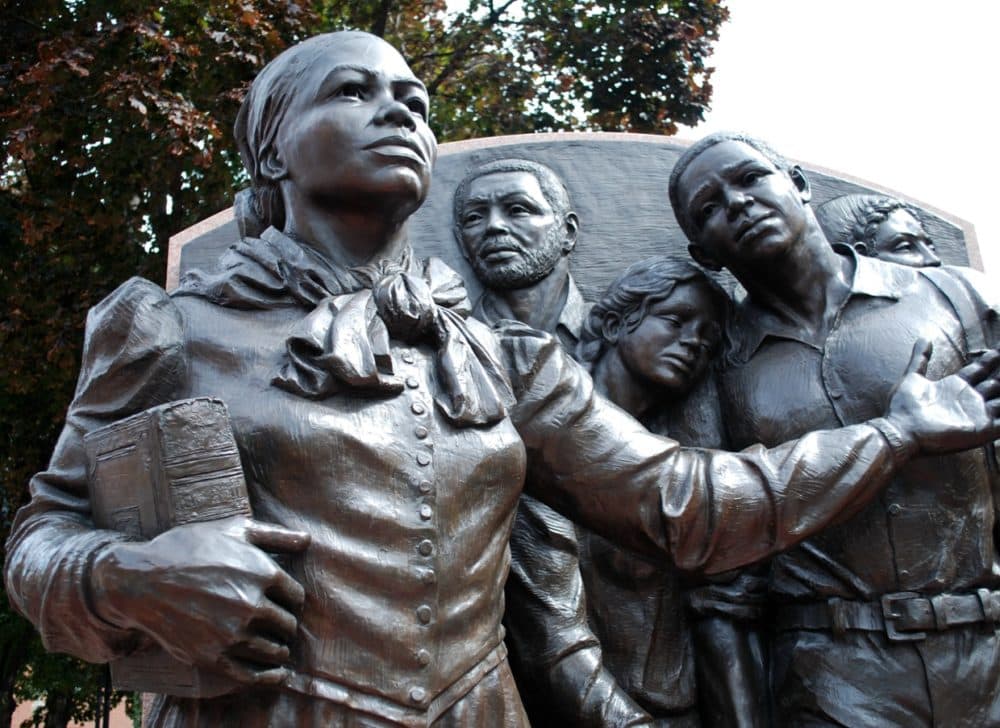 ---
And A Bonus! Babies Can Be Feminists, Too.
Reveal parties be damned, some babies are born feminists. As a follow up to her wonderfully direct board book for little ones, "Feminist Baby," Loryn Brantz released "Feminist Baby Finds Her Voice" this year. It was spotted and purchased at Russell Orchard in Ipswich this fall. Imagine, finding such an item under the same roof as a cider apple doughnut! Plus, outdoors you and your baby feminist can meet a very large pig.