More English Learners Are Turning To Virtual Schools. But Are They Meeting Their Needs?
Play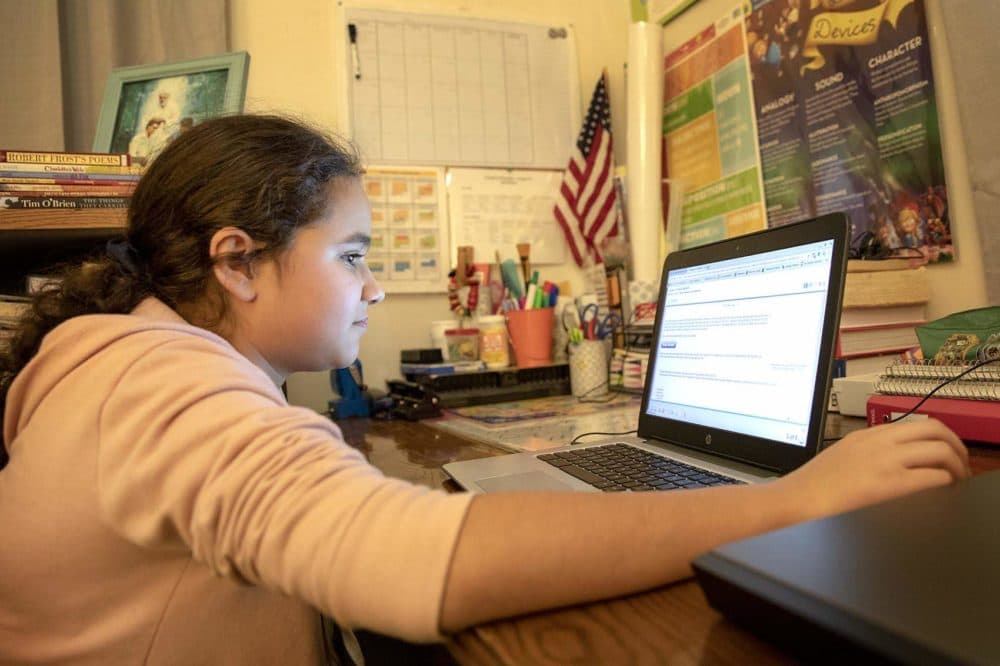 This article is more than 3 years old.
It's Friday night and eighth-grader Eve Leonardo is finishing a biology lesson from the TEC Connections Academy (TECCA). That evening's lesson was all about animal species extinction and why some have stuck around.
"So we could choose some animals to talk about with the class and I chose cockroaches," Leonardo explained with pride. She struggled, though, pronouncing the word "cockroaches" until her three brothers jumped in to help.
Leonardo grew up speaking Portuguese and didn't learn English until she moved to Massachusetts from Brazil about three years ago. Because of that, she's been getting extra support at TECCA, including one-on-one time with a teacher.
"The teacher asks if you can read something to them," Leonardo said. "Sometimes they give you a program that helps you with English."
This year there are 33 English learners at TECCA, which is roughly 2 percent of its students.
"Like many students, there's a lot of reasons why they come to TECCA," said superintendent Adam Goldberg, adding one of them could be it's flexibility. "They can view lessons on video and in print as often as they need to after a traditional school day."
Goldberg explained that ability to pause and rewind could have advantages for kids learning English. If they're feeling shy, for example, they don't have to raise their hand to ask the teacher to repeat a word or sentence they didn't understand.

But there are challenges. Two years ago, state officials cited TECCA for "lacking an English learner curriculum." The state's other virtual school, the Greenfield Commonwealth Virtual School, was cited for the same thing in 2015.
Superintendent Goldberg explained at the time of TECCA's renewal inspection review, the school had just seen a significant increase in English learner enrollment, from six students in the 2015-16 school year to 34 in the 2016-17 school year. He explained that school staff just didn't expect to see such dramatic growth among that student group. But Goldberg said his school has since made a lot of improvements.
"That just reflected the fact that as we grow, we need to anticipate the needs of our students before they arrive," said Goldberg. "Because for a full-time virtual school, if you wait to find out who those students are, you've got a waiting period to build the program and build the staffing to support them."
State officials said TECCA has met their requirements to continue operating, including submitting a new detailed plan for serving English learners and having a plan to improve MCAS participation for the whole school. Whether those changes will work remains to be seen.
In general, though, educating English learners in a virtual setting is kind of a brave new world. Caroline Parker, a research scientist at the Education Development Center, said she's not aware of any peer reviewed research on the issue.
Part of the reason behind the lack of research may come down to size. The number of English learners in virtual schools is very small nationwide. The National Alliance For Public Charter Schools reports it's around 7,000 among the 15 states who reported English learner enrollment to them.
Still, Parker theorized there could be some benefits to learning English in a virtual school such as the ability to learn at your own pace. She pointed out that part of what helps English learners is to use English with other students. But, she added, that's also a challenge in brick and mortar schools.
"There are a number of districts where you go in and you see that the English learners are actually very isolated from the social and extracurricular experiences," said Parker. "Perhaps in an online environment some of those barriers can actually be broken down and less because everyone is communicating in a similar way."
But some linguists are more skeptical.
"I still think that there are real advantages to peer interactions to face-to-face interactions," said Harvard language and literacy development professor Catherine Snow.
She added that's because full language proficiency is more than just the words you use in an academic environment.
"Real language proficiency involves not just being able to talk about texts in that language, but also to exchange jokes or defend yourself when you're attacked and organize social activities and so forth," said Snow.
State data also show that TECCA is still struggling to serve this population. In 2017, 14 percent of English learners at the school met or exceeded expectations on the English MCAS. Statewide, that number was 13 percent. But last year, English MCAS performance at the "met or exceeded expectations level" dropped to zero at TECCA. The figures at the Greenfield Commonwealth Virtual School were not made public because the English learner population was too small.
TECCA's next state monitoring review is expected next spring. State officials just wrapped up a renewal inspection at the Greenfield Commonwealth Virtual school in October. The Board of Elementary and Secondary Education is expected to make a renewal determination for that school in the coming months.
This segment aired on December 3, 2018.