Boston's Future Marijuana Retailers Should Be Less White, More 'Equitable,' City Says
Play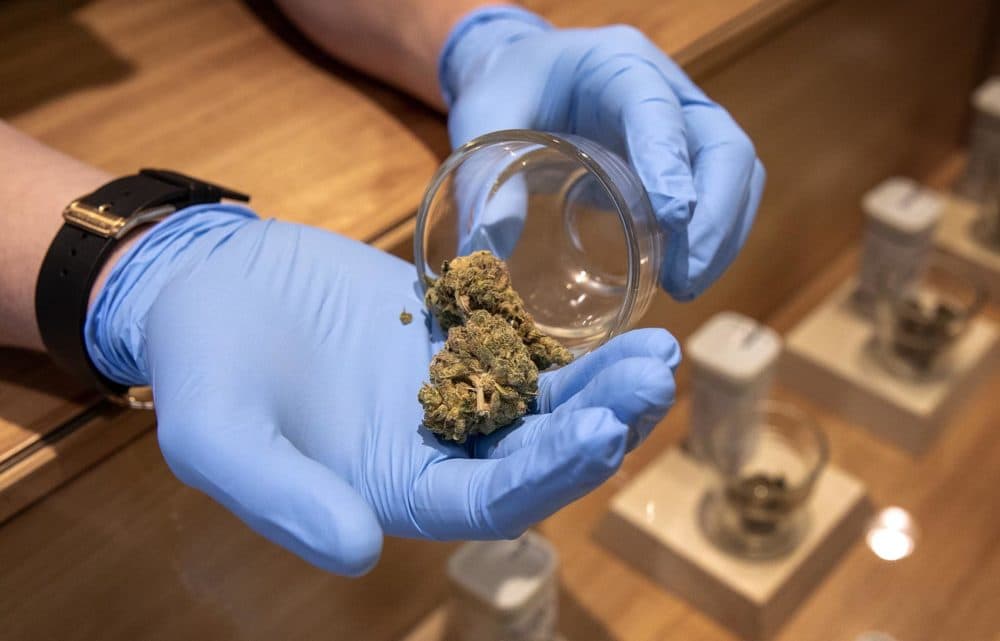 This article is more than 4 years old.
Boston city councilors are trying to prevent marijuana businesses from becoming like lots of other industries in the city — mostly white and, as they said Tuesday, "inequitable."
Massachusetts marijuana law — which passed with 62 percent support in Boston — requires that people from communities disproportionately harmed by the enforcement of marijuana as an illegal drug are included in the new marijuana industry. Priority is supposed to be given to so-called equity applicants — people of color, people who were arrested for drug crimes and those who live in communities impacted by the war on drugs.
Boston officials are struggling with how the city can help make that happen. So far, only 27 applicants have made it beyond the first step of many in the process to open a recreational marijuana business in the city. Only one qualifies as an equity or economic empowerment applicant. (Officials didn't say how many of 52 businesses that filled out online applications were equity applicants.)
In a city council hearing Tuesday, Mayor Marty Walsh's economic development chief John Barros said he supports a one-to-one ratio of equity applicants to non-equity applicants, saying equity "should be our primary objective." He cautioned, though, that it might slow the city's roll out of businesses.
Barros said already, the city is trying to make introductions between local, small business owners and big marijuana corporations for joint ventures similar to what happens in the construction industry. He floated the idea of a pool of money that big business would fund, to help smaller businesses get up and running.
"It's not that people aren't interested," Barros said. "There's interest and there's local interest. But the ramp up to get there is fraught with banks not trying to lend to these types of businesses. It's fraught with there not being a lot of technical assistance out there."
Barros bemoaned that city grant money that would typically be given to small businesses isn't available to the cannabis industry — because of the prohibition on using federal funds on the still-federally-illegal cannabis industry. He lobbied City Councilor Ayanna Pressley — the congresswoman-elect — to do something about that when she gets to Washington.
Pressley made her mark on liquor licensing reform, successfully pushing for more licenses in Boston in hopes of helping neighborhoods that had few establishments — or none at all. And she sees the danger of not fixing the problems now. 
"People often bandy about the phrase that a rising tide lifts all boats," Pressley said. "Well it depends on what boat you're in. A rising tide only lifts all boats if we are thoughtful, deliberate, inclusive and intentional."
The Cannabis Control Commission, the state agency charged with regulating and licensing businesses, so far has issued 76 provisional licenses to retail shops, cultivators and other establishments across Massachusetts, Commissioner Shaleen Title told the councilors. None of those are to a minority-owned business.
"For me, the nightmare scenario is we wake up in a year, we have a fully functioning industry and we find we did not meet our mandate, we did not meet our goal to have a diverse industry, and it will be too late to change it," she said.
Just two recreational stores are open in Massachusetts — one in Leicester and the other in Northampton. They are the only legal cannabis retailers on the East Coast. Collectively, the stores sold more than $2.2 million in their opening week.
Boston's first store is expected to open near North Station. Ascend Wellness' CEO is Andrea Cabral, the former Suffolk County sheriff.
Eventually, city officials said, they expect a retail recreational marijuana store in every neighborhood in Boston.
For more updates on the marijuana industry, join WBUR's Facebook group, Green Rush: Cannabis in Massachusetts.
This article was originally published on December 04, 2018.
This segment aired on December 5, 2018.