Senate President Spilka To National Grid: End The Lockout 'Immediately'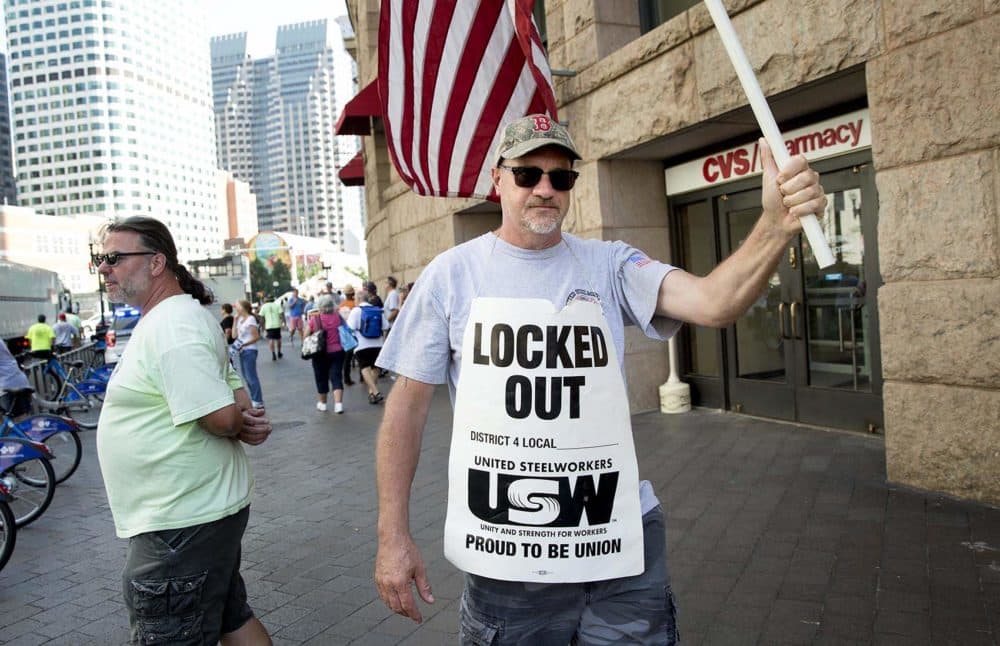 This article is more than 3 years old.
Newly in possession of a Massachusetts House-approved locked out worker benefit bill, Senate leaders said Monday they are ready to intervene if National Grid won't end its lockout of union gas workers voluntarily.
"This process has gone on long enough, and the Senate is prepared to take action if needed," Senate President Karen Spilka and Senate Minority Leader Bruce Tarr said in a statement released overnight Sunday, hours before the Senate was expected to gavel into session at 11 a.m.
National Grid told WBUR in a statement Monday afternoon that it is "committed to ending the lockout by reaching an agreement with the unions at the bargaining table."
"We're encouraged that after we provided a list Friday to the unions of items we are willing to discuss — beyond our current positions — the unions offered us both Thursday and Friday to negotiate, and we also received a commitment to meet beginning Monday, Dec. 17th, every day until we reach an agreement," the utility said in the statement.
National Grid locked out more than 1,200 of its gas worker in late June and the utility and United Steelworkers Locals 12012 and 12003 have been unable to agree over health insurance, pension and other contract terms since then.
"We call on National Grid to end their lockout immediately and allow the workers to get back to work now," Spilka and Tarr said in a statement released at midnight. "We believe the two parties can continue negotiations — and they must continue negotiations — while allowing these families to put food on their table, take care of their children's pressing health needs, and enjoy their holidays together."
Gov. Charlie Baker, House Speaker Robert DeLeo and many others on Beacon Hill have urged National Grid and its gas workers unions to find common ground and end the lockout. A majority of senators on Nov. 1 wrote a letter to Senate leadership asking to advance a locked-out worker benefit bill.
On Thursday, the House approved a potentially precedent-setting bill (H 4988) calling for the state to set up benefits for any utility employee locked out in a labor dispute. Under the bill, all program costs would be assessed on the employer that has locked out its employees, and the bill precludes an employer from passing on costs of the program to ratepayers. Many National Grid workers are facing the loss of unemployment benefits in January.
Baker, through the Department of Public Utilities, on Oct. 8 put a moratorium on some of the company's work, hoping that move would end the lockout.
National Grid has requested that the moratorium be lifted, a spokeswoman confirmed, but it remains in place. The moratorium, which has slowed development by holding up natural gas hookups, was put in place after a safety incident in Woburn that National Grid said was properly handled by the company.
"We have submitted everything that has been required of us to date, and are awaiting feedback," National Grid spokeswoman Danielle Williamson said Friday in a statement to the News Service. "We are eager to provide any and all information to assure the DPU of our relentless safety commitment. We will continue to work with the agency to meet its needs and restore confidence in our operations."
Department of Public Utilities spokesman Peter Lorenz did not respond to inquiries about requests to lift the moratorium and responses to that request.
National Grid and leaders of the two gas workers unions plan more frequent contract talks, beginning on Thursday.
Williamson said National Grid and the unions on Friday had "constructive discussions about important issues" and the company provided the two unions with "a list of items we are willing to discuss with an effort to reach an agreement before Christmas."
She added, "We are encouraged that we now have a commitment from the unions to bargain again next Thursday and Friday, and then, beginning Monday, Dec. 17th, every day until we reach an agreement."
After Friday's talks, and in response to National Grid's assertion about more frequent bargaining sessions, union presidents John Buonopane and Joe Kirylo issued a statement late on Friday.
"After five and a half months, National Grid today agreed to discuss key safety issues related to economics, benefits and safety," Buonopane and Kirylo said. "This meeting was a productive step and we will be negotiating again on the thirteenth. It is long past time for this lockout to end. National Grid made the decision to lock out 1,250 of its most experienced employees almost six months ago. We want to thank legislators who are working so hard to help our members and their families during this holiday season."
On Monday morning, Buonopane told the News Service, "While the daily meeting schedule was never finalized during last week's session, our unions are committed to meeting as often as necessary to reach a deal. As long as National Grid is committed to bargaining in good faith, we will continue to bargain. If the company reverts to its old 'take it or leave it' tactics, we will reassess."
WBUR Senior Supervising Producer Jon Cain contributed to this report.
This article was originally published on December 10, 2018.