'Barber Shop Chronicles,' At The A.R.T., Eavesdrops On A Far-Reaching And Significant Conversation
"Barber Shop Chronicles," imported from England, might be described as "Steel Magnolias" for the African male. But there is much more to Nigerian-born, London-based Inua Ellams' hair-salon-set play than girls getting highlights and crying into their Diet Cokes (ditto, more than there is to the American "Barbershop" film franchise).
Set in the barbershops that serve as black male sanctuaries from London to cities in Nigeria, Ghana, Uganda, South Africa and Zimbabwe, "Barber Shop Chronicles" is on a North American tour being presented here by American Repertory Theater (at the Loeb Drama Center through Jan. 5). Mostly based on overheard conversations, the diverse, infectious work — whose subject matters range from politics to semantics to generational conflict to grooming — fixes a keen if roving eye on what it is to be a black man making his way in a wide world hounded by history.
There is a fair amount of anger and argumentativeness in "Barber Shop Chronicles," but, by and large, this is a joyously peripatetic affair. Its far-flung scenes are connected by loud, propulsive music that ranges from Afrobeat to a cappella to the U.K.-born, rap-related genre known as grime. And between one stop and the next, beneath a twinkling wire rendition of the globe on which Africa holds pride of place, the 12 performers, who inhabit 30 roles, dance and strut while twirling their barber's furnishings and waving maroon salon capes with the showboating precision of matadors.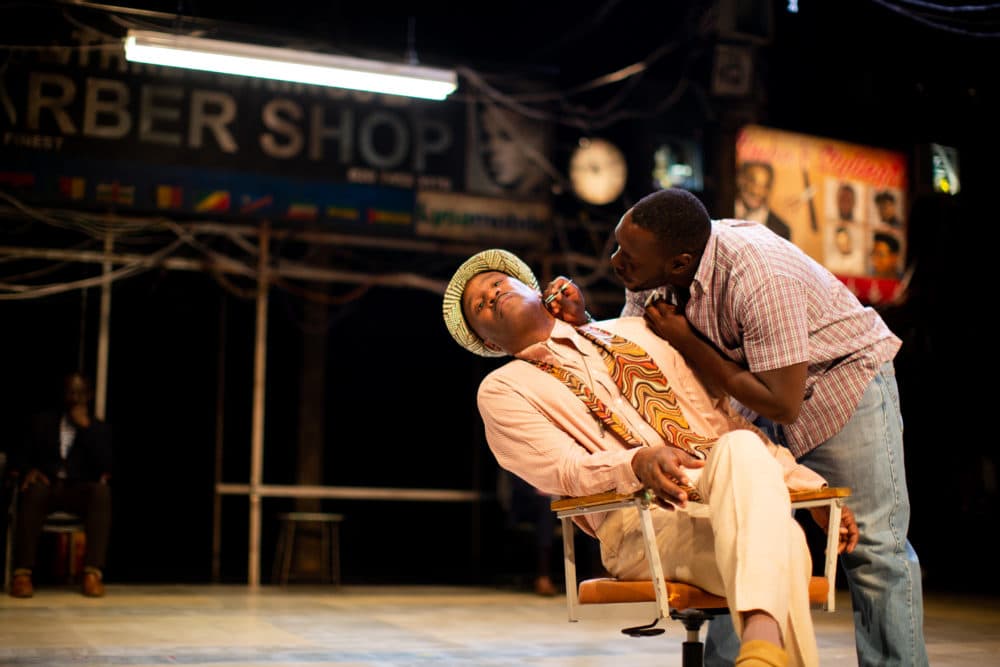 There are recurring plot lines, most to do with the thorny relations of fathers and sons, the broken chains of national and male identity. And as men migrate between their native and adoptive lands, there are character (and business) links between the various locales. But what's most important is the rambling, oft-impassioned, sometimes quirky conversation — much of which poet/playwright Ellams admits to having overheard rather than invented as he eavesdropped on barbershops in Peckham, Lagos, Accra, Kampala, Johannesburg and Harare armed with a tape recorder.
Having seen an advertisement for a course offering barbers training in mental health counseling, Ellams was particularly interested in the barbershop as a safe space for black men seeking advice, camaraderie or a confessional. It is also, as it turns out, a good place to brag, nail-bitingly bond over soccer and explore the rich, itinerant history of African barbering.
Due to the dialects and accents that flavor the script, an American ear may not catch every word. But the pronunciation, rhythm and slang are deliberate: Ellams is interested in both the preservation of linguistic traditions (including those of pidgin as opposed to "proper" English) and the use of racially charged language for both disparagement and self-empowerment. Moreover, the imported cast, in director Bijan Sheibani's fast, movable feast of a production, is so terrific that, if you miss some of what is said, you will pick up on every emotion, from ecstatic to peevish, and every charged phoneme of body language.
Following a brief prologue set in a barbershop in Lagos where a young man seeks a haircut as "aerodynamic" as a BMW Z4, the play settles into the Three Kings Barbershop in the vibrant London neighborhood of Peckham, to which it will return again and again. This oasis' colorful clientele will change, though the banter will often fix on what it means to be a father (indulgent, abusive or absent), often without a satisfactory role model. There is also bristling tension and a mystery here, centered on the ambiguous relationship of the owner, Emmanuel (Anthony Ofoegbu), and a young stylist, Samuel (Elliot Edusah), whose father was, with Emmanuel, one of the original three kings.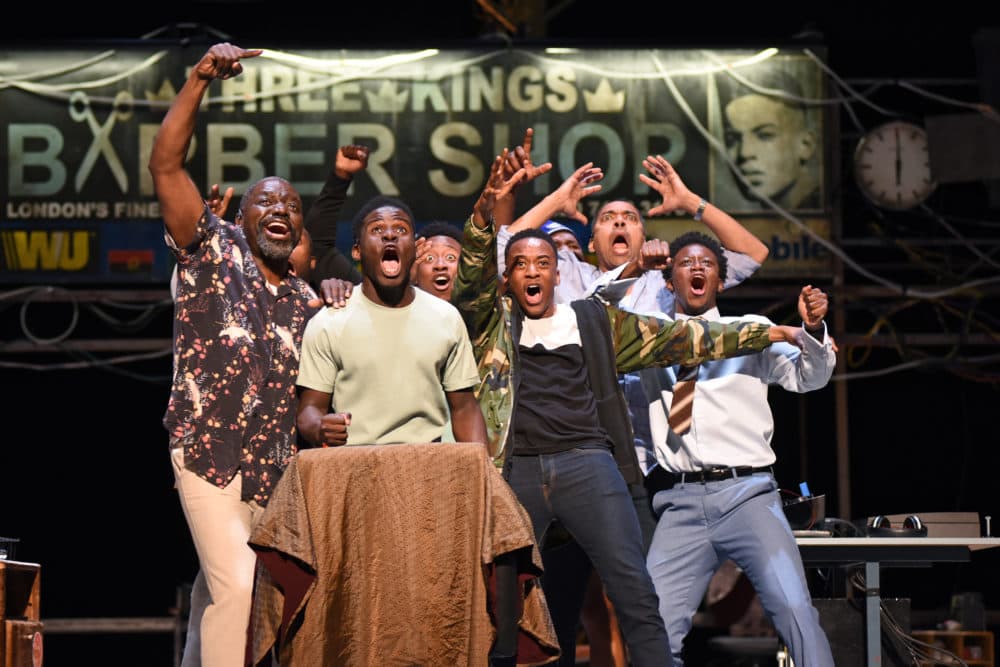 There are other ongoing stories, none more affecting than that of the middle-aged South African Simphiwe, so haunted by an impoverished childhood in which he charged white children money for the privilege of calling him "Kaffir" (a racist slur) that, despite having temporarily escaped, he falls into the same rut as his abandoning, alcoholic dad (with whom he refuses to reconcile, any more than he can make peace with the post-apartheid Truth and Reconciliation Commission). Monumentally yet poignantly played by the imposing Patrice Naiambana, the embittered character, swaying with a beer can melded to his hand, declares sadly: "We grow up to be our fathers."
An encouraging coda proves that's not necessarily so — but that a man needs the warm, prickly nest of the barbershop nonetheless. And just as some of the men in the play grope for identity in the shadow of failed fathers, they also feel themselves dwarfed by their heroes. A young actor in London, unsure just how to audition for the role of a "strong black man" (called for in the script he brings with him to the barbershop), struggles to pin down an identity somewhere between drifting with the diaspora and black Mount Rushmore: "We can't be like any of those men: Mandela, Martin, Malcolm, Marcus … they are legends, titans, country-sized men. Compared to them, we're islands."
At least in the international sea of the barbershop, those islands form a companionable if irascible string, floating at the Loeb beneath a disco ball encased in a sparkling blue-lit map of the world and a hubbub of homemade barbershop placards. Inside those shops, amid all the scissors and pomades, simulated styling, sports talk and dancing with chairs, there exists a place to be oneself, reflected from all angles in the barber's handheld mirror — along with a spiffy haircut.
---
"Barber Shop Chronicles" is at the Loeb Drama Center in Cambridge through Jan. 5.