'Barber Shop Chronicles' Shows Vulnerable Black Masculinity, One Haircut At A Time
Resume
On a bright winter afternoon, barber Isaac Genty cuts his son's hair at Headlines, a black owned barbershop in Cambridge. He's telling a story about his father, who was a barber for more than 50 years. Genty's son, sitting patiently in the chair as his father gives him a lineup, says he will be the third generation of men in their family to pursue a career as a barber.
Listening in is Inua Ellams, the playwright of "Barber Shop Chronicles," now playing at the American Repertory Theater. This is the Nigerian playwright's first time in an American barbershop but over the last few years, Ellams has visited a multitude of barbershops in several African countries and the United Kingdom, analyzing how men interact with each other.
"Barbershops are naturally theatrical places," Ellams says as he watches the men in Headlines talk. "They just open up to conversation — for men to hold court and talk at length about the most ridiculous, crazy stories."
Ellams feels that spaces like Headlines are integral to the formation of healthy relationships between men. He believes barbershops stand as a place where men can display vulnerability and seek advice. "There aren't many other safe spaces where men, specifically black men, can gather in large numbers without criticisms or the critical eye," Ellams pointed out.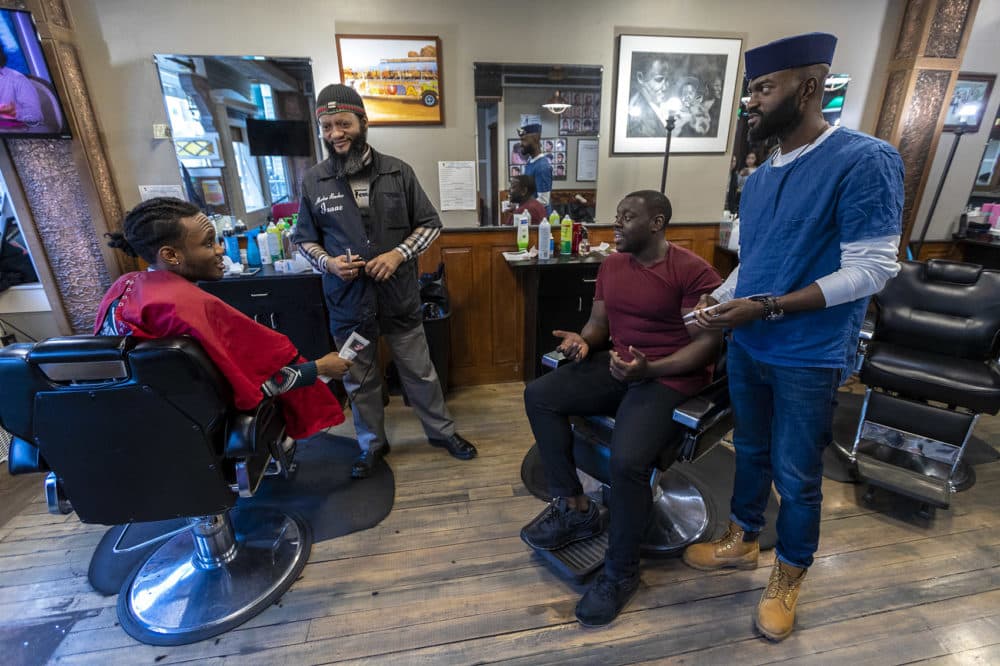 The idea for "Barber Shop Chronicles" began to bloom a decade ago, after Ellams saw an advertisement in London, promoting a program training barbers in counseling. "I was surprised that conversations and barbershops could get so intimate that clients could be safe [discussing] potential mental health problems," Ellams says.
The playwright traveled to several African countries and the United Kingdom to learn more about the singular relationships between barbers and clients, armed with only a voice recorder to capture conversations and experiences. What he found was that despite differences in culture and language, all of the barbershops had one thing in common: The men were speaking open and honestly about their realities.
"Barber Shop Chronicles" draws from these recorded conversations and weaves together the interconnecting stories of 30 black men living in various African countries and the United Kingdom.
Showing these men in the barbershop, where they are vulnerable and open with each other, highlights the nuances of black masculinity, which is riddled with many dangerous stereotypes. "The play sort of goes [on] to accept [the existence of] all of those stereotypes," Ellams says. "And then deconstructs them and demystifies them in the most traditional and simple of ways, which is by just seeing these men on stage, talking, laughing and eating."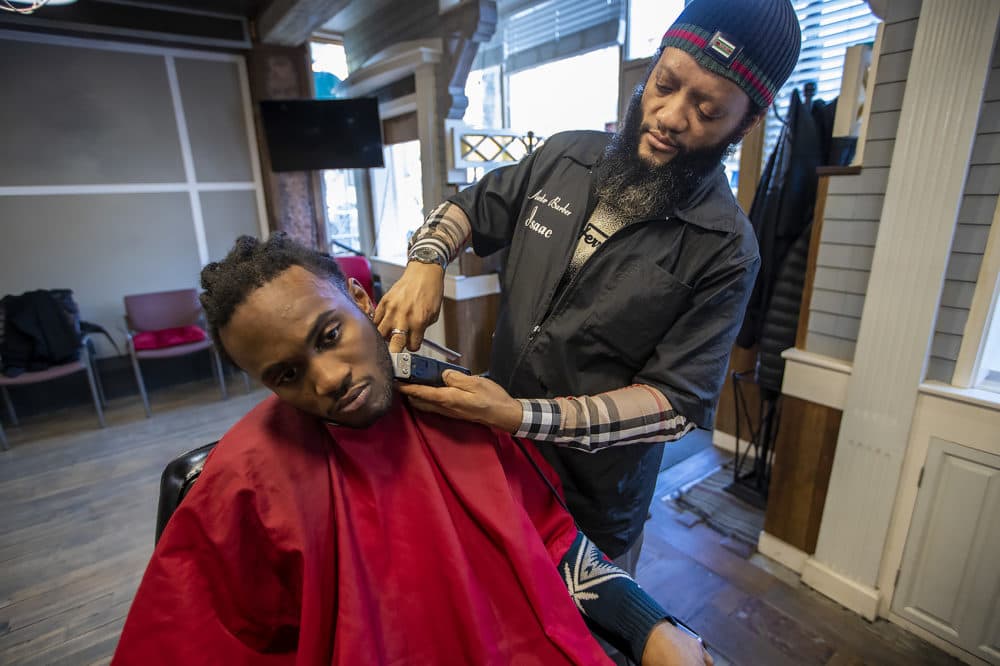 Ellams uses music in the play to indicate changes in scene and location. Afrobeat indicates a scene change to Nigeria, Grimes a switch to a barbershop in England.
Performer Ekow Quartey, an actor in the play, demonstrates at Headlines by singing one of the songs from the production in a clear, deep voice. For Quartey, the intergenerational conversation woven throughout the play is somewhat reflective of his own experiences with his father.
"My dad is my best friend," Quartey says. "But he never spoke about how he felt when he lost his mum, when he lost his sister ... now he opens up. The fact that barbershops are this space where young men can go and see older men laughing ... but also talking about difficult things is very important."
Lance Woodson, the owner of Headlines, also turned to barbershops in his youth to connect with and learn from older black men. "When I was around 12 years old, I began frequenting the barbershop my godfather owned," Woodson tells me. "My grandfather used to make me go but the conversations that would happen in the shop were always captivating." Decades later, Woodson opened up his own shop where these conversations happen daily. "It's a community based place for young men to get educated about who they're going to become," Woodson says.
Woodson hopes that "Barber Shop Chronicles" encourages people to go into barbershops and form these important connections with each other. For Ellams and Quartey, the connections formed help us to truly see each other. "Human beings are far more complicated than the covers and the caricatures we put on them," Quartey says. "Given space, there is a lot to be learned from each other."
In the end, there is no "brilliant alchemy to the play," says Ellams but there is a magic in witnessing how barbershops encourage vulnerable dialogue among black men.
Perhaps the world can be changed, one haircut at a time.
This segment aired on December 7, 2018.