This Artist Reimagines Black And Brown Youth As African Royalty
In his bright, paint-splashed studio space in the South End, artist Stephen Hamilton unfurls a length of hand-dyed indigo fabric. Around five feet long with cowrie shell embroidered edges, the dark blue fabric is painted with the intricate image of a smiling woman holding a slender stalk of greenery. "I painted this woman whom I met while I was in West Africa," Hamilton said. "She reminded me so much of my great grandmother."
Her face, rendered with stunning accuracy and realism, seems to come alive as the fabric shifts. Hamilton hand dyed the fabric and created the pattern with indigo before going over it with paint. He then embroidered the fabric with yarn dyed with kola nuts, a mixture Hamilton makes himself. This intensive hands-on process represents a portion of what Hamilton's newest endeavor, "The Founder's Project," required for completion.
A multimedia installation, "The Founder's Project" reimagines Boston public high school students as the "legendary progenitors of West and Central African ethnic groups that are ancestral to the African diaspora." The portraits, which sit inside hand-carved wooden frames dyed with natural pigment, were predominantly created using traditional techniques. "The idea is to pay homage to the ancestors by making this work in the way that they would have made it," Hamilton emphasized. "I wanted to pay homage to black hands."
"The Founder's Project" will be on display at the Bruce C. Bolling Building in Roxbury starting on Friday, Nov. 16. The project is part of Now + There's Public Art Accelerator program, which provides financial, technical and curatorial support to early- and mid-career artists in Boston.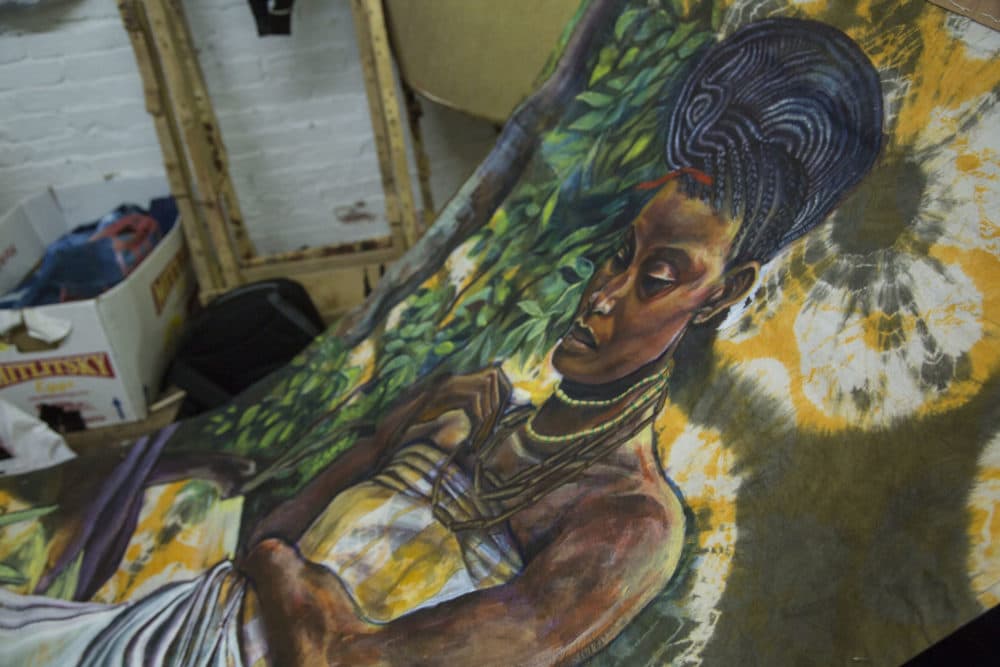 Each piece in "The Founder's Project" incorporates accurate reproductions of arts from specific African ethnic groups, using materials available in precolonial Africa. Hamilton knows the process is tedious and time intensive but it's an integral part of his work. "What's important is the focus on African craftsmanship," he said, "specifically thinking about how this craftsmanship was exploited in the Americas."
These traditional techniques contrasted with Hamilton's more western based style of acrylic painting result in a new, unique take on what black art looks like and how it functions.
Hamilton spent almost a year in Nigeria in 2015 as a resident artist of Arts Connect International, an organization that builds equity and inclusion through the arts. While in Nigeria, Hamilton built on his previous knowledge of traditional West African weaving and hand dyeing techniques, which he brought back with him and taught to Boston youth. Much of Hamilton's previous work focuses on and centers West African ontology and spirituality and he employs his art to bring these stories to life.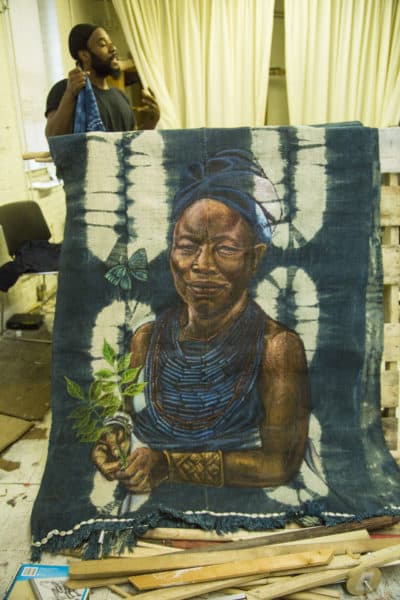 "When it comes to our African ancestors, a lot of times there's not a lot of education around that," Hamilton pointed out. "It's not something that's covered in many Boston public schools." His art takes aim at bridging that divide between peoples of the Afro-Diaspora and West and Central African traditions. While "The Founder's Project" is a predominantly visual exhibit, Hamilton created an educational syllabus to accompany it in case educators wish to incorporate it into their curriculum. "I wanted to create something that others could educate around," Hamilton said.
Referencing the progenitors the portraits are modeled after, Hamilton said, "identities were forged around these figures, they had an incredible impact. All of these figures are incredibly important to contemporary African ethnic groups." Though Hamilton uses the terms kings and queens to describe the historical focus of the project, he pointed out that our notions of what kingship means is a very Eurocentric interpretation of monarchy based on feudalism.
"Kingship means something very different than what we've been taught," Hamilton said. While kingship is a very complex, multi layered cultural aspect, the expectations and the personal trust put into kings and queens in many West and Central African traditions is very high. Hamilton pointed out that kingship or queenship was often times accompanied by great personal sacrifice and that the exclusivity of royalty seen so often in western monarchies doesn't translate to many cultural traditions in west and central Africa.
"Queen Pokou, for example, was fleeing from aggression from the expanding Ashanti empire," Hamilton recounted. "She led her people over a river into what is now Cote d'Ivoire." But in order to cross the river, Queen Pokou had to sacrifice her infant child to the river spirit. "She experienced such grief that all she could say was, "Ba ouli" or the child is dead," he told me. "Her people, in response to her sacrifice, began calling themselves the Baoulé and to this day, that is their name. They're one of the largest groups of Akan people in Cote d'Ivoire."
This tale is only one of many creation stories in West Africa that require a king or queen to make a sacrifice for the greater good. "This conversation about kingship is very important and also complicated," Hamilton said. But through examining and highlighting history, "it can be something that allows us to learn about the expectations that we should all have for our communities."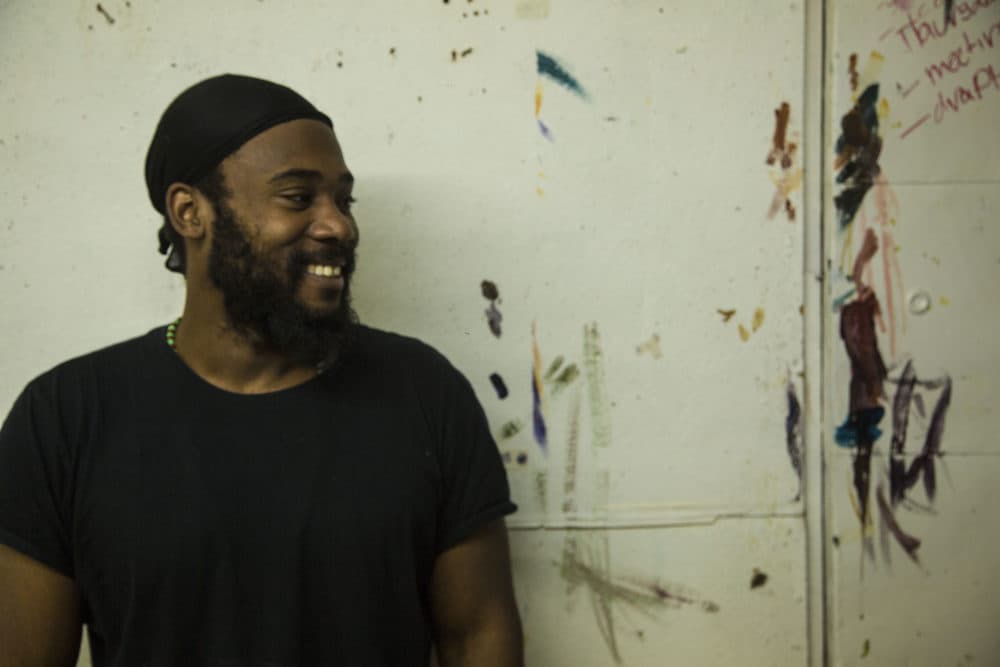 This is one of the essential elements of "The Founder's Project" — reconnecting peoples with West and Central African ancestry to the context of what that ancestry means. "We ignore the part of our identity which is self-created and self-curated," Hamilton said, elaborating on how blackness is portrayed in western media — often in contrast to or as a reaction to whiteness. "We don't often know about African cultural context aesthetics and its impact on us culturally in the diaspora."
Through colonization and assimilation, many of these cultural elements throughout the African Diaspora were eliminated, syncretized into European traditions or transformed into new cultural practices. By reimagining youth as these important African historical figures, Hamilton hopes to "empower narratives that we don't necessarily hear all the time in the mainstream."
Through these stories of kings and queens, "The Founder's Project" challenges the denigration of blackness in western culture while empowering black and brown youth with the knowledge of their ancestry. "These installations are accessible to black communities in Boston and they represent black communities in Boston," Hamilton said. "They now have a place where they can see these empowering images of them while gaining a deeper understanding about our African past and how it still impacts our realities."