Chyrstyn Fentroy — First Black Woman To Join Boston Ballet In A Decade — Debuts As Snow Queen In 'The Nutcracker'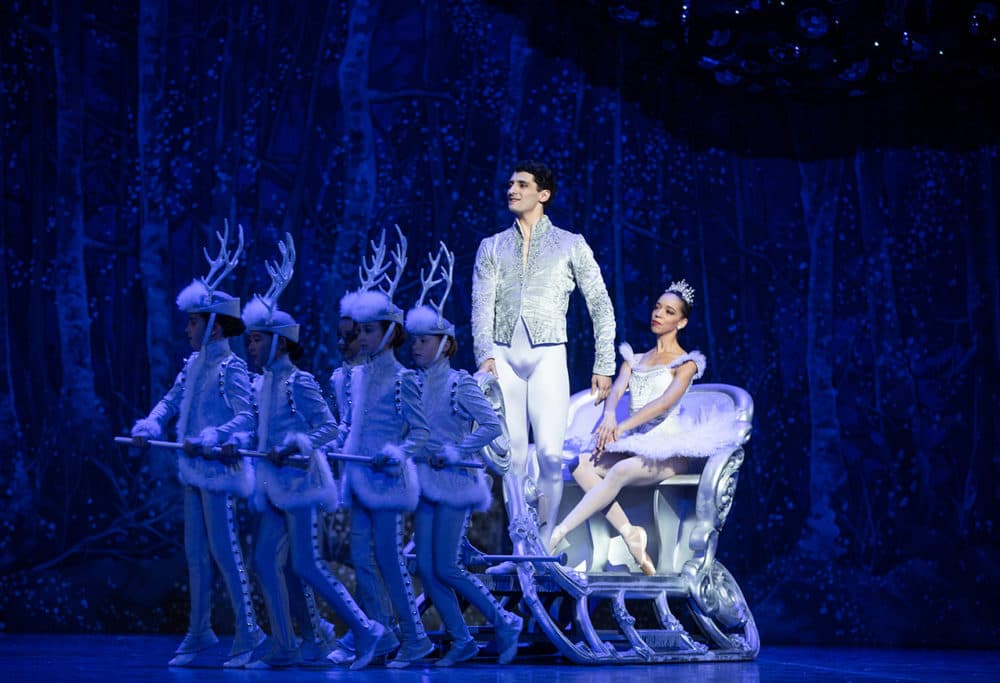 This article is more than 4 years old.
Artificial snow falls gently from the top of the stage of the Boston Opera House, encasing the space in an ethereal glittering glow. Beneath it dances Chyrstyn Fentroy as the Snow Queen, entwined in an elegant flow of limbs and carefully choreographed steps with the Snow King. The Boston Ballet is rehearsing for its opening night of "The Nutcracker," the other worldly production based off of E.T.A Hoffman's novella. Fentroy debuted as the Snow Queen on Thursday evening and will star in the role again on Sunday, Dec. 2.
Fentroy makes a stunning Snow Queen, traversing the stage in a series of light, precise steps. The role is a notable milestone for Fentroy, who has been deeply involved in the world of dance since she was old enough to walk. She tells me she's the first black female dancer to join the Boston Ballet in the last decade.
Growing up as the daughter of two dancers in Los Angeles, Fentroy spent a lot of time in the dance studio. " 'The Nutcracker' specifically is something that's kind of been a part of my life forever," Fentroy told WBUR. "I grew up watching my mom do the Sugarplum Fairy variation and spent so many years in the wings watching performances."
After a move to New York City at the age of 17, Fentroy began her training at the American Ballet Theatre as a part of its collegiate program. Then she moved onto become a principal dancer with the Dance Theatre of Harlem, which her mother introduced her to when she was younger.
As the daughter of a white mother and a black father, Fentroy knew that her skin color would impact her dance career at some point. Fentroy's mother made it a point to be transparent about race while emphasizing that Fentroy's skin was not a drawback but an advantage. "She said that it's something that sets you apart in a room of people that look the same," Fentroy said of her mother. "And even if you were able to do the steps exactly the same as the other girl you're special because you look different."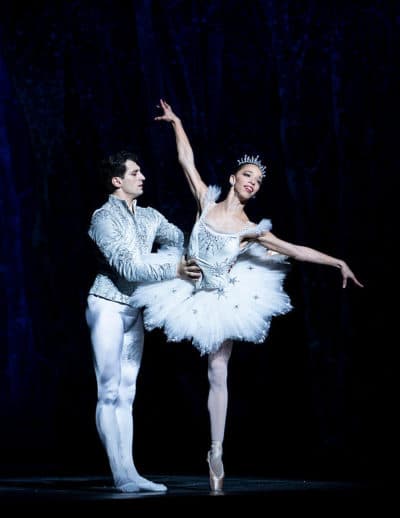 Fentroy internalized these positive messages about her skin but recognized that despite this, the world of dance is still one very much steeped in somewhat homogeneous traditions. "There was a point where if you were the slightest bit darker than everyone else on stage you wouldn't be able to perform with this group of people," she pointed out.
Even when Fentroy did land big roles, she recalls others making disparaging comments about how she obtained them. "Being in school, I remember people saying things like, 'Oh she only got that role because she's the black girl, they have to give it to her.' "
Impostor syndrome has set in before. Despite all of her training and talent, Fentroy wasn't immune to feeling that her race somehow played into her success as a dancer. "There's still the little voice, that even when I do things like Snow Queen or last year when I was doing Dewdrop, that's like, 'Am I being featured because I'm the woman of color in this company and it's a conversation right now?' " She admits that perhaps that voice will always be there.
As a partial result of that voice, Fentroy experienced and still deals with an anxiety to be absolute perfection. "There have been many many nights I'm just crying myself to sleep because I wasn't what I wanted to be," she said. "That also goes into being ethnic and having a different body type, bigger thighs than the other girls, not ever being what I envisioned a ballerina to be."
Even in the age of Misty Copeland — who was a close family friend of the Fentroys growing up — black ballerinas in major dance institutions, though more numerous (and more visible) than in prior decades, remain relatively anomalous. Other than Copeland, Fentroy has relied on her own internal dialogue for inspiration. "Dancers of color exist," Fentroy said. "We're becoming more frequent and more empowered to have a voice."
Illustrating just how long ballet's lily white legacy has endured, most pointe shoe companies only recently began providing shades outside of the traditional "European pink" color. To achieve the seamless look from pointe shoe to leg, dancers of color have had to take extra, expensive and laborious steps. Fentroy described the Dance Theatre of Harlem's intensive process of dying their pointe shoes and tights to match the dancers' skin tone. "They actually created a specific paint that we would paint our shoes with to match our tights," Fentroy said. "The point was to accurately represent all skin tones up on stage."
Moving from Harlem to Boston was certainly a shift in culture and demographics. Fentroy, who has been dancing with the Boston Ballet since 2017, was pleasantly surprised by how comfortable she felt when she moved to the city. "It was jarring to hear I was the first black woman in ten years to join the company," she said. "But I love it here, dancing with Boston Ballet is a dream."
Fentroy's performance as Snow Queen will have an impact, big and small, for black girls and women who see "The Nutcracker" this holiday season. To witness oneself onstage is an astonishingly powerful experience.
Going back to that little voice in her head, Fentroy said, "Until the day that dancers of color don't have those thoughts about not being good enough or their color being the reason for their success, we have to keep fighting to make diversity the norm."