These Productions Are Designed For People With Autism
Play
This article is more than 4 years old.
Michael Gravante loves theater. The high school senior has been acting in local performances since he was in first grade and he plans pursue a theater major when he goes to college next year. His mother, Elaine Gravante, describes him as a walking, talking Broadway encyclopedia. But Michael's autism spectrum disorder makes some theater experiences inaccessible to him.
He has a hard time coping with sudden changes, disturbing images and unexpected elements.
"I like to know what happens before I see it, that's why before I see a show I always try to read the synopsis first," Michael says.
Elaine says that while her family loves going to the theater together, she always worries about potential setbacks, which can be hard to recover from.
"We've been to one show where there was no disclaimer on something that was going to happen and it completely knocked the socks off of Michael."
The CDC estimates that 1 in 59 children has autism spectrum disorder, which can cause a broad range of challenges with social skills, repetitive behaviors, speech and nonverbal communication. It also means that certain sensory experiences, like a night at the theater, can be overwhelming.
Sensory-friendly productions, which alter some technical and dramatic elements of a performance, are a way for neurodiverse communities to access theater.
Greater Boston Stage Company in Stoneham is preparing for its first sensory-friendly production for people with autism spectrum disorder and other sensory and cognitive needs. Dori Robinson, the theater's education director, works with the cast and crew to tone down the lighting and sound design to make their show, "Tiny Tim's Christmas Carol," more inviting to a neurodiverse audience.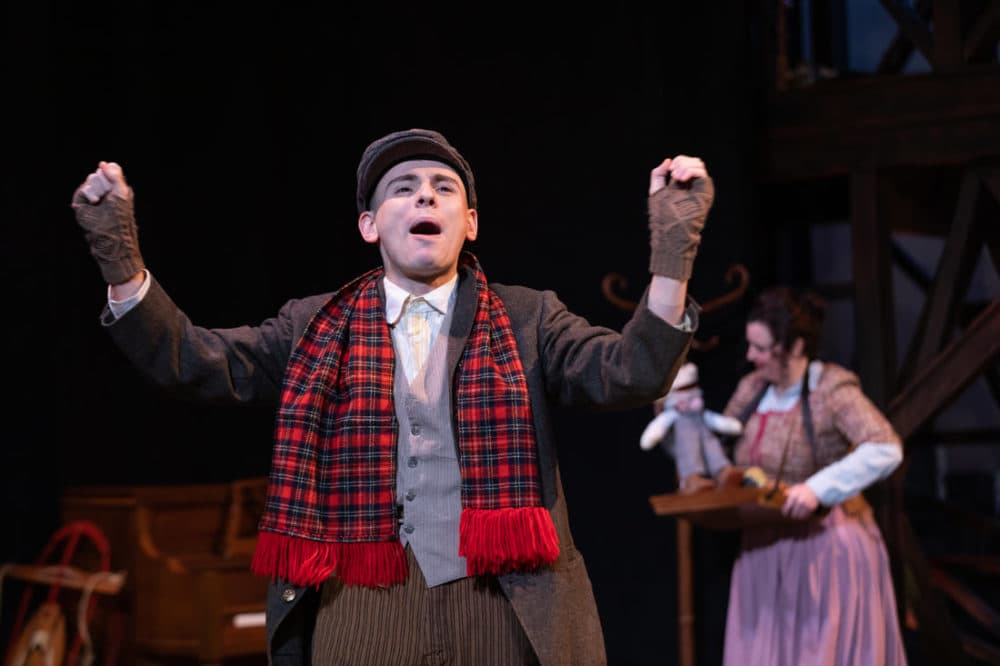 Sensory-friendly productions are more relaxed. The staff warns the crowd before surprising or scary moments, and audience members are free to talk, walk around, and enter and exit the theater as needed.
"I think of it as the peaks and valleys," Robinson says. "Taking those dramatic moments and bringing them more to a middle level so that the audience can still have that same performance. We're not changing the words; we're not changing what the actors are doing. They're still experiencing it, just with slightly less dramatic elements so they can be a part of the show."
Robinson recently participated in the Mass Cultural Council's Universal Participation, or UP Initiative, which helps arts organizations become more inclusive and accessible. Part of the training focuses on these relaxed performances, which officially began in the United States about 10 years ago, starting on Broadway and spreading to theaters throughout the country.
Locally, Greater Boston Stage Company is not the first to offer these shows; Wheelock Family Theatre, The American Repertory Theater and SpeakEasy Stage have all offered sensory-friendly performances. Emerson Stage held two sensory-friendly productions of "Flor and Ulysses" this fall.
The UP Initiative's program manager, Charles Baldwin, says it's important for theaters to consider making changes across the board, not just on nights where the show is designated as "sensory-friendly."
"When I was at Wheelock Family Theatre we did a couple of relaxed performances but soon discovered the audience we hoped to reach was already coming to shows and already felt welcome," says Baldwin, who was the director of marketing and operations for Wheelock Family Theatre for nearly 15 years. "Thus, some features, like fidget toys and quiet spaces and 'know before you go' info were made available at all performances."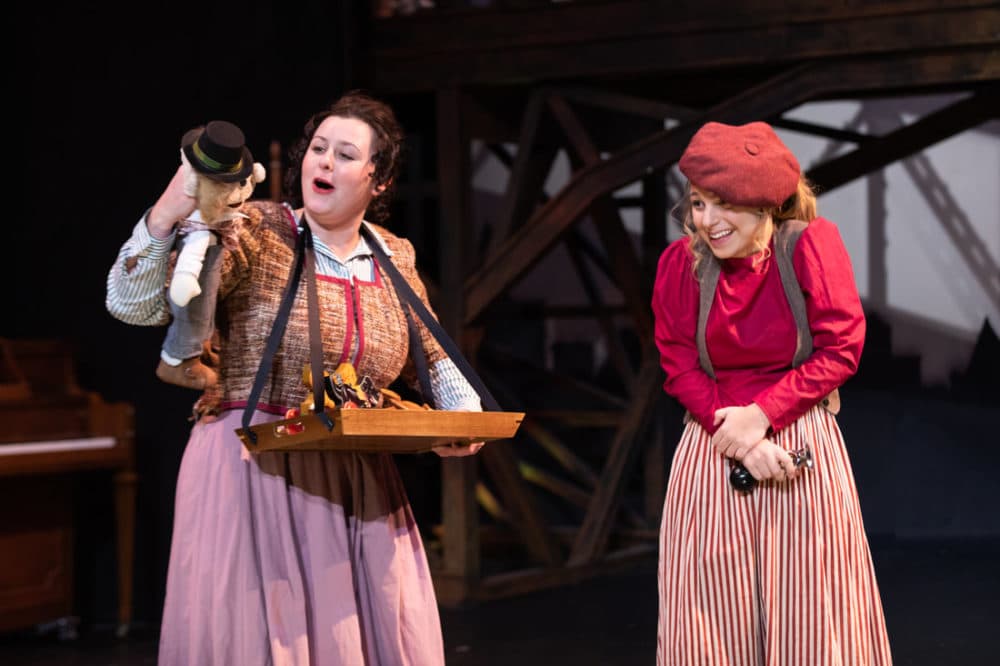 Baldwin says that audience development is only one piece of the puzzle, and wants theaters to take a long view of their relationship with the communities they serve by making their spaces more generally accessible.
Robinson agrees. As director of education, her primary role is working with the theater's education program, the Young Company.
"Four years ago when I came in, I noticed that we have students with all different abilities and all different backgrounds and I said, 'Wow, are we doing our best work for everyone here?' " Robinson brought in an inclusion specialist, Erin Ronder Neves, to better serve all of their students. She trains the staff and creates lesson plans for students who are neurodiverse and need some adjustments to the typical program. She says that communication and feedback are key to their success.
"We want to hear from families how they can be successful in our space so we can accommodate, modify, and adapt the space to meet those needs," Neves says.
Michael Gravante has participated in Greater Boston Stage's Young Company since 2014. His mother says that communication between the staff and her family has been key to his success. For Michael, these changes have meant that he can come to the theater and be his authentic self.
"When I first started here I didn't really see anybody else like me, because I'm on the autism spectrum. But now with the sensory-friendly performances, I feel like the theater is going to keep changing," Michael says. "People who are neurodiverse deserve to see a show and not feel uncomfortable in any way." He now hopes to pursue a theater major when he goes to college next year.
Elaine says that having a theater space where Michael can thrive as both an audience member and a performer has meant the world to her family.
"Theater has saved him; theater has saved us. It has given him a purpose. It has given him a love, and he has found a place that he can call home and he can feel comfortable."
"Tiny Tim's Christmas Carol" runs through Dec. 23. The sensory friendly production takes place on Saturday, Dec. 15, at 2 p.m.
This segment aired on December 13, 2018.