Using Theater As A Platform For Activism, Local Actors Join Groups Nationwide To Stage Play About Gun Violence
Play
This article is more than 5 years old.
Nineteen years ago on Friday, two students opened fire on their classmates and teachers at Columbine High School in Colorado. To mark the anniversary of that tragedy — and to remember the ones that came before and that followed — young people are joining a National School Walkout. But some students, and adults, will be using a different platform to make their voices heard: theater.
More than 100 regional, community and school groups have signed on to perform staged readings this week of the same, new, one-woman play about gun violence. In Massachusetts, there are at least six such productions.
At the Gann Academy in Waltham, the green room was full of costumes and sets. Theater teacher Lynda Bachman recalled how her students were in the middle of rehearsals for "Fiddler on the Roof" when the shootings in Parkland broke out. They reeled in the tragedy's wake, not knowing what to do with their confusion, anger and fear.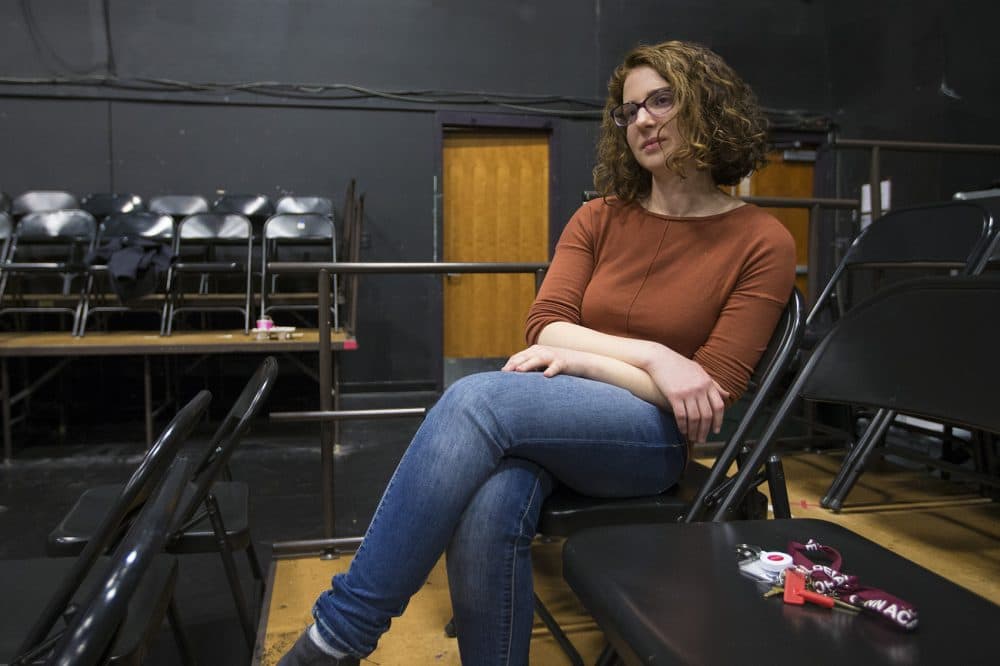 Inspired by the survivors at Marjory Stoneman Douglas — many of them theater kids, too — Bachman says they eagerly joined their own school's walkout and went together to the national march. Still, her students who grew up with lockdowns and active shooter drills wanted to do more.
"While all of this was going on I learned about Lauren Gunderson's project and her work to organize readings all around the country of 'Natural Shocks,' " Bachman said.
The prolific playwright finished "Natural Shocks" just two weeks before Parkland. She was 17 when Columbine rattled the country in 1999. It shook Gunderson, too, and it activated her to write an op-ed in the Atlanta Journal-Constitution calling out the NRA. She even traveled to speak with legislators in D.C.
The way the young Parkland survivors have rallied inspired the playwright to offer her script to theater groups around the country. And she's waived the fee, instead asking participants to raise money for organizations including Moms Demand Action.
Gunderson's one-woman play takes on the enduring issue of gun violence and its intersection with domestic violence in the U.S. After reading the script, Bachman decided to send it to her students at Gann.
"I think what theater allows us to do uniquely is engage deeply with a story, another person, an idea, a theme, in a way that's different than, let's say, going to a march," she explained, "but this form of theater activism for me is really about taking a deep look together in community."
With only about a week to rehearse the 65-minute torrent of words, two of Bachman's students have been digging into a script layered with meaning and mature themes. "Natural Shocks" is described as "a one-woman play in a tornado."
"We're supposed to think we understand who she is and judge her for who she is," Bachman explained, "and then over the course of the play [we] realize that we haven't pegged her at all — she's so much more than what we first assumed."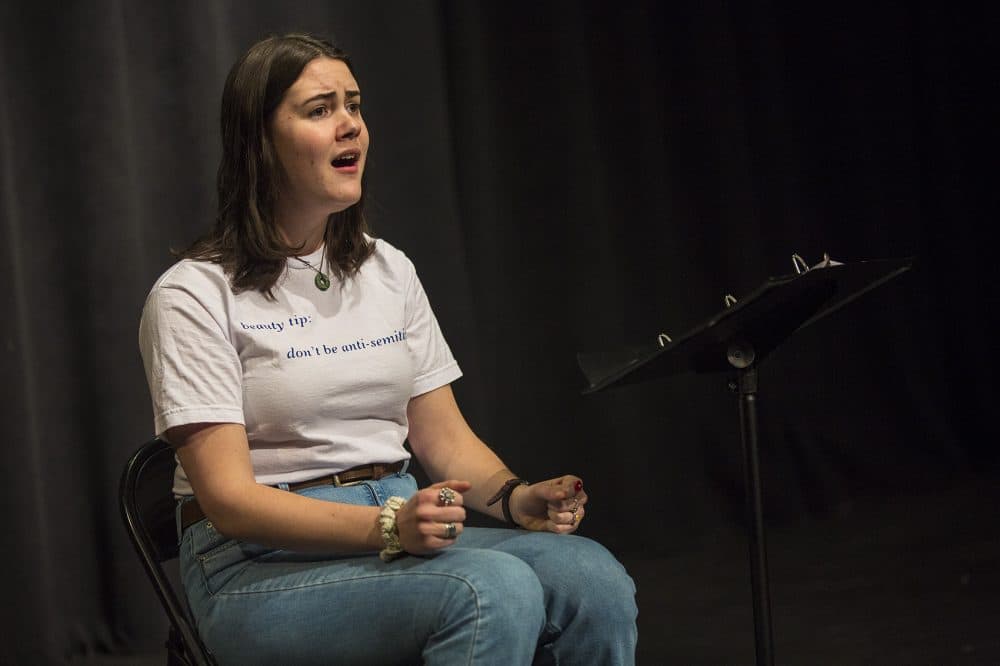 Early in the play Bachman points to the fact that we learn the sole character, Angela, is a gun owner herself. During rehearsal, actor Julia Clardy, a junior, ran through that part in the script.
Y'all got wigged out when I said there's a gun in here, didn't you? You're not those kinda people are you? I get that. I respect that. I don't really like guns myself, but I grew up around them and you got to be able to protect yourself. This is a messed up world. I have a right to a gun, and you have a right to think I'm nuts. That's all we need to say about it.
The play is a comedy — until, as the script says, "it's not."
Angela "is someone that you feel like you shouldn't like but you do," the young actress said. "She has guns. She lies all the time. She makes pretty bad decisions."
Those bad decisions, and the details of Angela's relationship with her mother — and her gun-collecting husband — are revealed slowly throughout the play.
"It's all statistics until it's happening to you — then it's happening 100 percent," Angela says at one point.
Bachman deliberately stepped back to let her students produce this very mature and challenging work.
"One of the things that's really important to me and particularly teaching high school is to treat my students like the full complex human beings that they are and give them the opportunity to have the capacity to handle this, right?" the teacher said.
Clardy explained that the process of peeling back the layers in "Natural Shocks" has changed her views, not just on gun violence, but also about its connection to domestic violence.
"This is someone that I feel like I know," she said of the character. "It takes it from this like level of institutional statistics and it brings it into this very personal experience. I feel like this is something that's like happened to me, happened to someone I know."
This staging of "Natural Shocks" is being directed by senior Nessa Goldhirsch Brown. She hopes her first foray into theater activism will help make change.
"Oftentimes when you go see a show or whatever you're like, 'Wow that was so great,' and then you go home you go to sleep and you kind of forget about it," she reflected. "But I hope [this] stays with them — they think about it, talk about it with their friends and their teachers, and really understand its connection to our world and our lives and just like what's going on right now."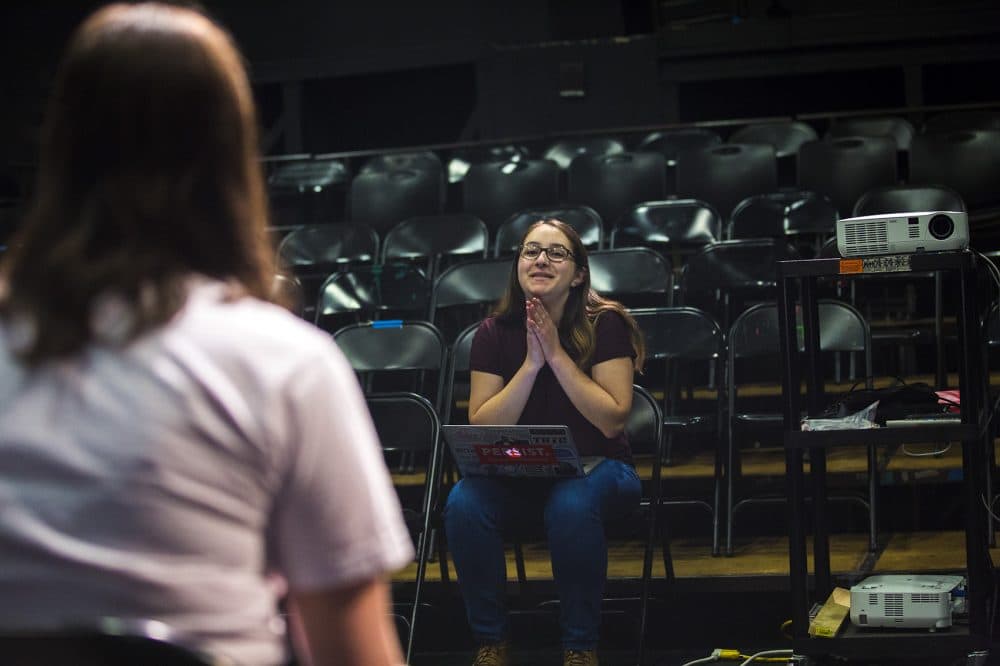 Goldhirsch Brown and Clardy's performance is just for the community at their school. Other public readings around Massachusetts will be at theaters and city halls in front of local lawmakers, domestic abuse social workers and anti-gun violence groups. And teacher Lynda Bachman was so moved by Gunderson's play that she's now directing the Open Theatre Project's staging in Jamaica Plain.
No matter what the venue, there will be one woman delivering the lines on stage — but she won't be alone — she'll be joining dozens of others around the country.
---
Performances of "Natural Shocks" that are open to the public include Newton Theatre Company on Friday, April 20 at 7:30 pm. in Newton City Hall, Merrimack Repertory Theatre on Friday, April 20 at 7:30 p.m. at Middlesex Community College in Lowell and Open Theatre Project on Sunday, April 22 at 3 p.m. at St. John's Church in Jamaica Plain.
This segment aired on April 19, 2018.