Mass. Is Joining With 8 Other States And D.C. To Try To Curb Transportation Emissions
Massachusetts and eight other states, along with Washington, D.C., announced Tuesday they will join together to try to reduce greenhouse gas emissions from the transportation sector.
In a statement, the Transportation and Climate Initiative (TCI) said it will design a proposal that "would cap and reduce carbon emissions from the combustion of transportation fuels, and invest proceeds from the program into low-carbon and more resilient transportation infrastructure."
Along with Massachusetts, the Northeast and Mid-Atlantic states participating in the TCI, as of its inception, are: Connecticut, Delaware, Maryland, New Jersey, Pennsylvania, Rhode Island, Vermont and Virginia.
The initiative is based on the decade-old Regional Greenhouse Gas Initiative that has reduced carbon emissions produced by Northeast electric power plants through carbon-trading. A "RGGI for Transport" would be a similar market mechanism for fossil fuels used to power vehicles, charging wholesalers a fee at the border for fuels they import into the region.
In a 250-page report released Friday, the state's Transportation of the Future commission estimates that the new carbon price would cost the average driver $2 a month. The funds could be invested in building the transportation system of the future, offering rebates on electric cars, and constructing charging stations and bike paths.
Emissions from transportation account for the largest portion of the region's carbon pollution. In Massachusetts, the transportation sector accounts for nearly 40 percent of emissions: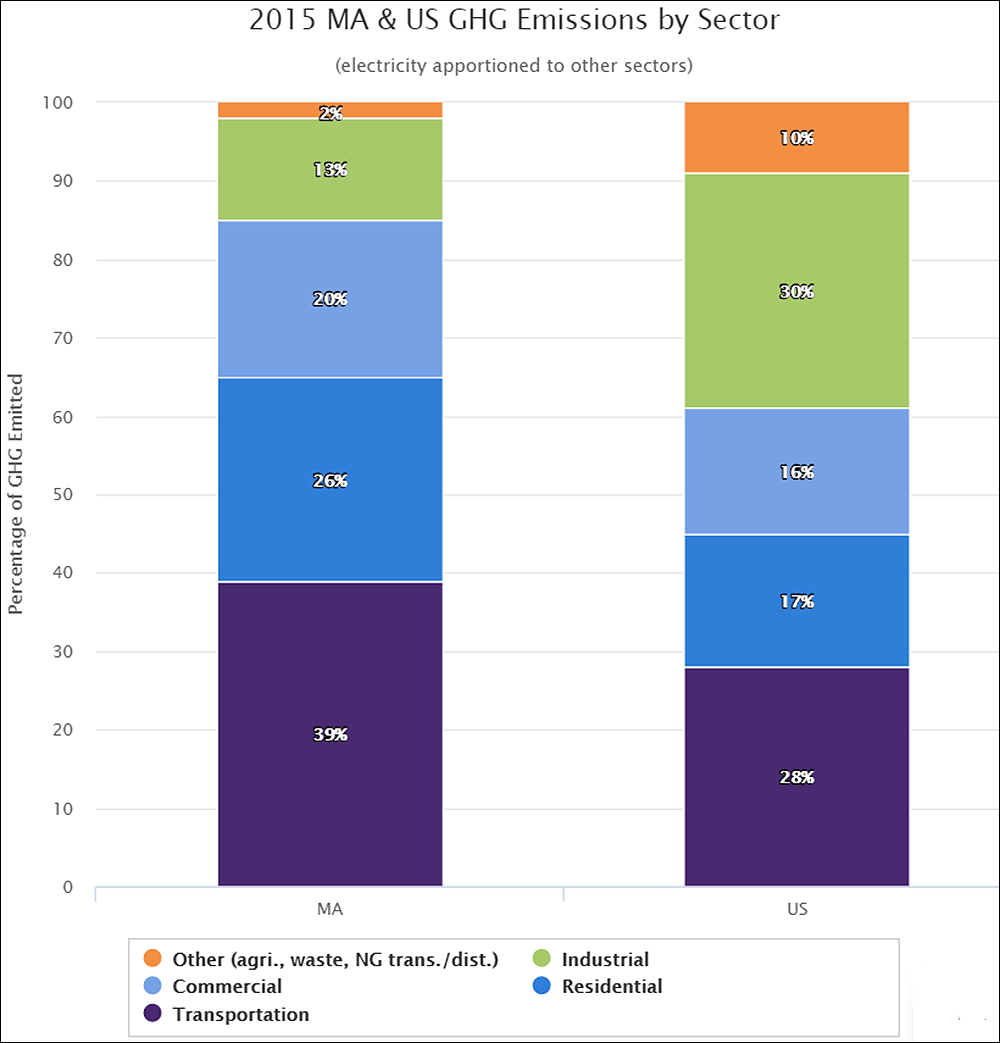 "The trick in carbon pricing is to make sure you don't penalize people who can't adjust immediately," said Michael Barrett, chair of the Massachusetts Senate Telecommunications, Utilities and Energy Committee. Case in point: the recent violent demonstrations in France that ignited when the government announced plans to raise fossil fuel taxes.
Barrett suggested easing the pain of a carbon tax by paying people in advance to cut their future use of fossil fuels. For instance, the government could estimate the annual per capita cost of a carbon price, cut people a check for that amount, and let them decide what to do with the money. Perhaps they might use the advance to insulate their homes, or buy more fuel-efficient cars.
"Reducing emissions in the transportation sector requires a collaborative approach," state Energy and Environmental Affairs Secretary Matthew Beaton said in a statement, "and the Commonwealth is proud to partner with Northeast and Mid-Atlantic states to pursue a potential program to further mitigate the impacts of climate change, protect the health of our residents, and build a more resilient and sustainable transportation system for the next generation."
With reporting by WBUR's Bruce Gellerman
This article was originally published on December 18, 2018.