Offshore Wind Auction For 390,000 Acres South Of Mass. Blows Through Sale Record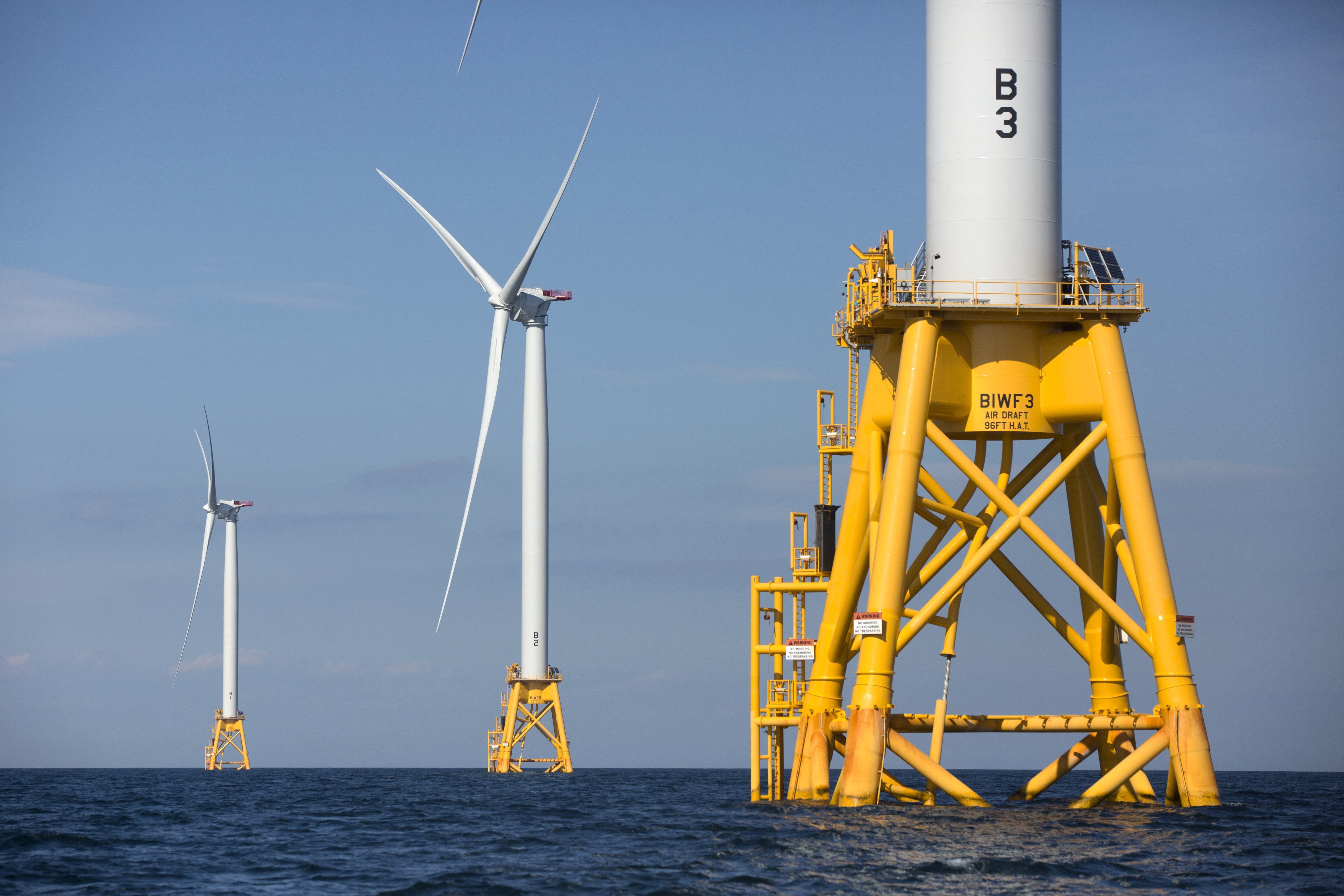 This article is more than 3 years old.
Three years ago, they couldn't give them away.
But on Friday, during an auction that had stretched into a second day, nearly 400,000 acres of ocean just south of Nantucket and Martha's Vineyard — which were passed over at an auction in 2015 — sold for a total of more than $400 million, the highest prices ever paid for wind lease plots in the United States.
The three plots each sold for more than $1,000 an acre.
The sale broke the record set in 2016, when Norway's Statoil corporation purchased a 79,350-acre lease off the coast of New York for $42.5 million, or about $535 an acre.
If fully developed, the three lease areas could provide approximately 4.1 gigawatts of commercial wind power, according to the federal Bureau of Ocean Energy Management (BOEM). That's enough electricity to power nearly 1.5 million homes.
"The result of today's sale made me very optimistic about the future of the offshore wind industry in this country," Walter Cruickshank, BOEM's acting director, said in a call with reporters after the 32-round, 11-company auction had finished.

Three years ago, the BOEM put four parcels up for auction in this patch of ocean. One sold for $1.50 an acre, one for less than $1, and two received no bids at all.
"The joke at the time was that you could get a lease off the coast of Massachusetts for less money that you could buy a house outside of Boston," says Stephanie McClellan, director of the Special Initiative on Offshore Wind at the University of Delaware. "So this is just unprecedented."
The BOEM took the two passed-over parcels, redivided them into three, and put them up for auction with starting bids of $2 an acre. Here are the provisional winners: Equinor Wind bought Lease 0520 (128,811 acres) for $135 million; Mayflower Wind Energy bought lease 0521 (127,388 acres) for $135 million; and Vineyard Wind bought lease 0522 (132,370 acres) for just over $135 million.
The three parcels are adjacent to areas currently owned by Bay State Wind and Vineyard Wind.
The record-breaking sale is an indicator of the shifting landscape of renewable energy in the country, says McClellan.
"New entrants are really, really confident that there is an offshore wind market shaping up in the United States, and they want in," she says.
One reason for the shift is rapid improvements in wind technology, which have made turbines more efficient. The other is a guaranteed market: In 2016 Massachusetts Gov. Charlie Baker set a target to buy 1.6 gigawatts of offshore wind power by 2027, which may increase to 3.2 gigawatts by 2035. Other states along the Eastern Seaboard have set similar goals.
Offshore wind still faces hurdles, however, primarily from the fishing industry. The draft environmental impact statement for the planned Vineyard Wind project, which was released this month, predicts both moderate and major impacts for commercial and recreational fishing.
According to the BOEM, representatives from the squid, groundfish, scallop and other fisheries agreed in October that 2 nautical-mile-wide transit lanes would allow fishing vessels to safely travel through the proposed wind turbines to and from fishing grounds. On Dec. 10, Vineyard Wind endorsed a transit corridor plan for fishing vessels; the Rhode Island Coastal Resources Management Council will decide in January whether or not to support the project.
Vineyard Wind spokesmen Scott Farmelant says he's "very confident" that the company will be able to reach an agreement with the fishing industry.
With reporting by WBUR's Benjamin Swasey