From Bernstein To The BSO And Beyond, The Year In Boston's Classical Music Scene
This article is more than 4 years old.
I heard a lot of performances this year, but I didn't hear enough (few could) to offer a full assessment of the year in classical music. But I can tell you what I'll remember best, either because it was so good, or so terrible, or just plain annoying.
Birthdays — Bernstein's And Beyond
The major musical landmark of 2018 was the hundredth birthday of a worldwide and local musical hero, Leonard Bernstein — conductor and composer of both serious "classical" music and classic Broadway musicals (who was born in Lawrence and spent his summers in Sharon). As a conductor he seems even more of a giant now that most other conductors seem to have shrunk and as a Broadway showman he remains at the top of the heap despite tough competition from his predecessors. I got to a few of these birthday celebrations but nothing I heard caused me to change my opinion of Bernstein's work. The Boston Pops did a complete semi-staged performance of Bernstein's first musical, "On the Town" that seemed as fresh and as touching as ever, a work of youthful genius. The BSO gave us several of Bernstein's serious symphonies, and they seemed as bloated and heavy-handed as ever. I was sorry to miss a complete "Candide" at Tanglewood—some friends loved it, others hated it. I wish I had been there.
Two of Boston's favorite living musicians celebrated their 80th birthdays this year.  Conductor Benjamin Zander ended the season leading his Youth Philharmonic Orchestra in a riveting performance of Shostakovich's Symphony No. 10. Some people think it's Shostakovich's best symphony — I usually find it long-winded, and sounding too much like an imitation of Mahler. Yet Zander and his extraordinary young players made it come alive in ways I hadn't experienced before.
The festivities for composer John Harbison's 80th year began early, with Collage New Music offering a rare treat — a complete performance of one of Harbison's masterworks, "Mottetti di Montale" (premiered in 1981; revised for voice and chamber orchestra, 2006). The setting of Italian Nobel laureate Eugenio Montale's heartbreaking cycle about love and war and loss has lost none of its inventiveness or punch — it was thrilling to hear it again, and beautifully sung by mezzo-soprano Simone McIntosh.
The year ended with Collage New Music doing a more recent Harbison song cycle, "The Seven Ages," using six unsettling and uncanny poems by Louise Glück. I'm still not convinced the setting entirely works, but the stiff vocal performance didn't help me decide. Collage music director, David Hoose, is also music director of the Cantata Singers, which has commissioned some of Harbison's most notable choral music, including his 1987 Pulitzer Prize-winning "Flight Into Egypt." That piece is now part of a "Sacred Trilogy" of biblical cantatas, all composed for the Cantata Singers, and the Cantata Singers gave the first complete performance in November.
Harbison's actual birthday is Dec. 20. The new year will continue its tributes in January with the Boston Symphony Orchestra playing his Second Symphony, the BSO Chamber Players doing an afternoon of his chamber works, and Emmanuel Music doing a special birthday tribute.
The Boston Symphony Orchestra
The BSO has had a generally good but uneven year. The orchestra has been playing beautifully for music director Andris Nelsons, now in his fifth year at the helm. His big news, besides turning 40, was his divorce from his glamorous wife, soprano Kristine Opolais, whose vocal problems also made the papers. Nelsons' project to conduct and record all of Shostakovich's symphonies with the BSO has been rolling along, accumulating Grammys, though I haven't heard a performance that I thought matched any of the great Shostakovich recordings of the past. Some expressive soul seems to be missing. And nuance. Perhaps his best effort this year was a vivid version of the knotty and unloved Symphony No. 4. But back in 2012, Vladimir Jurowski set Symphony Hall ablaze with this same symphony and that still remains my standard. My biggest disappointment was Nelsons' thick-textured and charmless version of the second-act music from Tchaikovsky's "Nutcracker."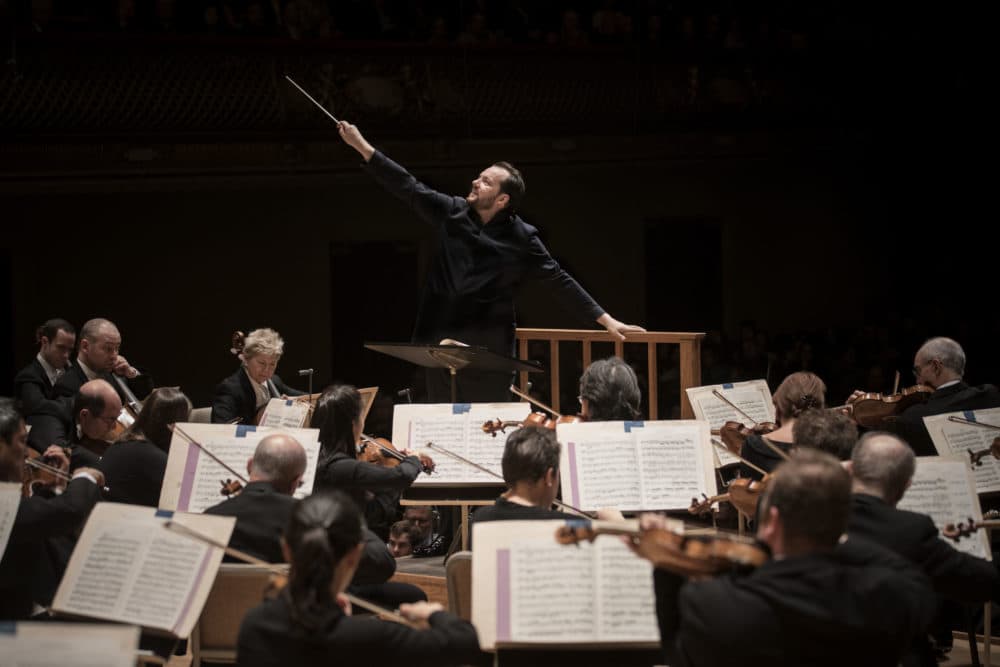 Would Nelsons be a better conductor if he conducted with both hands? I thought his habit of conducting mainly with his right hand, with his left hand grabbing the railing behind him, was something that bothered only me. But people keep coming up to me to ask if I knew why he did that or to tell me how much it irritated them. In recent months, I've been thinking it might be a balance problem — that he might actually be supporting himself with his left hand, then lunging forward to turn the page of his score with it, then immediately reaching back to hang onto the railing behind him. When he first arrived, I asked him if he was going to divide the first and second violins and place them on opposite sides of the stage, to create a more spacious, three-dimensional sound, the way James Levine did. He answered that he'd do it only when the music required it. But he's done that only once, with the composer present to insist on it. Antiphonal violins are harder for both the conductor and the players, and surely need at least two hands to lead them.
Nothing major has so far developed from the BSO's collaboration with Leipzig's Gewandhaus Orchestra since Nelsons has become the music director for both organizations. More fruitful results have resulted from the appointment of composer-conductor-pianist Thomas Adès as the BSO's "artistic partner," with some of the BSO's best concerts, including the premiere of his own piano concerto, under his direction. Under the new leadership of choral director James Burton, the Tanglewood Festival Chorus has purged some of its senior members, but to my ears isn't making as beautiful a sound, or articulating words nearly as well, as it did under the late John Oliver. In other news at the BSO, principal flutist Elizabeth Rowe sued the organization this summer under Massachusetts' Equal Pay Law. The situation is quite complicated, but you could read more here.
The Best Of The Celebrities
The Celebrity Series of Boston, as always, offered some of the best music-making I heard this year. I was particularly impressed with the extraordinary duet program by pianist Jeremy Denk and violinist Stefan Jackiw playing the complete Ives sonatas (with the Hudson Shad group singing the hymns and tunes Ives used in his sonatas). Audra McDonald's Symphony Hall concert was in some ways the warmest, most intimate recital I've yet heard her give. She was in spectacularly good voice and seemed completely relaxed in a variety of numbers including Burton Lane and Alan Jay Lerner's "Hurry, It's Lovely Up Here" (from "On a Clear Day You Can See Forever"), the Gershwin's "Summertime" (a reprise from her spectacular A.R.T. appearance in "Porgy and Bess"), and Sheldon Harnick and Jerry Bock's "Vanilla Ice Cream" (from "She Loves Me"). I didn't want it to end.
More recently, I was excited by the piano recital by Israeli pianist Inon Barnatan, in which he combined movements by a range of composers from Bach to William Bolcom into a single uninterrupted arc (similar to something Jeremy Denk had done several years ago). The recital by violinist Gil Shaham and the elegant pianist Akira Eguchi included a delicious performance of Boston composer Scott Wheeler's infectious "The Singing Turk" sonata, which uses so-called "Turkish" themes from Italian opera, and an enthralling version of César Franck's beloved A-minor Sonata.
Some chamber performances I was sorry I couldn't get to were by Winsor Music (oboist Peggy Pearson's superb group, now taken over by two other wonderful performers, violinist Gabriela Diaz and clarinetist Rane Moore), and a new series called Glissando, organized by and starring the brilliant pianist Sergey Schepkin.
It Was A (Very) Good Year For Opera
2018 was a good year for opera in Boston. In the spring, Odyssey Opera completed its series of operas about Joan of Arc with Honegger's "Jeanne d'Arc au Bûcher" and an ultra-rare performance of Verdi's early "Giovanna D'Arco." And this fall, Odyssey celebrated the 200th birthday of Charles Gounod with a concert performance of his obscure but grand "La reine de Saba" ("The Queen of Sheba") and his delightful setting of Moliere's "Le médecin malgré lui" ("The Doctor in Spite of Himself"), with an unforgettable and hilarious star turn by baritone Stephen Salters in the title role.
How many of us realized that Gounod ever wrote a comic opera? Who else but Odyssey Opera would give us the chance to hear it?
A comic opera everybody has heard of, Rossini's "Il Barbiere di Siviglia" ("The Barber of Seville"), got a terrific performance from Boston Midsummer Opera, with Susan Davenny Wyner leading the band and the adorable and brilliant young mezzo-soprano Alisa Jordheim as the irrepressible Rosina.
I was out of the country when the Boston Lyric Opera did its own "Barber of Seville," but this perpetually uneven company pulled out all the stops for Tod Machover's new "Schoenberg in Hollywood" (the title tells you exactly what this opera is about) — which I found completely engaging, funny and finally very moving. Maybe for the first time since BLO's riveting production of Peter Maxwell Davies' "The Lighthouse" at the Kennedy Library in 2012, the BLO has given us a production that worked on every level. Machover's score both parodies classic movie music and uses actual music by Schoenberg  — yet the music always sounds like Machover.

Two new operas also relating to or inspired by films reached much larger audiences than any Boston production could. These were telecast Live in HD from the Metropolitan Opera stage to movie theaters around the world — including Boston and environs. Thomas Adès' gripping "The Exterminating Angel" is based on the surrealist Luis Buñuel film about rich guests who cannot leave the dinner party they are attending. Adès' score sounds increasingly his own as the opera progresses to its powerful conclusion. Geoffrey O'Brien's illuminating article in The New York Review of Books made me wish I had seen it in the opera house because the TV camera work wasn't focusing on all the interesting moments O'Brien wrote about.
Nico Muhly's "Marnie" is based on the novel that inspired Alfred Hitchcock's unsettling film with Sean Connery and Tippi Hedren. Hitchcock's liberties with the plot of the novel heighten the tension of the film. I wish Muhly had taken similar liberties. The colorful production gussied up a glossy but generic score that seldom made its own mark. I found the music marginally more interesting than Muhly's last Met commission, "Two Boys," but I was glad not to have to go all the way to New York to see this.
The Boston Early Music Festival also put on a very charming staging of a historically important opera, Francesca Caccini's "Alcina" (1625), probably the very first opera composed by a woman. Although the music never quite rose to sublime heights of melody, it was consistently attractive, attractively sung and beautifully played. In the opera, the Circe-like sorceress turns her victims into plants. In this production, the bewitched figures wore masks with leaves and had leafy twigs growing out of their hands — as if they were all like Daphne turning into trees to escape the clutches of Apollo. The production moved from Boston's Jordan Hall to New York's Morgan Library.
New Sounds I Loved This Year
One of the most engaging new scores I heard was the one Ethan Iverson came up with for "Pepperland," Mark Morris' dazzling new dance inspired by the Beatles' "Sgt. Pepper's Lonely Hearts Club Band" album. The Celebrity Series is bringing it to Boston in February, but I saw it at the Hopkins Center at Dartmouth College, and I can't wait to see it — and hear Iverson's consistently surprising and imaginative take on the original Beatles songs — again.
My favorite classical recordings this year were Yo-Yo Ma's intimate and "speaking" third complete recording of all six Bach Cello Suites (Sony); Brooklyn Rider violinist Johnny Gandelsman's exhilarating version of Bach's complete Sonatas and Partitas for Solo Violin (In a Circle Records); pianist Andrew Rangell's thrilling new recording of Ives' "Concord" sonata (Steinway & Sons); and John Adams' gripping opera about the first atom bomb test, "Doctor Atomic," conducted by the composer, with baritone Gerald Finley recreating his original performance as Robert Oppenheimer (Nonesuch). The opera, with a libretto by Peter Sellars assembled from a variety of documents and poems, is uneven. But Oppenheimer's big aria — Adams' eloquent setting of John Donne's Holy Sonnet "Batter My Heart" — may be the most moving piece of music Adams ever wrote.
I have to confess, though, that the piece that gave me the most pleasure, the one I listened to most often this year, was a different kind of classic. It was Ella Fitzgerald and Louis Armstrong's heavenly vocal intertwining on their 1946 recording of "Dream a Little Dream of Me," from a long-awaited 4-CD set of their complete duets, including outtakes (Verve). Music-making of any kind really doesn't get any better than this!