Today's Weather: Light Morning Snow And Rain, Then Mild Friday
This article is more than 4 years old.
Light precipitation around the area early today in the form of snow and rain will not cause any major issues. A weak weather system is bringing some light snow to northern New England, and a mixed bag in southern New England this morning, but it will not last long. Some areas to the north which are untreated may have some slippery spots so add some caution to your drive to work this morning.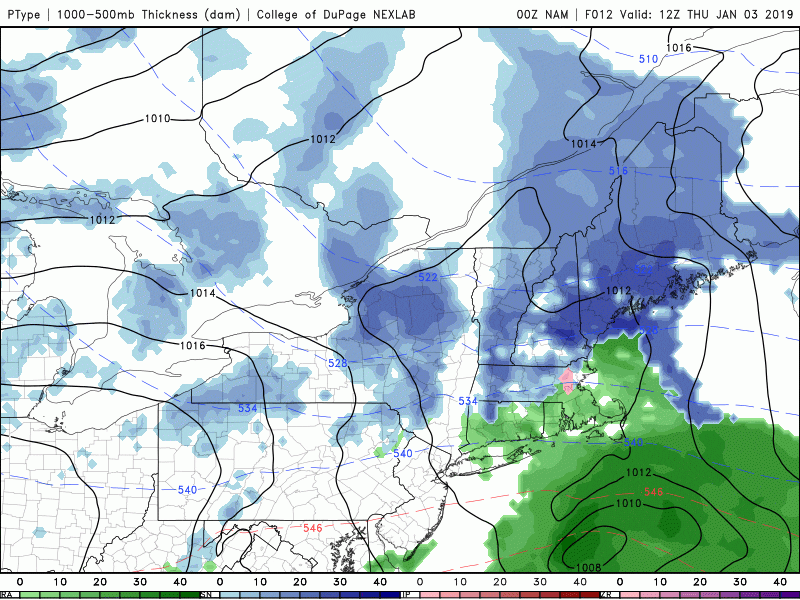 As this weather system moves east we will see partial clearing and I think the sun will come out this afternoon. Temperatures will reach the upper 30s to mid-40s — quite nice for this time of the year and certainly not feeling very wintry. Moving into tomorrow, it looks like another nice day, with temperatures once again above average.
A new storm system will approach the area on Saturday, but presently it looks like it will be too warm for any snow. The track of the system is not written in stone so we could see just a little bit of precipitation. Behind this, the weather also remains rather tranquil for several days.
Already there's talk of a storm system for Tuesday and it's quite likely that there will be some precipitation. Once again we'll have to see how much cold air is in place as to whether or not this becomes an accumulating snow storm or just another rain storm with snow in northern New England. This is our next chance for any significant weather so you want to stay tuned to forecast for Tuesday.
You can follow my updates here and on Twitter @growingwisdom.
---
Thursday: A period of morning snow and rain followed by clearing. Highs 37-44.
Thursday night: Clear and chilly. Lows 21-28.
Friday: Sunshine and a few clouds south. Highs 40-45.
Saturday: Some rain, milder. Highs in the lower 40s.
Sunday: Mostly sunny and seasonably cold. Highs 40-45.
Monday: Sunshine then clouds. Seasonable. Highs in the 30s.
Tuesday: May snow.