Katherine Irving Brings Fresh, Collaborative Spirit To MFA Film Program
This article is more than 4 years old.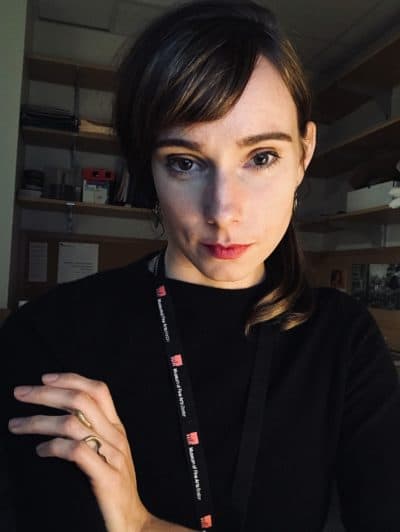 Have you noticed a little spring in the step of the historically staid Museum of Fine Arts film program? There's a fresh embrace of genres like horror, cult hits from the '80s, heroic women and, gasp, blockbuster titles (at a museum).
Meet Katherine Irving, the museum's assistant film programmer for the last three years. She teams up with film and video curator Carter Long to choose about half of the museum's line-up. In-house festivals, like the annual French or Festival of Films from Iran, plus partnerships with outside groups like the Roxbury International Film Festival account for the other half. Lately their selections — such as a sell-out screening of "The Thing" as part of monthly indie films "On the Fringe" or "Color Tells A Story" series featuring films with bold use of a single color -- have been edgier and more provocative than ever before.
Like most aspiring programmers, Irving says she initially wanted to set herself apart by curating her own series. Her first caught my attention: The 10-film, only known Laura Dern retrospective treated the unpredictable and magnetic actress as the auteur of her own career. Irving says the series also "broke the seal" for showing blockbuster titles like "Jurassic Park" at the MFA. "That was the first time we tried the philosophy of mixing a range of genres and levels of obscurity in one series in hopes the audience would come out to see old familiar titles and then be led to something new," she explains. When it worked, she says, "we felt galvanized to do it more often."
In many ways, Irving's approach to presenting films echoes her own process of discovering them. She grew up "playing in the woods" near Burlington, Vermont and studied illustration at Montserrat College of Art in Beverly. After graduating in 2009, she took a job at the MFA in ticket sales with the goal of "anything vaguely related to the arts." As a perk she could see the museum's films as well as those playing the art house theaters around Boston for free. Indie film was new terrain; she watched everything. She says she enjoyed a lot from the French New Wave but admits she didn't fully understand the "opaque and codified" symbols. It was like entering a club without being a member.
She saw Ingmar Bergman's "Persona" by herself and recalls wanting to talk about its strong female protagonists and its references to film history and philosophy. She says she recognized that same dubiousness in others as she moved up in the ranks of the museum's visitor services, eventually serving as Remis Auditorium's house manager. Well-intentioned audience members would shuffle out of particularly challenging films, like the fly-on-the-wall documentary "Bestiaire." Irving imagined people driving home in silence. She realized that "some films demand conversation." She wanted to influence how audiences accessed and experienced cinema.
More to the point, she says, "I started to be frustrated with the elitism embedded in film exhibition."
In 2015 she moved to Edinburgh and earned a master's degree in film studies. Her experience watching "Persona" launched a deeper inquiry into how prominent narratives, especially about gender, had shaped her identity. Even more, she grasped how much of film completely excludes entire populations. She says it dawned on her that "if film can reproduce harmful narratives, it can also disrupt them." A national job search almost serendipitously led her back to her current role at the MFA.
Last summer she helmed the "Heroic!" series as part of a museum-wide effort to highlight women's narratives during a Casanova exhibit. (Casanova is mostly known through his own memoirs in which the women he "conquered" have no voice.) Irving chose films such as "Whale Rider," about a girl's ascendance to leading her people, the 2018 documentary hit "RBG" about Justice Ruth Bader Ginsburg and the animated "Princess Mononoke" with a girl raised by wolf-gods as its hero.
While strong female protagonists are getting more press across the board, more often than not, those women are "raped or wronged and out for revenge," explains Irving. To her, that perpetuates the stereotype that only black widows or femme fatales are capable of strength. They are always victims first. For "Heroic!" she wanted films with "strong, badass women and girls using their strength to protect others." The twist? They're strong already. Irving had more difficulty than she expected finding titles. "It was way easier to find young female heroes who fit that criteria because once you become a woman you become sexualized, and then victimized in your roles."
Irving acknowledges that simply being a woman makes her unique in the male-dominated field of film programming. "Film should transcend class and culture," she says, and she's made that her mission. To that end, just three years in, she already sees the value in sharing her ability to choose films, just as Long has shared his with her. Chief projectionist Alec Tisdale and department coordinator Alexis Weinrich have started to have a say in the process. (As someone who worked in this department long before Long, whom Irving credits with an openness to collaboration, this seems almost revolutionary.)
Long is matter of fact about Irving's contribution ("important and valuable," he says) and the department's evolution. "There are four of us. We all love film. If we come by a good idea, it only makes sense to use it," he says, adding later that he wants to pass on the chances he's been given to program.
A film series last month, "Color Tells A Story," serves as a perfect example of the department's collaborative spirit. Irving says it was inspired by Weinrich's "other life" as a painter and muralist.
"For each color of the rainbow, we picked a film that uses that color liberally and intentionally. Alexis had been building a huge list of relevant films for months," says Irving. They narrowed down the films together as a department. Irving wrote the series copy and at one point, Long and Tisdale talked about scoring and performing an original score to the Melies classic, "A Trip To The Moon." That last bit didn't pan out, but the die is cast — expect the unexpected from the folks behind the MFA film program in 2019.