Today's Weather: Light Wintry Mix But Not Very Cold
This article is more than 4 years old.
We haven't had much snow this winter, and this morning isn't going to change that. This isn't going to be more than a nuisance event. That said, anytime we get even a little bit of precipitation of the wintry variety it can cause travel slowdowns.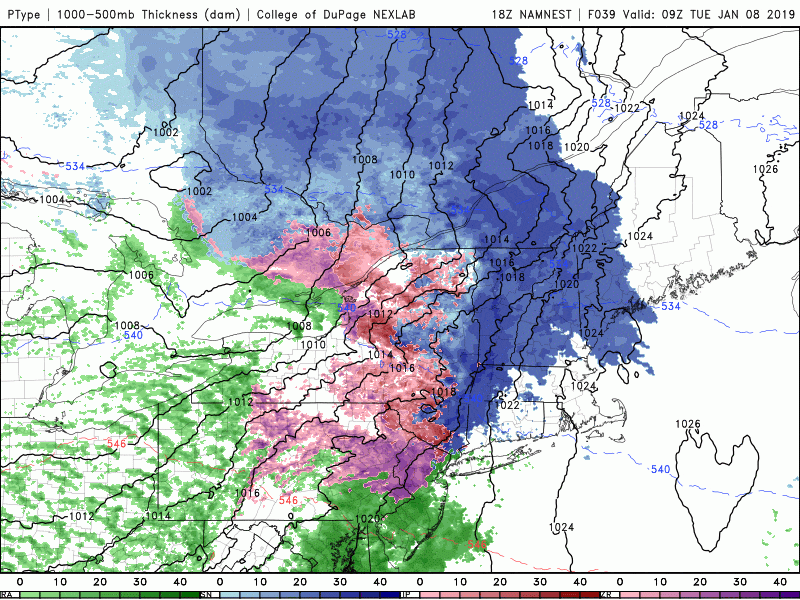 By mid-to-late morning, any limited snow will have changed over to rain and slick roads may be an issue.
As this batch of precipitation moves northward, a low pressure area will pass through New England and intensify to our northeast. Periods of precipitation rotating around this system will come back through the area tomorrow morning, bringing rain Wednesday morning.
Temperatures will be into the mid-40s with a bit of a westerly wind. As colder air moves east Wednesday night, there might be a brief change to some snow as it ends. I'm not expecting any accumulation. Thursday continues to look like a cloudy and dry day with readings in the 30s before much colder air arrives for several days at the end of the week and over the weekend.
For the Patriots playoff, it looks mostly cloudy and we will have to watch a coastal storm. I won't really have a good handle on the track of this particular system until late Wednesday or Thursday so until then, it's just one of those things we have to watch. You should know that the forecast could be snowy or just dry and cold but either way, it's not going to be a warm game.
You can follow my updates here and on Twitter @growingwisdom.
---
Tuesday: Early snow and mix precipitation changing to rain. Some light accumulation possible early well inland. Highs in the upper 30s to lower 40s.
Tuesday Night: Some light rain mainly before midnight. Lows 35-40.
Wednesday: A few showers, mild. Highs 40-44.
Thursday: Clouds and a few breaks of sunshine. Blustery. Highs in the mid-30s.
Friday: Sunshine and a few clouds. Cold. Highs in the 20s.
Saturday: Cold and dry. Highs in the 20s.
Sunday: Watching a possible storm. Cold.