Today's Weather: The Cold Is Coming
This article is more than 4 years old.
The weather actually looks rather tranquil over the next week with just the chance of a few snow showers this afternoon. But the cold is coming — temperatures are going to be seasonable today, reaching into the 30s, but then we're going to go colder than average for the next several days.
Yesterday's storm system is now well up into Canada, but it's continuing to pull down colder air. You'll notice the winds today and tomorrow and wind chills will be particularly chilly Friday morning.

Readings will not break freezing Friday, Saturday or Sunday — this includes the Patriots playoff game, which takes place early Sunday afternoon. If you are headed to Gillette Stadium it will be generally partly to mostly sunny with light winds and cold air. A storm system will move safely out to sea south of New England Saturday night and Sunday. I will keep an eye on the latest models for any changes in that track but right now it doesn't look like it's going to be any issue.
Early next week, temperatures will moderate a little bit, but there won't be any storms toward the end of next week. There might be another low pressure area threatening the region but you've heard this story over and over this season.
So far Boston hasn't even had an inch of snow. Compare that with the winter of 1995-96, when by this time, nearly 60 inches of snow had already fallen.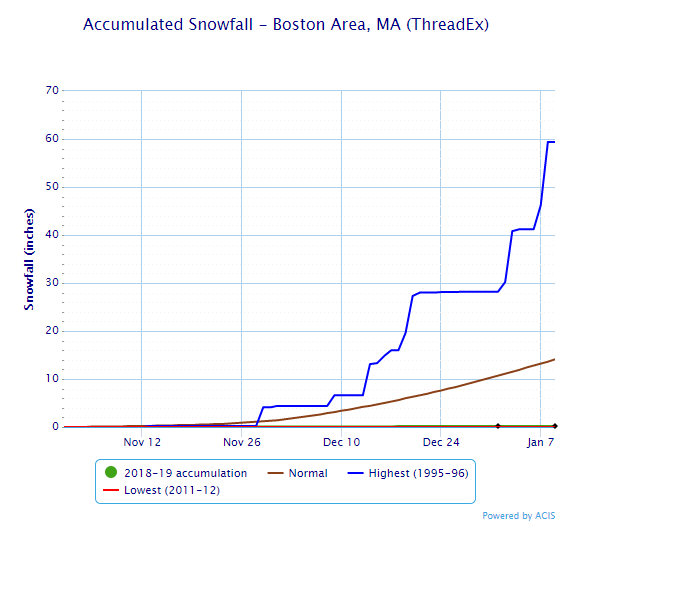 By this time in 1996 Boston had already nearly 5 feet of snow. (Dave Epstein/NOAA Data)You can follow my updates here and on Twitter @growingwisdom.
---
Thursday: Clouds and a few breaks of sunshine. A snow shower possible. Blustery. Highs in the mid-30s.
Thursday Night: Cold, brisk and mainly clear. Lows 13-19.
Friday: Sunshine and a few clouds. Cold. Highs in the 20s.
Saturday: Cold and dry. Highs in the 20s.
Sunday: Clouds and sunshine blended. Most clouds south. Cold. Highs 25-29.
Monday: Dry and cold.