Huntington's 'A Doll's House, Part 2' Returns To The Scene Of The Crime — But Whodunit?
The door that made what George Bernard Shaw called the "slam heard round the world" is back onstage — solid, towering and drolly acknowledged (perhaps once too often).
This time, however, the famed portal is weathering a knocking that escalates from politeness to pummeling as Nora returns, after an absence of 15 years, to the flimsy marital home of Norwegian giant Henrik Ibsen's groundbreaking 1879 drama "A Doll's House." She's back, but less to live in 19th-century contrition than to debate with 21st-century crackle. After all, this Nora has not spent her time away destitute in the streets but rabble-rousing in the bookstores, becoming a successful memoirist and feminist propagandist.
Lucas Hnath's Tony-nominated 2016 piggy backer "A Doll's House, Part 2" was nominated for eight Tony Awards when it ran on Broadway in 2017. Now it's in its Boston-area premiere in a spare, polished and snappy co-production by the Huntington Theatre Company and Berkeley Repertory Theatre. Having run in California last fall, it is now at the Huntington Avenue Theatre (where Ibsen's "A Doll's House" played two years ago) through Feb. 3.
In a series of five sly scenes that Hnath describes as "individual boxing matches," a hyper-confident, blithely unremorseful Nora gets to duke it out again with belittling husband Torvald, as well as with a couple of barely seen if not insignificant characters from the parent play, all in salty, anachronistic language that would serve a sailor of any era. (You'd think nanny Anne Marie, who cared for Nora and then for the children she left behind, would be constantly washing her own mouth out with soap.)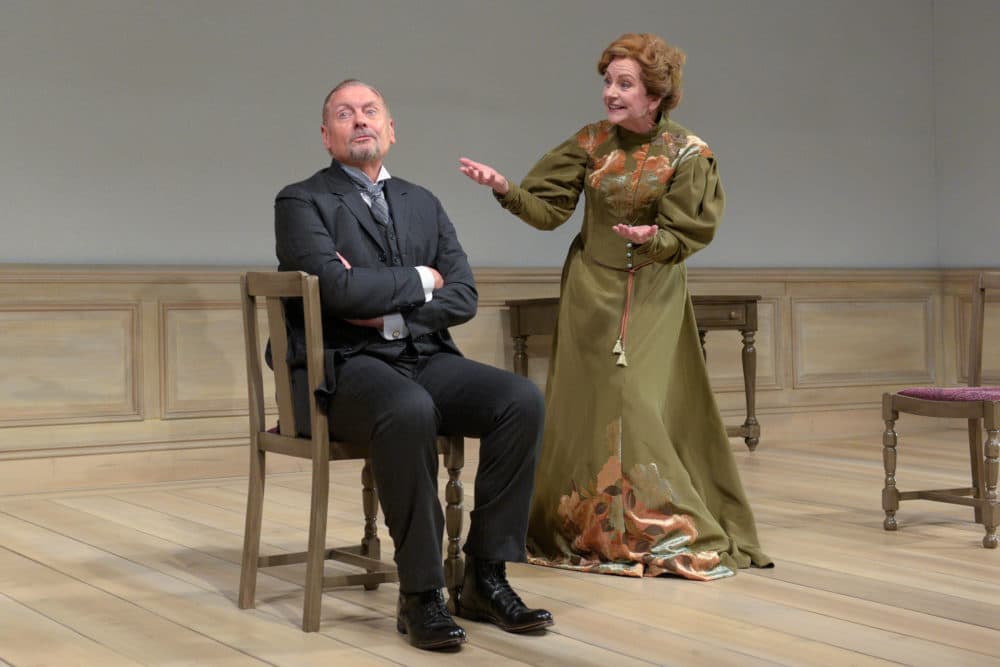 There is the question, of course, whether a writer has the right to co-opt characters created by another. He does legally, provided the earlier work has entered the public domain. But Hnath has not so much stolen Ibsen's Nora and Torvald as swooped in with an aftermath, not too probable in the original context, to their cliffhanger situation — much as John Banville did with Isabel Archer's in his 2017 novel "Mrs. Osmond."
Hnath has taken Ibsen's frilly, disillusioned poppet and her condescending, controlling spouse and refitted them for new territory — a dialectical terrain dotted with 19th-century potholes but also with new possibilities and ideas. The result is anything but one-sided, building on the dual premise that, yes, women deserve better than Nora got but it still seems shocking when one leaves her children. Tellingly, the other two characters with whom Hnath's Nora tangles (and whom she endeavors to manipulate) are women: the bewildered nanny she left holding the bag and the partially emancipated, starry-eyed daughter who grew up in a nest without a mother, sitting on her own egg of resentment until it is here allowed to take flight.
Played out on a nearly bare stage in a fleet 90 minutes, "A Doll's House, Part 2" pits successful feminist Nora against the stifling old order. It also makes her narcissistic, with inaccurate ideas about the future that provide much of the play's ironic humor. Her fanaticism also generates sympathy for the other characters, along with a somewhat qualified admiration for Ibsen's heroine, who has grown not just a backbone but also a carapace. And when she goes off like a prophetic Chekhov character, predicting that "in the future, 20, 30 years from now, marriage will be a thing of the past," giving way to a world of free love and radical, copacetic thinking, you don't know whether to laugh or cry.
I didn't see the original production that played Broadway, winning its Nora, Laurie Metcalf, a Tony Award. Here Obie-winning director and third-time Hnath collaborator Les Waters is at the helm of a staging that deftly balances the formal combativeness of the piece with the very real, if seldom raw, emotions of the characters.
The play's argumentative encounters are precisely set up, each prefaced with the name of at least one character projected on the vast, neutral back wall of Andrew Boyce's set. And for the most part, the characters, but particularly Mary Beth Fisher's boastful, blinkered yet graceful Nora, turn their debates into veritable dances of fluid gesture and the calculated, power-mongering positioning of chairs.
Of course, a great deal of skill must go into performances whose intellectual and emotional passions are underlain by more than a soupçon of irony — as they are in "A Doll's House, Part 2" (which the playwright says is "about how much we've changed, and how much we haven't, in terms of thinking about equality between men and women"). The play is part speechifying dispute, part hand-to-hand combat, with the upper hand of the hand-to-hand in constant flux — along with the audience's opinions. You come in rooting for Nora, of course, but she can be self-aggrandizing (as Anne Marie observes), and her breezy disregard for not only the institutions but also the people she blew up can give one pause.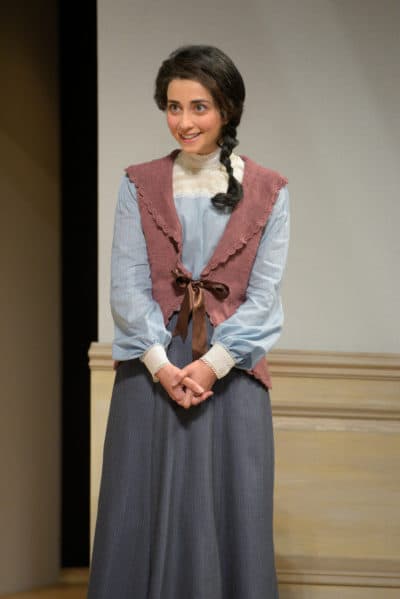 For her part, Anne Marie describes herself as the "only innocent" in the dissolution of the Helmers' marriage (which hasn't in fact been officially dissolved). She was left to babysit not only the children but also the abandoned husband. But Anne Marie has her own agenda regarding Nora, and between expressions of poker-faced abjection and f-bomb-dropping fury, she gets it fulfilled. Not surprisingly, the indispensable Nancy E. Carroll supplies just the right mix of deadpan suspicion, steeliness and love.
Nikki Massoud takes a coyer approach to Emmy, Nora's daughter, all grown up and deliciously matter-of-fact. It is she who yanks the veil off Nora's selfishness and who rises to an eloquent defense of marriage, dismissing her mother's philosophy of serial sex and individual insularity as pointing to "a future in which we are all just nomads."
Perhaps the toughest job falls to John Judd as Torvald, totally bamboozled by the reappearance of his wife and smarting at her portrayal of him in her autobiographical novel. Incensed, chastened and still in the throes of a pompous masculinity, he sort of wants a do-over. Judd manages to make the character pissed, foolish and heartbreaking at the same time. Nonetheless, like so many frustrated men, he must accept that there is no going back to the doll's house, however modernized it might become.
---
"A Doll's House 2" runs at the Huntington Avenue Theatre through Feb. 3.