Using The Language Of Symbols, Nina Chanel Abney's New Mural At The ICA Tackles Systemic Racism
The new mural greeting visitors in the Institute of Contemporary Art's lobby is a bit of a puzzle.
Three colossal, brown heads anchor Nina Chanel Abney's self-titled work, a site-specific piece for the Sandra and Gerald Fineberg Art Wall. Two male heads face toward each other, one with an eyebrow raised, the other furrowed. A female head gazes directly out. Other figures with their arms raised or lying prone are spread throughout the mural, along with shapes, symbols, numbers and the words "wow," "stop" and "no." Scenes are composed on bright blue and yellow rectangles, over a black and white checkerboard background.
It's colorful and dazzling — a dynamic, pop-influenced mural that packs a powerful punch. What does it all mean? That's for you to figure out.
The artist prefers not to prescribe meaning to her work. It's not uncharitable; it's an invitation for the viewer to engage. "I was thinking about issues around systemic racism, and how I could create an image where the viewer can take those things generally and contextualize them around their own personal life and location," Abney says.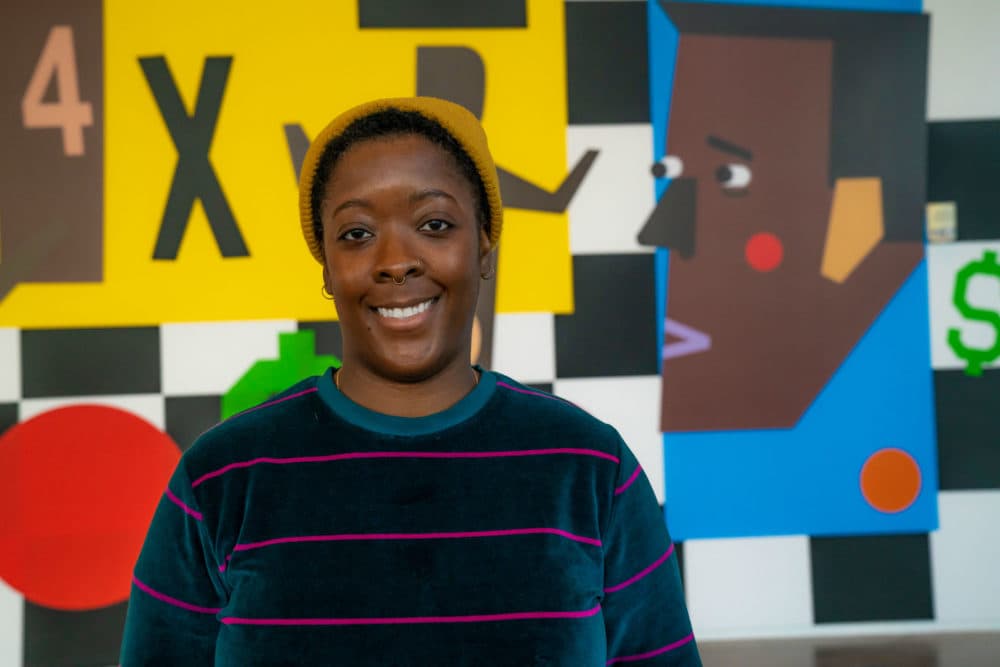 This is the contemporary artist's first commission in Boston. For research, Abney steeped herself in place. She read articles about the city, and drew color inspiration from the Boston flag — yes, we have one. It's blue, white and yellow and looks like this. Then, she abstracted: "I didn't want to be too specific. So it can be interpreted multiple ways, and engage with different kinds of viewers."
Abney, 36, is an African-American contemporary artist. Born in Chicago, she studied at the Parsons School of Design in New York, and is now based in Jersey City.
Her first big break in the art world came with her MFA thesis work, "Class of 2007," a large-scale diptych painting in which she portrayed her fellow classmates (all white) as black inmates in orange jumpsuits and herself as a blond-haired, blue-eyed, gun-carrying prison guard keeping watch.
The piece was purchased by the Rubell family, art patrons who own a contemporary art museum in Miami. In 2008, it was included in "30 Americans," an exhibit of art by top African-American contemporary artists drawn from the family's collection. Abney's painting exhibited alongside works by Jean-Michel Basquiat, Kara Walker, Glenn Ligon and Kehinde Wiley, whose presidential portrait of Barack Obama now hangs in the National Portrait Gallery. The show has traveled to 13 cities since; this fall, it takes up residence at the Barnes Foundation in Philadelphia.
"In 2007, I was working in a way that was more narrative-based, where the story being portrayed in the painting was clearer," Abney reflected in an Artforum interview. "Back then my work had a more definitive position, whereas since then I've been trying to find a way to abstract narratives."
Abney is a prolific artist. Her work includes paintings, watercolors, collages and prints. In the past decade, she's strayed from the confines of the canvas to buildings, basketball courts and fashion collaborations — her designs have been painted onto leather jackets, and printed on skateboard decks and cell phone covers. While the form varies, her work continuously explores topical issues like racial dynamics, social justice, sex, gender, consumerism and celebrity culture.
She draws from a wide range of historical references in her art: the flat, abstract figures of Picasso and Matisse; the bright, layered proto-pop paintings of Stuart Davis; the visual storytelling and repeated motifs of Romare Bearden's collages.
Over time, she has introduced symbols into her work — repeat figures, X's, numbers and shapes, drawn from the language of fine art and emojis. Her abstract narratives reflect big, complex stories about society — stories that can go in different directions, and take effort from the viewer to complete.
"Nina Chanel Abney," for the ICA wall, is a continuation of that work. Since the ICA opened in the Seaport District in 2006, the lobby wall has been dedicated to annual, site-specific commissions by contemporary artists. This is its 11th iteration. Framed in the floor-to-ceiling windows of the ICA entryway, visible from the outside, the mural's bold colors and pop-influenced aesthetics draw viewers in.
That initial accessibility is signature Abney, who describes her artwork as "easy to swallow and hard to digest." Spend time with the mural, and you might start seeing relationships between figures and forms. The placement of the word "wow" could connote amazement, or sarcasm. The direct gaze can be seen as conspiratorial, or defiant. Some figures stay close to the bounds of their boxes; others break out.
Ellen Tani, assistant curator at the ICA, says that for visual artists, "It is really difficult to represent structural and systemic racism, because it is not a visible structure." For this wall, Abney uses a language of symbols "that can encode systematic inequality, but can also be read in a number of other ways."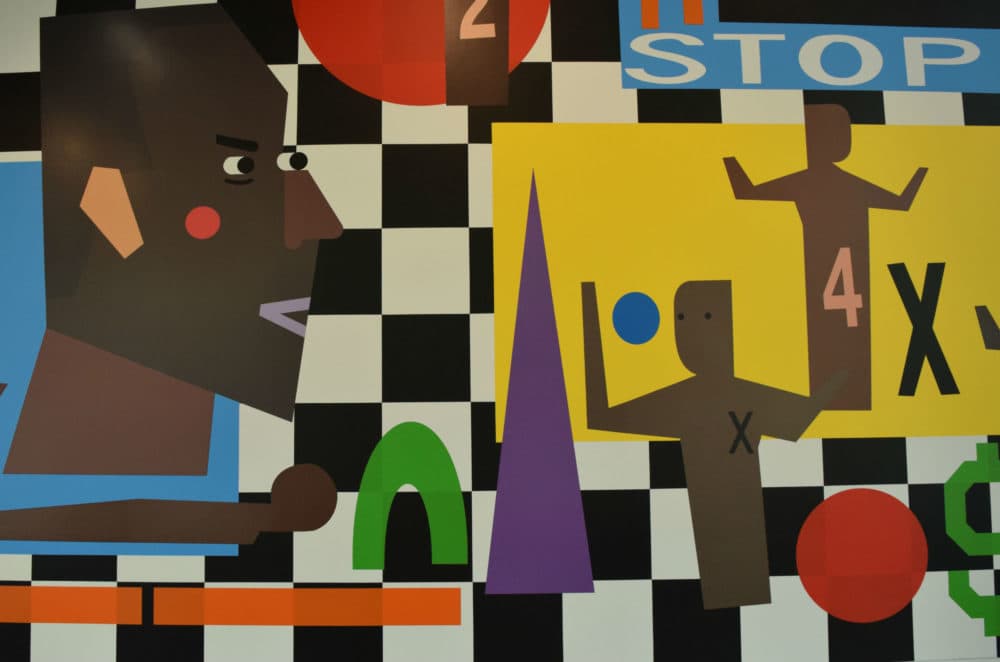 The ICA mural draws from a visual vocabulary Abney has developed over time. Large-scale heads are repeated from an installation last summer at the Palais de Tokyo in Paris. Prone figures appeared on banners she made addressing state power and military oppression for the Gwangju Biennale in South Korea last fall. Figures with their hands up appear as a common form, and have contributed to her moniker as an artist of the #BlackLivesMatter movement — a label she finds both complimentary and confining.
On the ICA wall, Abney arranges elements from her visual language into a fresh, inviting composition with the city and current issues in mind. She'd like the work to serve as a conversation-starter.
Tani, the curator, hopes to eavesdrop. "I hope people sit down and actually start to talk about how they read this wall," she said. "It will not have a stable meaning. It will be different for everybody. That's what I'm most excited about — it's like showing you everything, and telling you nothing."
You have to engage directly with it — to think through the relationships between symbols, figures, and words — to make your own meaning of the work.
---
"Nina Chanel Abney" is on display through March 15, 2020 on the Sandra and Gerald Fineberg Art Wall at the ICA. It is free and open to the public during museum hours.