One School's Dilemma Raises Questions About How To Handle Boston's Oldest Students
This article is more than 4 years old.
Every year, around 100 students turn 22 in the corridors of Boston Public Schools. Since 1999, BPS policy has been that those students should leave, but it hasn't been enforced consistently.
The district has tried to restore an across-the-board age limit since at least 2015. But last week, BPS announced that it will once again soften its efforts when it comes to one unusual school.
BPS will allow, at least, the eight students at the Boston Adult Technical Academy (BATA) who have already turned 22 to finish out this month. And district officials will present a more detailed long-term solution concerning the school at the next school committee meeting on Jan. 30.
BATA has been a prominent exception to the age 22 deadline for years. And teachers say that's fair enough, since their 100 or so students — mostly foreign-born and highly motivated to earn their diploma — are an exceptional population.
A half-dozen BATA teachers spoke out earlier this month, each brimming with praise for their students. "They are the most grateful, appreciative, diligent people that you could ever ask for," says Maxine Wigfall, a math teacher at the school. "Half of them are working one or two jobs, coming to school with a minimum amount of sleep, and still doing what they have to do to reach their goals."
Many students credit their teachers with helping them restart their lives. Nilton Brandom was born in Cape Verde, but didn't complete school there. "When I came here, I was lost," Brandom said. He started to learn English using Google Translate with his teachers at BATA.
"For me, a teacher's like a father or a mother. They teach me how to do a lot of things — not all school: how to go to work, how to survive," Brandom said.
Luis Pacheco is in another group. He grew up here and went to Boston Arts Academy, but dropped out after, in his words, "struggling mentally, internally."
"I was diagnosed with PTSD and I didn't know I had it," Pacheco said, adding that BATA's small classes — 15 students, two teachers — helped get him back on track.
Last year, the district — then led by superintendent Tommy Chang — acknowledged the "unique role" BATA plays in the district serving "English Language Learners and overage students [with] an academic program that would ensure readiness for and a path towards graduation."
Back then, BPS sought — and the school committee approved — a one-year exception to the over-22 policy.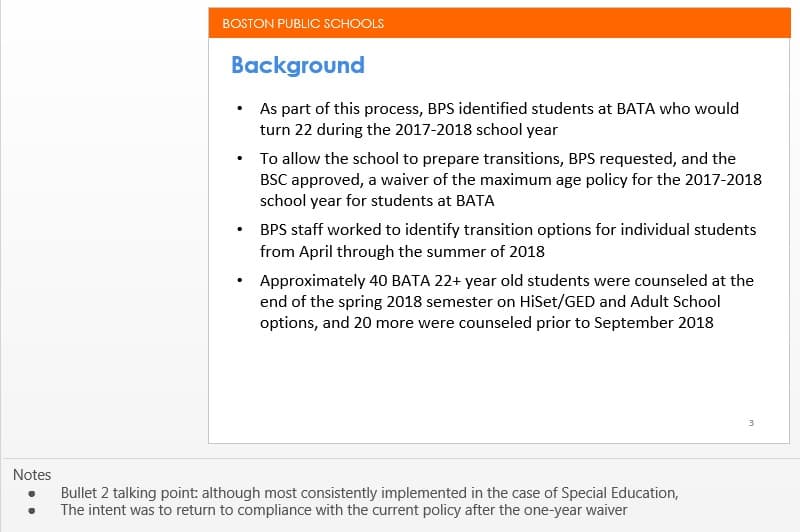 But now that year has lapsed. In 'talking points' attached to a Jan. 16 BPS PowerPoint presentation on this question, an unnamed district official wrote that "the intent was to return to compliance with the current policy after the one-year waiver."
But Kevin Lui, who teaches math and physics at BATA, said that during a meeting with staff last year, Chang -- himself an immigrant from Taiwan — left them with "the expectation that we'd continue to have this discussion." Chang resigned last June.
"It doesn't seem like any discussion has happened since then. It's just been this top-down thing," Lui said.
'It's A Mystery'
Boston is home to five alternative education schools, including BATA, that are set up to serve students older than 18. Together they enrolled approximately 1,200 students in the 2015-16 school year. (Another such school, Dorchester Academy, closed last June.)
BATA is relatively small, with 154 students, according to state data. They come from around the world, with migration often interrupting the formal schooling they began in home countries like Cape Verde. That leaves BATA's students — around three-quarters of whom are immigrants — with considerable catching up to do.
The rest are residents who may have paused their first run through high school — many due to issues with family, finances or mental health — but who are still seeking their diploma.
Twenty-nine of those students have turned or will turn 22 during the course of this school year.
The school's teachers believe they can get those students over the finish line if given until the end of the year.
An Oct. 29 letter to Boston's interim Superintendent Laura Perille signed by all school staff claimed that 80 percent of BATA's on-track students over 22 managed to graduate by the end of the last school year.
Science and math teacher Ayo Awobode said he's "not aware of any [current overage] students that are not on track" to graduate this spring. "Most of our students are very, very diligent."
Earlier this month, several BATA teachers said they were flummoxed as to why the district won't simply extend its tolerance of their unusual school indefinitely.
"We'd love to know why they'd implement this policy. It's a mystery," said Lui.
The Massachusetts Department of Elementary and Secondary Education (DESE) does not apportion state education aid for students who turn 22 on or before Oct. 1. But since schools are funded on an anticipatory basis, BATA's students set to turn 22 after Oct. 1 should be covered by that aid.
District officials, for their part, have forcefully denied that this policy change was made to save money or done without due consideration.
DESE does advise districts to treat age 22 as an effective deadline for students. But officials say that's only advice and that the state does not enforce a "maximum age" for enrollment in public schools. That makes Massachusetts somewhat unusual; it's one of only seven states that don't enforce a maximum-age policy.
At the Jan. 16 meeting, Perille said: "I would be very grateful if we stopped referring to any of these decisions as 'booting out' or 'kicking out' students from any of our schools or programs… Under no circumstances are we 'booting' children out unfeelingly, or unnecessarily."
Perille then said the uneven enforcement of the age policy "did not always have good outcomes for students." She added that enrolling students for the first time at an advanced age "almost guarantee[s] that they're not going to complete their program — whether it's BATA's or anyone else's — by the time they turn 22."
The district declined to provide more concrete examples of what Perille called the "unintended consequences" of accepting and enrolling older students.
'Feeling Hopeful'
BPS is weighing two "programmatic solutions" to the dilemma posed by BATA and other adult-education programs in the district.
One would be to allow all BPS students turning 22 to finish the school year, and that's the policy that some BATA teachers said they favor.
But on the presentation slide regarding this proposal, a note is appended that reads "ultimately the conclusion of the administration team is that this would not be advisable" due to possible effects on the transitions of special-education students.
Students with what the state calls "severe disabilities" are entitled to education until their 22nd birthday, even though most don't expect to graduate.
BPS's presentation notes read that having all of those students leave school and pass into adult care at the same time — at the end of the school year — "may put a strain on" the state's department of developmental services, according to the presentation notes.
The other solution officials are weighing is a "hybrid" school at BATA, coordinated with Boston Central Adult High School — a night-learning program for adults over 23 located on the campus of Madison Park High School. Under that plan, BATA's students over 22 to continue with the same teachers through the end of the academic year, then go on to earn a BCAHS diploma.
BATA staff caught off guard by this policy revision met with the superintendent and district officials on Jan. 11. Amrita Dani, an ESL teacher at the school, came away impressed. "The meeting was good," Dani said. "It seems like the district wants to address the situation and find a solution that lets students stay."
Looking forward to next Wednesday's meeting, she said, "We are feeling hopeful."