WBUR's New Cultural Venue, CitySpace, Opens Doors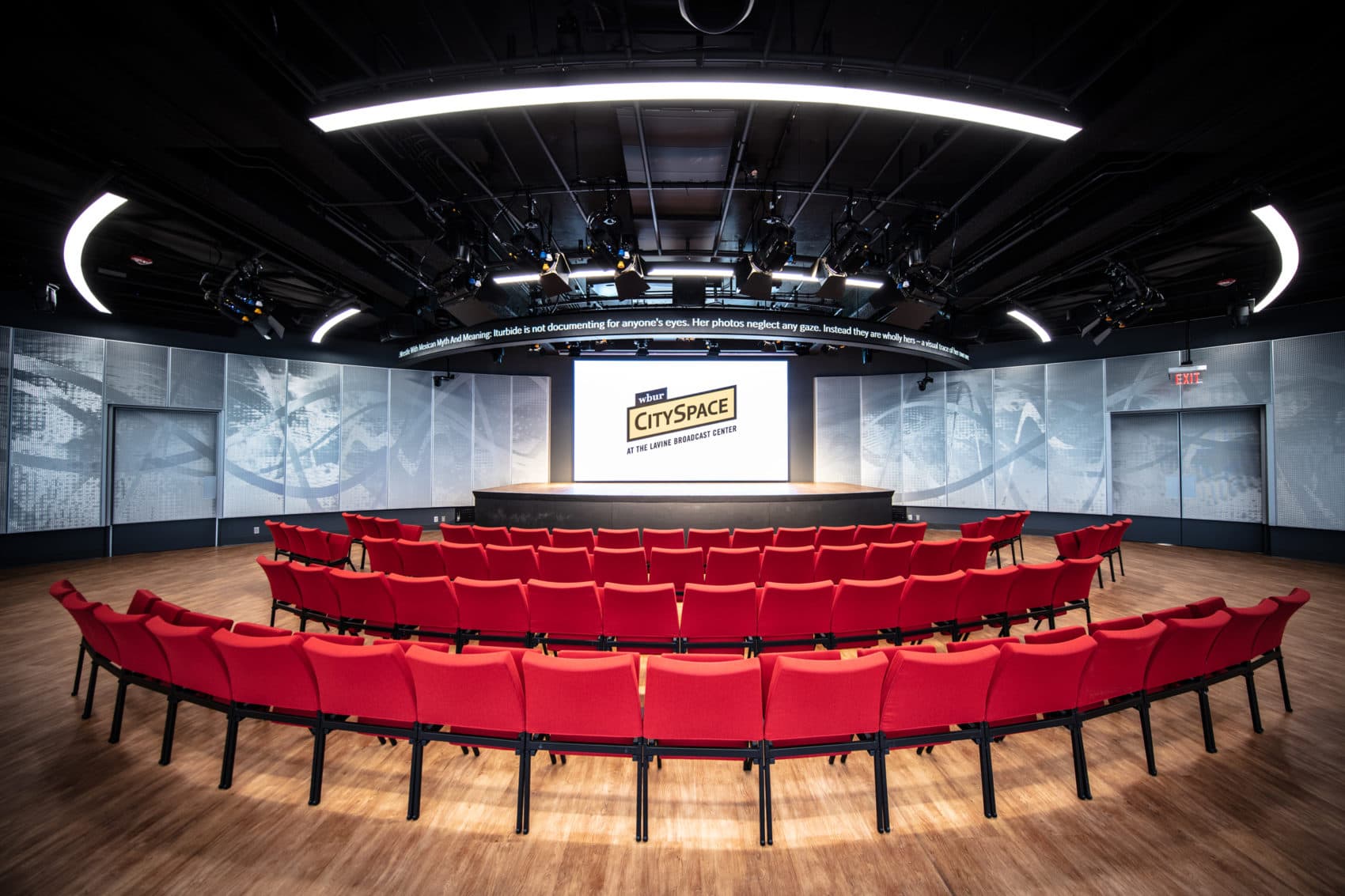 This article is more than 4 years old.
There isn't really a space in Boston that is all things to all people, but WBUR's Director of Community Engagement Amy Macdonald hopes CitySpace at The Lavine Broadcast Center breaks that mold. She wants the 8,700-square-foot, high-tech multipurpose venue to be the place where on any given week there can be an artistic performance, a provocative conversation or a live podcast, among other events.
From discussions with Boston Marathon champions, celebrated authors and chefs, to brown bag musical performances by local Boston University students, trivia nights with WBUR staff, and adult spelling bees, she has high hopes for CitySpace's programming. In Macdonald's office at WBUR, there's a calendar full of events.
She pictures CitySpace as a miniature version of the 92nd Street Y, the bustling cultural and community center in New York City that's more than a century old where people attend activities throughout the day and into the evening.
"I really want this to be a community thing and to bring in all these partnerships and all this talent that's already in the city," Macdonald says. "...And you want the conversation to be accessible. You want people to say, 'Oh my God I just learned something. That was really interesting. I want to get involved.' "
Macdonald knows partnerships are key. They're especially important at a time where access to cultural spaces across Boston can be a challenge for artists. In December, a report assessing Boston performing arts facilities found that though there are plenty of spaces, the cost to rent them and the lack of availability can make them difficult to access. CitySpace, which is located off Commonwealth Avenue, accommodates up to 275 people and has state-of-the-art audio and robotic high-definition video technology for live streaming and recording, robotically controlled theatrical lighting, a pneumatic stage, and a video presentation wall.
"WBUR CitySpace at the newly dedicated Lavine Broadcast Center will be the home for public conversation in Boston," said WBUR General Manager Charles Kravetz in a statement. "CitySpace brings the best of WBUR and NPR to life – it's a destination where people can come together to engage in civic dialogue, to wrestle with big ideas, to be inspired, to be entertained, and to be educated on topics that impact our community and our lives."
Though CitySpace opens to the public Feb. 28, Mayor Marty Walsh will join WBUR leadership for a ribbon cutting at the venue on Commonwealth Avenue Wednesday.
"The City of Boston is excited to welcome WBUR's CitySpace, a convening space that will help bring diverse thinkers, innovators, and performers together to create an inclusive community for all that it serves," said Walsh in a statement. "This new space will act as an important public hub engaging our residents on issues that are shaping Boston and the country."
Macdonald said organizations across Massachusetts have already begun to reach out about events. She and her staff have gotten in touch with others.
They plan to keep busy with events such as a storytelling night with The Moth. Oxfam, a confederation of organizations that focus on addressing issues of global poverty, will partner with CitySpace for an event honoring the strength of women from Central America. And in April, the Mass Cultural Council will host their Commonwealth Awards at CitySpace.
Their keynote is renowned Venezuelan conductor Gustavo Dudamel.
Carmen Plazas, communications manager for the Mass Cultural Council, said the fact that CitySpace is easily accessible via public transportation is crucial.
"Having this physical place that will allow people to connect in person for civic engagement, where all members of the community really feel welcomed and where they can express their opinions and raise their voices," Plazas says. "That's really the perfect match ... that's exactly what we're looking for and we're excited about."