In 'Go Home Tiny Monster,' Puppets Grapple With Loss And Celebrate The Joy Of Community
This article is more than 4 years old.
Back in 2015, winter storms decimated Bonnie Duncan and Dan Milstein's condo in Jamaica Plain. The water damage forced them to leave their home while they fixed and restored it. That meant that they moved between friends' houses and hotels with their three children in the six months that followed.
They eventually were able to move back in, but the memory of that time — the feelings of uncertainty and the support from their community — stays with them. The couple runs a puppet theater company, the Gottabees, and for them, creativity became a way to cope with the loss.
As time went by, they felt increasing gratitude for the people who helped them through the hardships.
"That's ultimately what we found to be the most important thing," says Duncan. "How can we create that community in a theater and for an audience of families so that they can think about what it's like to help other people?"
This duality — loss and collective strength — became a theme in their play, called "Go Home Tiny Monster," premiering at Boston's Puppet Showplace Theater on Saturday, Feb. 2. In it, a young girl named Sylvie and her family of monsters rebuild their home after a storm sweeps it away.
Why monsters? Well, the group began to develop it at the National Puppetry Conference in 2017. There, Duncan met Marte Ekhougen, who was presenting monster puppets. Duncan was immediately drawn to their whimsical charisma. The kernels of the show fell into place from there: a lovable family of monsters, a determined protagonist and the seemingly unbearable setback of losing of a home.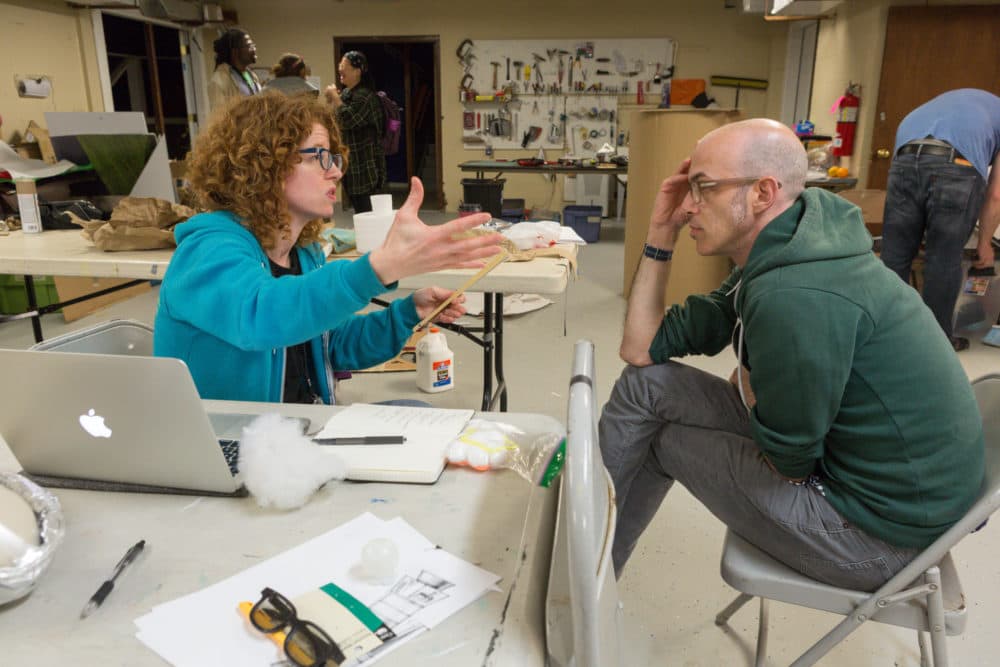 Since then, the group has worked to bring this concept to life through acting, music, set design and, of course, puppetry. The Gottabees do not use words to tell their stories, a choice that at once removes language barriers and uniquely activates the audience's imagination. They also do not use scripts, opting instead for a mix of improvisation and rehearsed scenes. The combination yields well-crafted moments featuring clever set design, quirky storytelling and emotional depth.
One such moment stuck out to me when I watched a video documentation of a small scale performance that the Gottabees hosted in New York. Sylvie and her monsters huddle together as the storm rages, represented by the flickering lights and crescendoing musical accompaniment. The tension breaks only when the 10-foot tall frame of Sylvie's house crumples to the floor. The theater is suddenly silent. Sylvie and Grandpa look at eachother amidst the wreckage with heartbreaking vulnerability.
Milstein says that the group has wrestled with balancing somber moments like this with more upbeat ones. As they worked, they realized that inviting the audience to participate helped unite Sylvie's loss with her eventual victory.
"You have this character feeling just like she can't do this, and hopefully the audience feels the emotional heft of that," he says. "They see this and they help her."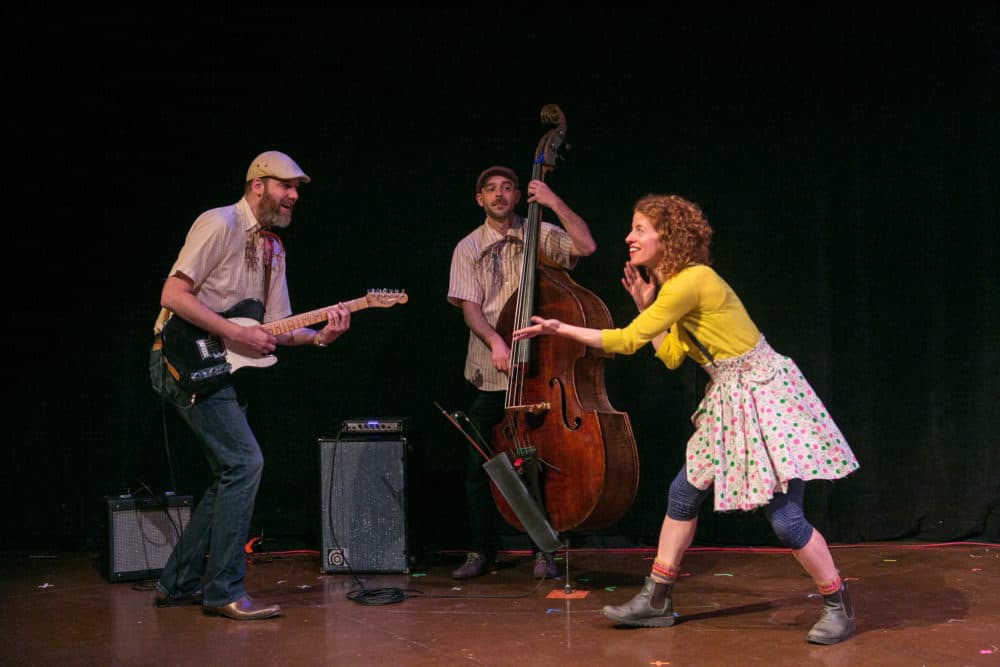 Geared toward families with young children, Duncan told me that the show brings out "the innate generosity of children." In dress rehearsals and small performances of "Go Home Tiny Monster" that she has hosted for families in her community, Duncan noticed that children often openly ask their parents what can be done to help Sylvie. The Gottabees embrace this energy. Sometimes they welcome the audience to mime pulling a rope that lifts a portion of Sylvie's new house into place. They invite others to comfort Sylvie by singing to her.
The Gottabees pulled from their personal experiences to create these touching moments, which they say embody the "heart feel" — or the emotional core — of the play.
"When we did live through this, we had a sense of gratitude for all the people who helped us out — the people who let us stay with them, who took us out to cheer us up, who took the kids, who offered a home," Milstein explains. "And that's hopefully some of the heart feel of the piece: the feeling of being alone and afraid, and then finding that community around to step in and support you."
---
The Gottabees' "Go Home Tiny Monster" begins performances at the Puppet Showplace Theater in Brookline on Saturday, Feb. 2.