'Pepperland,' A Mind-Bending Reimagining Of The Beatles' Iconic Album, Dances Through Boston
This article is more than 4 years old.
When choreographer Mark Morris was commissioned to create a dance in honor of the 50th anniversary of The Beatles' "Sgt. Pepper's Lonely Hearts Club Band," he hesitated. "That's kind of not the sort of project I do," he says on the phone from his apartment in New York City. And the cornball potential could be huge.
"The danger about this project was that both Mark and I know that there's nothing worse than a Beatles cover project," says jazz composer Ethan Iverson, former music director of the Mark Morris Dance Group, whom Morris approached to write the score. "It feels too tired. What are you going to do that's new?"
But, Iverson conceded, if he were going to do this type of project, Morris was the perfect person to make something really happen — and he did. "Pepperland," which kicked off "Sgt. Pepper at 50: Heading for Home," a weeks-long festival in Liverpool in 2017 celebrating the album's 50th anniversary, is no simple cover. The 13-part evening-length piece — performed by 17 dancers from Morris' virtuosic dance troupe — is a mind-bending re-imagining of the album.
Yes, it springs from the music, as Morris' dances famously do, but that music is subject to a unique type of alchemy: Iverson has deconstructed five of the album's songs — "Sgt. Pepper's," "With a Little Help from My Friends," "A Day in the Life," "When I'm Sixty-Four" and "Within You Without You" — plus "Penny Lane," and interweaved six of his own original compositions with titles-cum-tempo-markings such as Adagio, Allegro, Scherzo and Cadenza.
Boston audiences will have the opportunity witness the results of that alchemy, in sound and action, when the Celebrity Series of Boston brings "Pepperland" to the Boch Center Shubert Theatre from Feb. 8 to 10.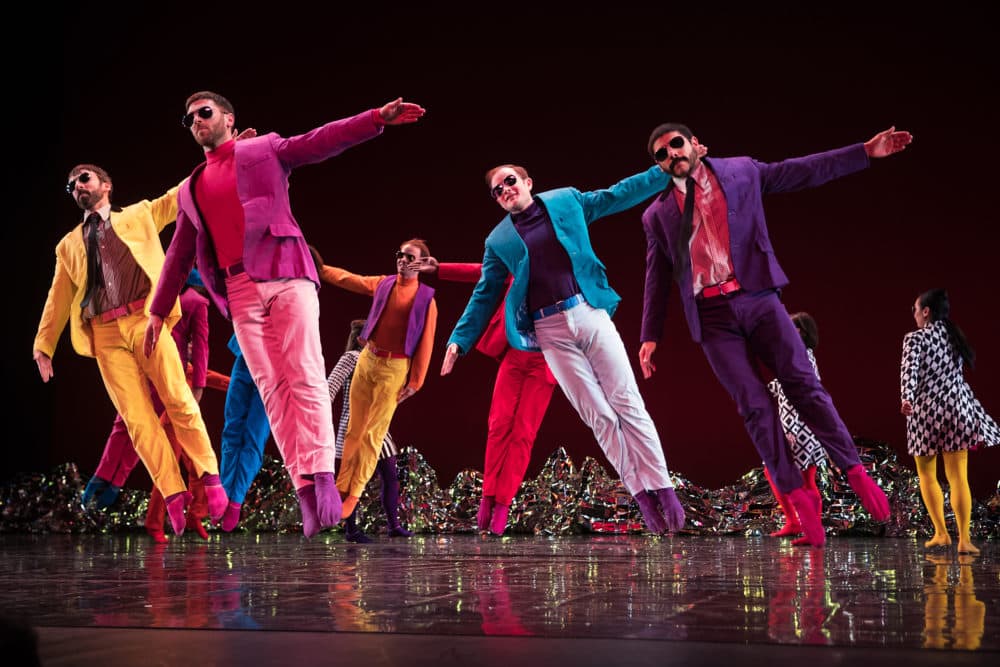 "The melodies are very visible, they are in plain sight," says Iverson, on the phone from his home in Brooklyn. But those melodies — and the images conjured from them by the choreography — have been transformed, and are replete with complexity. "It's like the songs are the songs, and the accompaniment takes on more abstract shapes," says Iverson, who was also a founding member of the iconic jazz trio The Bad Plus.
The music, which will be performed live by the Mark Morris Dance Group Music Ensemble, is performed by a chamber music octet of soprano sax, trombone, percussion, organ, piano and harpsichord, voice and theremin — the oldest electronic instrument, which is played without physical contact, and often appears in science fiction movies.
Morris, 62, was 10 when the Beatles hit, and remembers attending one of their concerts in Seattle during their last tour, in 1966. "There was no music involved, it was just screaming," he says. But, he says, he'd always admired their music. "I thought it was great, and still do."
Still, he didn't collect Beatles records — nor much other popular music at the time. So when Sean Doran, co-artistic director of "Sgt. Pepper at 50," approached him about choreographing a dance to "Sgt. Pepper's," he had to do a little research. "This particular record, I didn't know I knew," he says. "I hadn't listened to it straight through in a long time. So I listened again. I knew all the songs. It was like, 'Oh, OK, that's pretty amazing the way it's put together as one shot, and not meant to be performed live. That was the whole interesting thing about it: It was completely studio artifice."
Indeed, "Sgt. Pepper's Lonely Hearts Club Band" has been hailed by many music critics as the first "concept" album and recognized for pushing recording-studio techniques of the 1960s to the limit.
Morris quickly turned to Iverson to compose the score. "He always has wonderful ideas, and he works fast, and he'll do anything once," says Morris.
Work fast they did — the entire piece had to be developed in just six months.
" 'Sgt. Pepper's' is sort of symphonic in scope," says Iverson, 45, who's loved the album since high school — it's a part of his history, he says, "in a sort of folkloric sense." "So what I decided to do for Mark is tease out those kind of European classical references further. The counterpoint is like Bach, at times, in those pieces. And famously there's Stockhausen on the cover, and there's musique concrète on the album toward the end of "A Day in the Life." So that's the whole history of [European classicism] in a way, you know?"
Iverson's score elaborates on elements of other non-rock influences coursing through the album's 13 tracks, too, including blues, jazz, music hall and vaudeville, Hindustani ragas, and the serial music of the Darmstadt School.
"Ethan did very extreme and wonderful arrangements of six of the songs. And then he wrote [new] songs to link everything together to make a musical whole of the evening," says Morris. "The album's only 40-something minutes, and I wanted at least an hour. And they're fabulous, evocative songs based on the other music."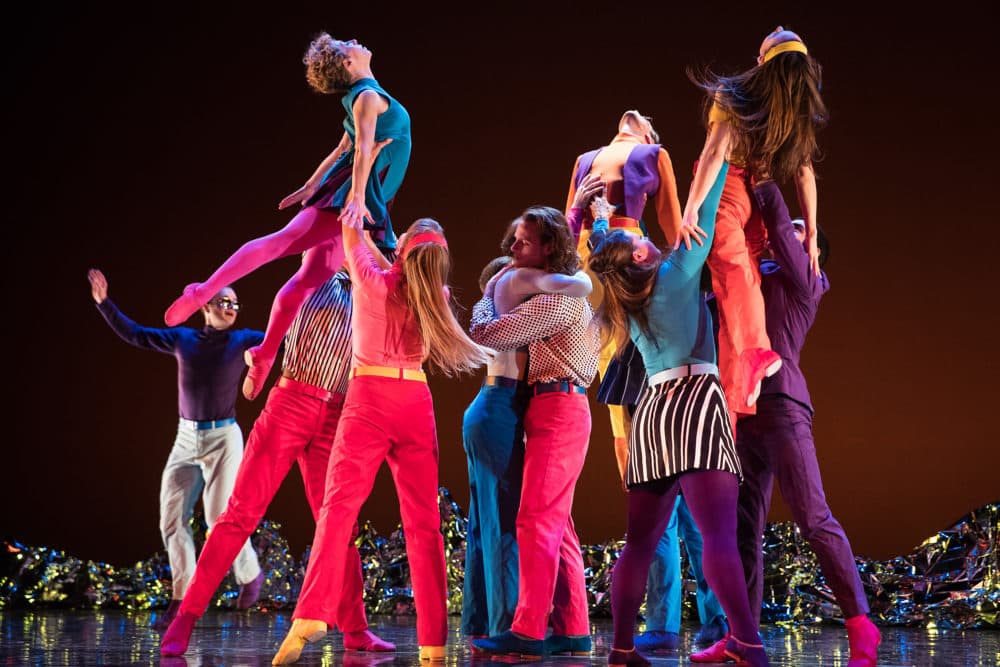 And what about the dancing?
Morris is known for making dances that combine an astonishing musicality with brilliant movement invention and a purity of line generally associated only with the best ballet. His dances speak to the heart and deal with the "big themes" — love, loss, our reason for being — but also are lit by an irrepressible wit and a flicker of irony.
The polyphonic rhythms of his works arise from sources as diverse as Handel and Hopi chants, calypso songs and C&W, Lou Harrison, and his beloved Bach. To date, he has created 144 dances for the Mark Morris Dance Group, plus 44 ballets for various companies, and additional pieces for other groups such as the Tanglewood Fellows.
But ask him about the style of movement in any of his dances, including "Pepperland," and he demurs. "It's a composition the way anything else is that I would do," he says. "I study the music, decide what should happen, and that's it."
Iverson's notes on the score, however, provide some clues:
"Sgt. Pepper's Lonely Hearts Club Band": The original album ended with an unprecedented effect, a very long chord. Fifty years later, a similar chord is good place to begin…

"Magna Carta": A formal invocation of personalities from the LP cover.

"When I'm Sixty-Four": Between 6 and 4 is 5. All three (counts to the bar) are heard beneath the music hall shuffle.
"Pepperland" may not a "tribute" in the conventional sense, but you can imagine that for the creators of "Sgt. Pepper's Lonely Hearts Club Band," it might represent something much more. Produced in 1967, the album shattered boundaries, musically and technologically. In 2017, "Pepperland" essentially did the same. As a commissioned tribute for an event, it could have been mundane — even treacly. Instead, through artistic legerdemain, Morris and Iverson have taken the old and made it new again.
"It's a real artistic experience," says Iverson. "It's super fun and entertaining, but it's also got complexity and darkness. It's not just a, you know, sing-along with The Beatles."