A Mix Of Circus And Dance, 'When Angels Fall' Imagines A Dystopia That Pits Humanity Against Technology
This article is more than 4 years old.
In a dystopian future that doesn't appear as far-fetched as it should, a looming, manipulative entity watches over a machine-run society. In the darkness, what's left of humanity, depicted as fallen angels, clings on. That's how Raphaëlle Boitel's "When Angels Fall," a thought-provoking look into a possible future, begins.
In the show, presented by ArtsEmerson from Feb. 20 to 24, circus, dance and theater combine for a story of human will persisting against mechanical rule.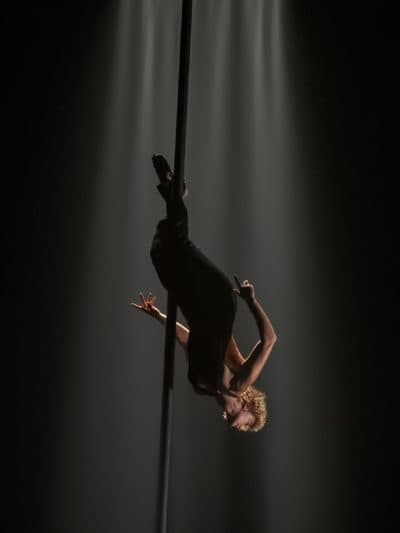 Inspired by other man versus machine stories like "1984" and "2001: A Space Odyssey," this narrative begs us to take a closer look at our lives: As our technological reliance grows, will we see its dangers? And, how can we save ourselves?
Boitel, a celebrated French aerialist and contortionist whose family joined the circus when she was young, has a few ideas about where to start: "With art, with beauty, with culture, with love [and] being together." I don't have all the answers, she says, but I think we can at least question how we can change things for the better.
The circus artist created her first long-form independent show, "The Forgotten," in 2014. Now she's touring "When Angels Fall" through the U.S.
The tale has been taking shape in the minds of both Boitel and her collaborator, Tristan Baudoin, for the last couple of years. Neither can point to a specific moment or conversation, but rather, a slow threading together of layered experiences. One such moment, Baudoin, the set and light designer, notes is when a couple sits in a restaurant on a date — engaging with their phones instead of each other. That disjuncture concerns them.
"When Angels Fall" explores the importance of communication and connection in a sometimes silent, black and white world through a tragicomic approach. Using light as a character, the play's absence of dialogue heightens the senses and makes space for the audience's imagination to flourish. "The audience can write its own story," Baudoin says. We just open some doors and ask some questions, he explains.
Making full use of the space, the piece features soaring aerial artists, moving choreography and mechanical arms that act as inquisitor eyes. Here's a glimpse of what to expect:
Their technique surprisingly speaks for technology with traditional methods. "Everything is made with hands and so it's representative [of] technology, but we don't have electronic light," says Boitel. "Or motors," Baudoin adds.
Even with visible ropes and other conventional methods, still, there's the "feeling of magic and poetry," says Boitel. The stark world is made luminous with Baudoin's chiaroscuro lighting and with silence punctuated by original music from Arthur Bison that shimmers.
Here's one of Bison's songs, "Crystal Lips," featured in the performance:
Without distinguishable discourse, the seven characters use miming, breathing and other movement and sound to tell the story. Baudoin says that Boitel "speaks with bodies."
That's not to say that verbal communication has no place. At one point, a character dares to whisper to the light. "If she whispers," Boitel says, we can imagine that it's forbidden to talk. "And maybe the others, [over time] forgot how to talk," she says.
The adventure further explores connection in a flying angel scene, where one of the characters climbs on a machine that's actually a suspended Chinese pole. "She's kind of flying into this machine under" the clouds, Boitel says. The exhilarating moment makes you "feel like you're in paradise." In another scene, the multigenerational cast comes together in precise choreography, deeply connected, but without eye contact. "It's a good contradiction contrasted there," she says.
"When Angels Fall" references puppetry and plays with metaphors, symbols and light to produce a visual feast. "We really like to mix the dramaturgic line with the technique and the set, how it goes together and how these interactive sets can become [a] giant apparatus and make the artists, the performers fly," Boitel says.
Though this exploration of technological domination and isolation may spark fear in some, the main message, Boitel says, "is hope" — and to use technology but "not be possessed by it."
---
"When Angels Fall," presented by ArtsEmerson, is at the Cutler Majestic Theatre from Feb. 20 to 24.