New England Conservatory Students Reimagine The Soundtrack Of The Film Noir 'Diva'
This article is more than 4 years old.
One of the most fascinating films of the 1980s was Jean-Jacques Beineix's dazzling thriller, "Diva." It tells the story of Jules, a young postman (Frederic Andrei), who is obsessed with an American opera singer named Cynthia Hawkins (the exquisite African-American soprano Wilhelmenia Fernandez).
Hawkins has refused to make recordings, so only people who hear her in a live concert can hear her at all. Jules stalks her around Europe and makes pirated recordings of her concerts. His latest recording gets him into serious hot water, not only with Hawkins, with whom he is falling in love, and the record industry, but with a corrupt Paris police chief and his murderous henchmen, who are trying to track down an incriminating cassette that looks a lot like the cassette Jules has recorded. (Don't all cassettes look alike?)
Director Beineix creates more memorable scenes than a coherent or inevitable plot line. There's a violent scene on a Parisian street, where the crooks are chasing and ultimately murder the woman who has the incriminating tape. There's a breathtaking scene where the criminals are chasing Jules through the Paris Metro — while he's on a moped! I've never been able to forget the haunting scene at a mysterious old lighthouse off the coast of Normandy.
I've been thinking about "Diva" of late because the New England Conservatory Contemporary Improvisation program is about to present its 14th annual free concert devoted to film noir. So far, each of these concerts has revolved around either a particular movie or a star associated with film noir. On Wednesday, Feb. 20, the students will re-imagine the soundtrack of "Diva."
The series was inaugurated and is still being produced by one of NEC's most celebrated faculty members, Ran Blake, the great "third stream" jazz pianist, philosopher and movie buff (he's one of six NEC faculty members who have been awarded MacArthur Foundation's "genius" grants). These concerts include scenes from movies and improvised responses to them. So far, the chosen films have been such masterpieces as Alfred Hitchcock's "Vertigo" and Val Lewton's haunting horror film "Cat People," films starring Gene Tierney ("Laura," "Whirlpool"), Robert Mitchum (the dark pastoral "Night of the Hunter"), and Marlon Brando. Blake says that it was the 1946 "Spiral Staircase," though it was more Gothic than noir, that "drove me to be a movie addict." It was, of course, part of the series.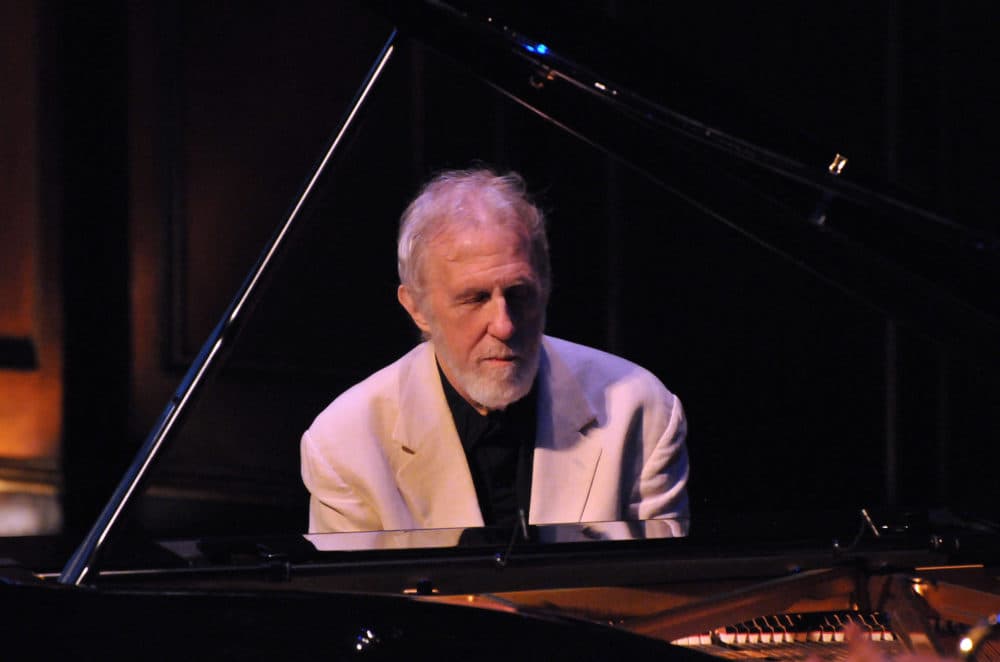 Blake obviously cares more about themes and moods than the strict definition of film noir. What connects all these films for him is the idea of obsession, an issue that's been around, he says, from the ancient Greek to the post-modern. James Stewart, in "Vertigo," obsessed with re-making Kim Novak into her seemingly dead other self; Dana Andrews' obsessed with Tierney's supposedly murdered Laura; Mitchum had a murderous obsession in "Night of the Hunter."
In "Diva," Blake's choice of film noir this year, it's that sense of obsession, which he calls an "obsession with perfection," that most fascinates him — both Jules' obsession with Cynthia Hawkins and her determination not to be recorded, not to hear her own voice. For him, "the crime stuff" is "handled better in other films," although his co-producer and, as it were, partner in crime, NEC's Storyboard Noir Ensemble conductor Aaron Hartley, "the corruption is so multi-faceted, with so many story lines colliding, that it's truly compelling." Blake prefers the subtly evolving love story — the almost-lovers early morning stroll through the Tuileries, Jules' surrealistic apartment.
While most of the soundtrack explodes with Romanian-born French composer Vladimir Cosma's "synth-pop" (the punk music underlying the assassination on the busy street or the breathless subway chase), or else flows with romantic piano in the early morning garden stroll, the central event of "Diva" is actually an operatic aria. Fernandez sings what might be called the movie's theme song, the gorgeous aria "Ebben! Ne andro lontano" ("Well then, I will go far away"), the high point of Alfredo Catalani's 1892 opera "La Wally," which ends with the heroine throwing herself under an avalanche (could that explain the opera's lack of popularity?). The libretto was by Luigi Illica, better remembered as Puccini's librettist for "La Bohème," "Tosca" and "Madama Butterfly." The aria was originally a song that Catalani wrote before he incorporated it in his opera.
In the movie, Hawkins's rendition of that aria brings Jules to tears as he is secretly recording her. Her singing has cool elegance and purity:
Though for emotional nuance and heartbreaking expressivity, the recording to turn to is by the legendary Maria Callas:
Callas is relevant here, because so many of her live performances were preserved on pirated recordings. (A huge box set of them, beautifully remastered, was recently released by Warner.) The hardest thing for me to believe in the movie is not the absurdly convoluted plot but the notion that there's only one pirated recording of a famously reclusive singer. Recording piracy, for both Blake and Hartley, is one of the timely, "right now" issues of the film. But as a Callas lover, I would say the world should owe these pirates infinite gratitude.
But back to the "Diva" concert, in which, Blake says, the Contemporary Improvisation students will both "interpret" as well as "improvise." The performers, composition as well as performance majors, are members of Hartley's Storyboard Noir Ensemble, the Contemporary Improvisation Chamber Ensemble under Eden MacAdam-Somer, and the NEC Jazz Orchestra under Ken Schaphorst. Joining them will be singer/bass-player Grace Ward, Matt Okun on electric guitar, and Anthony Coleman's Survivor's Breakfast Ensemble. The press release promises that they will "recreate a compelling soundtrack in real time."
---
New England Conservatory Contemporary Improvisation Program presents "Diva" on Wednesday, Feb. 20 at Jordan Hall.