'Our Country Is In Grave Peril': Former Mass. Gov. Weld Takes Step Toward GOP Presidential Bid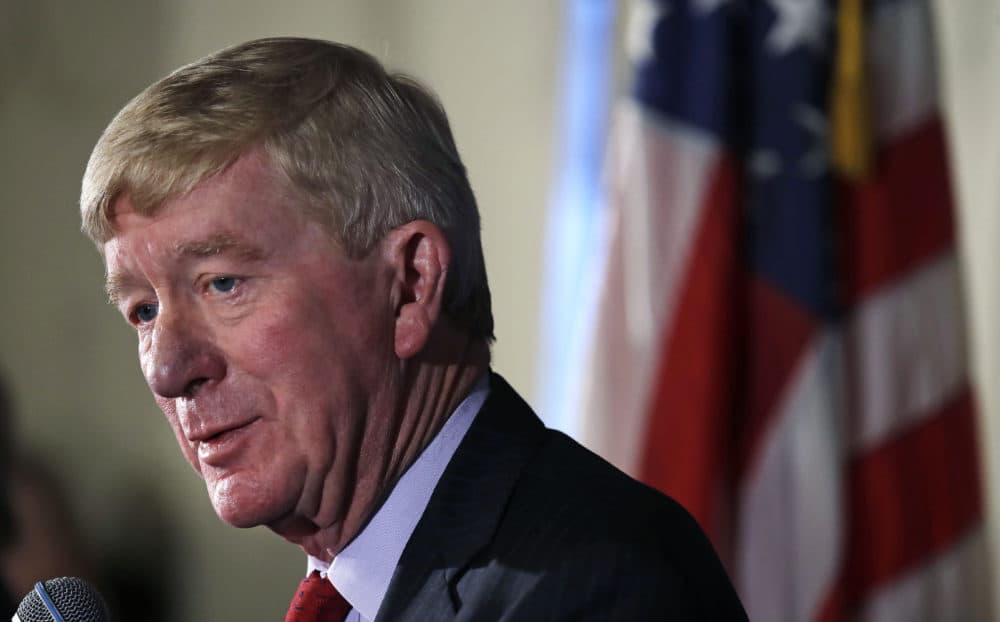 This article is more than 2 years old.
Bill Weld has launched an exploratory committee for a presidential run, setting up a potential challenge to President Trump in a Republican primary next year.
The former Massachusetts governor made the announcement at an event in New Hampshire on Friday morning.
"I'm here because I think our country is in grave peril, and I cannot sit any longer quietly on the sidelines," Weld said in prepared remarks.
"We have a president whose priorities are skewed towards promotion of himself, rather than toward the good of the country," Weld said. "He may have great energy and considerable raw talent, but he does not use them in ways that promote democracy, truth, justice and equal opportunity for all."
The 73-year-old Weld was a Republican as governor in the 1990s, and years later switched to the Libertarian Party. He was that party's vice presidential nominee in 2016.
As WBUR's Kimberly Atkins reported Thursday:
Weld has stoked presidential speculation with his vocal criticisms of Trump, and by his recent decision to return to the Republican Party after spending several years as a registered Libertarian.
Atkins reports that though the road to the White House would be a difficult one for any Republican challenging the incumbent, strategists say Weld wouldn't have to win the primary to wound and help topple Trump.
In his remarks Friday, Weld laid out a broad agenda, including:
He bemoaned the ballooning national debt, and advocated for cutting taxes and cutting spending, through the privatization of some social services.
He said there is a "pressing need" to act on climate change, and that the United States should stay in the Paris climate accord.
On immigration, he said the federal government should institute a robust guest worker program and offer "more and longer" work visas.
And he floated abolishing the U.S. Department of Education, "transferring decision-making authority" to states and parents.
Weld's announcement of an exploratory commitee was not welcomed by the Massachusetts Republican Party. In a statement, the party called it "a grandstanding political gambit that reeks of political opportunism. His self-seeking ploy to divide Republicans will fail."
Weld said Friday that he's "seen enough of government" that he could start in the Oval Office "on Monday" if it came down to it.
With reporting by WBUR's Quincy Walters
This article was originally published on February 15, 2019.