Maine Gov. Mills, 2 Environmental Groups Back Controversial $1 Billion Transmission Project
Play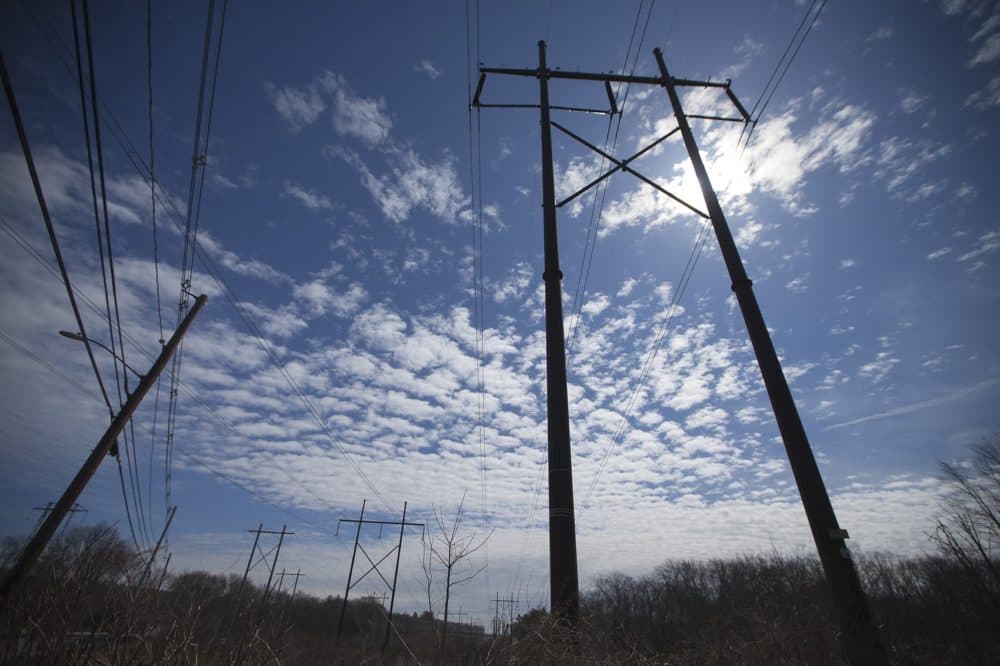 This article is more than 3 years old.
Maine Gov. Janet Mills and two environmental groups are signing on to Central Maine Power's bid to build a controversial new transmission line through the state's western forests.
That significantly broadens the coalition of interests supporting the project, but the deal is also drawing fire from other environmental groups, grassroots opponents and some renewable energy developers in Maine.
The New England Clean Energy Connect, as it's called, would bring electricity from Hydro-Quebec's vast dam system in Canada through Maine to serve Massachusetts customers — enough electricity to power 1 million homes.
Mills signed on to the agreement that includes a variety of incentives CMP and Hydro-Quebec are offering.
"That stipulation includes benefits to the economy, substantial benefits to Maine ratepayers and substantial benefits to our efforts to combat climate change across this state and across the region," Mills says.
---
Like what you're reading? Get the latest business news (and other stories Boston is talking about) sent directly to your inbox with the WBUR Today newsletter. Subscribe here.
---
Those benefits include a $140 million subsidy for residential and business electricity bills, doled out over 40 years. There's another $50 million specifically geared toward helping low-income Mainers reduce energy costs, and $10 million to deploy broadband in towns that would host the transmission line.
And tens of millions would be spent over time to help Mainers convert their homes from high-polluting oil furnaces to low-polluting electric heat pumps, to buy electric vehicles, and to install EV charging stations around the state.
At a Portland press conference, Mills held up a gray, 1-pound block of carbon to demonstrate how much carbon dioxide she believes New England would stop emitting each year, thanks to the influx of low-polluting Canadian hydropower.
"Nearly 80 million of these 1 pound cubes of carbon no longer emitted into our atmosphere," she says. "To me, that's significant."

Despite such claims about the benefits of drawing in Canadian hydropower, a similar project proposed in New Hampshire was strongly opposed by environmental groups. But one of those former foes, the Conservation Law Foundation (CLF), says it now believes that Massachusetts' purchase of the Hydro-Quebec electricity will significantly help to move the region towards a zero-emissions future.
"We know that Hydro-Quebec has publicly filed for the necessary approvals in Quebec to increase the capacity of their existing facilities by up to 750 megawatts of power," says Sean Mahoney, who directs CLF's Maine chapter. "That means replacing old turbines, adding additional turbines, and creating additional efficiencies at their existing facilities."
And CMP says it will take action to ensure the big pulse of hydropower doesn't make it harder for Maine-based renewable energy to get onto the regional grid.
Even with those perks, Mahoney acknowledges that there will be tradeoffs.
"We're going to be faced with a host of difficult decisions over the next two or three decades as we try to get our arms around the impending disaster of climate change," he says.
But for opponents, the transmission project itself remains the clear and present danger.
"This settlement agreement is just window dressing. It does nothing to address the fundamental problems with this project," says Nick Bennett, a staff scientist at the Natural Resources Council of Maine (NRCM).
Bennett says the project would bisect and disturb wildlife habitat through a roughly 50-mile stretch of Maine's western forest.
And while CMP and Hydro-Quebec will profit, Bennett says, there is no proof in the record that globally, carbon dioxide emission will be reduced. Instead, he and many opponents argue that Hydro-Quebec could simply reroute to Massachusetts electricity that it's now selling to other markets.
"Therefore it will not have a significant climate benefit, and so Maine is going to take a big hit to the western part of the state and its environment essentially for nothing," Bennett says.
In addition to NRCM, the transmission project is opposed by the Appalachian Mountain Club and Trout Unlimited. And it's run up against a robust grassroots network of residents and businesses along the proposed corridor and beyond, joined by renewable power and fossil fuel generators which believe it will hurt their position in the marketplace.
For CMP, which has struggled to retain public trust in recent years, adding CLF and another environmental group, the Acadia Center, to the list of project supporters is an important milestone.
"The Office of the Public Advocate, the governor's office, from the industrial energy consumers groups," says CMP spokesperson John Carroll. "They all speak for different and important constituencies in Maine. ... they are making a good solid decision to support the project. I think that's going to give a lot of people comfort."
There are hurdles ahead: Even if utility and environmental regulators in Maine and Massachusetts approve the project, some Maine lawmakers are teeing up legislation that could stall or even kill the project.
The governor's newly vocal support, though, could signal a tough road for those efforts.
This story was first published by Maine Public Radio.
This article was originally published on February 21, 2019.
This segment aired on February 21, 2019.