Here Are The Takeaways From This Year's Oscars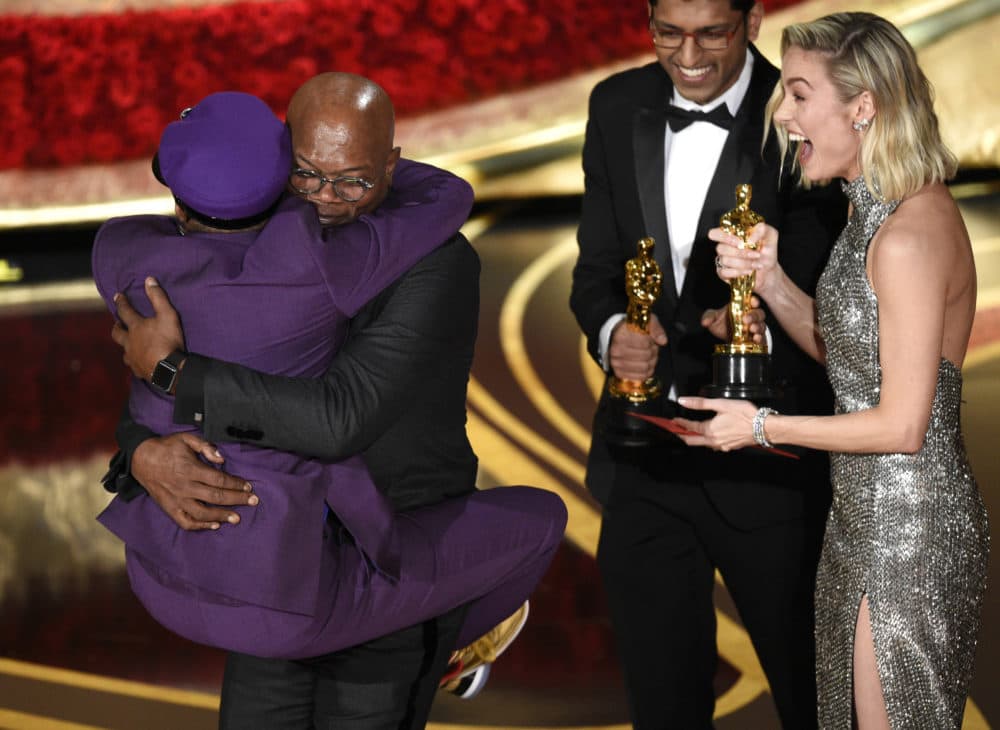 This article is more than 3 years old.
Here's a first look at what happened during Oscars on Sunday night. (Click here for a full list of winners.)
---
A Few History-Making Wins
History was made on Sunday night at the 91st annual Academy Awards. In his fourth decade behind the camera, firebrand iconoclast Spike Lee won his first-ever competitive Oscar for co-writing the incendiary "BlacKkKlansman."
In back-to-back presentations, Hannah Beachler and Springfield, Massachusetts native Ruth E. Carter became not just the first African-American women to win awards for Best Production Design and Costume Design, respectively, for their work on Marvel's mega-blockbuster "Black Panther," but they were also the first black women to be awarded in any non-acting categories since Irene Cara won for co-writing the theme from "Flashdance" in 1984. Additionally, Pixar's first woman-directed short film in the company's 40-year history, "Bao" went home with the Oscar for Best Animated Short.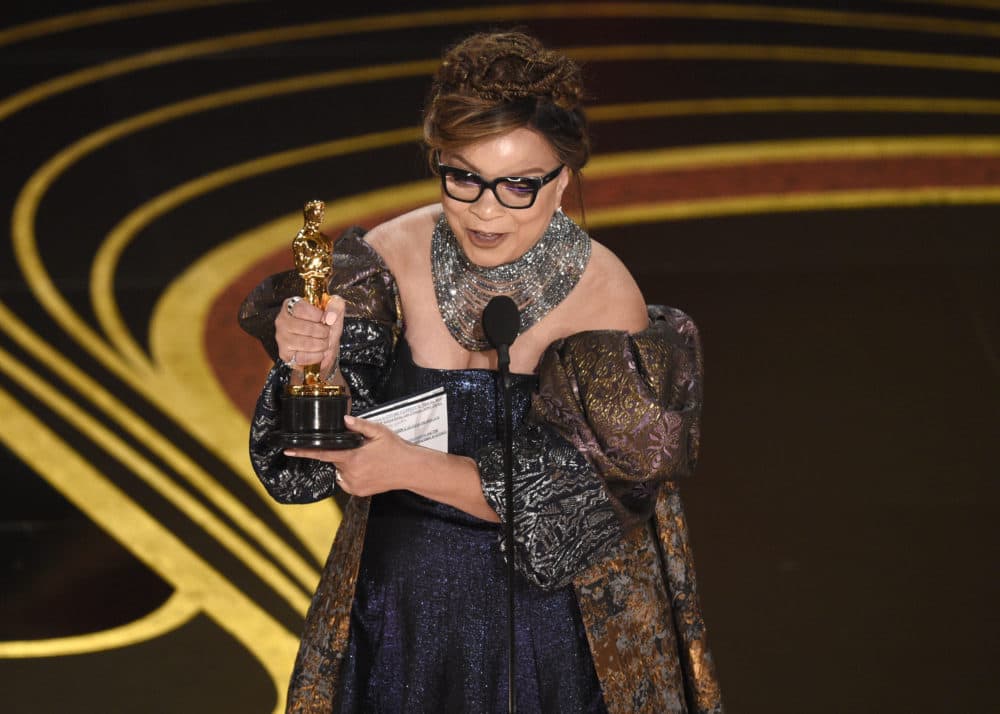 ---
And Quite A Few Steps Back
The clock was also set back roughly 40 years with a Best Picture win for "Green Book," the cloyingly retrograde race relations fantasy from director Peter Farrelly about brilliant black pianist Don Shirley learning to loosen up and love his bigoted chauffeur as they travel together through the Jim Crow South. (Notably, while congratulating themselves none of the filmmakers remembered to thank the late Dr. Shirley, whose surviving family members have called the film "a symphony of lies.")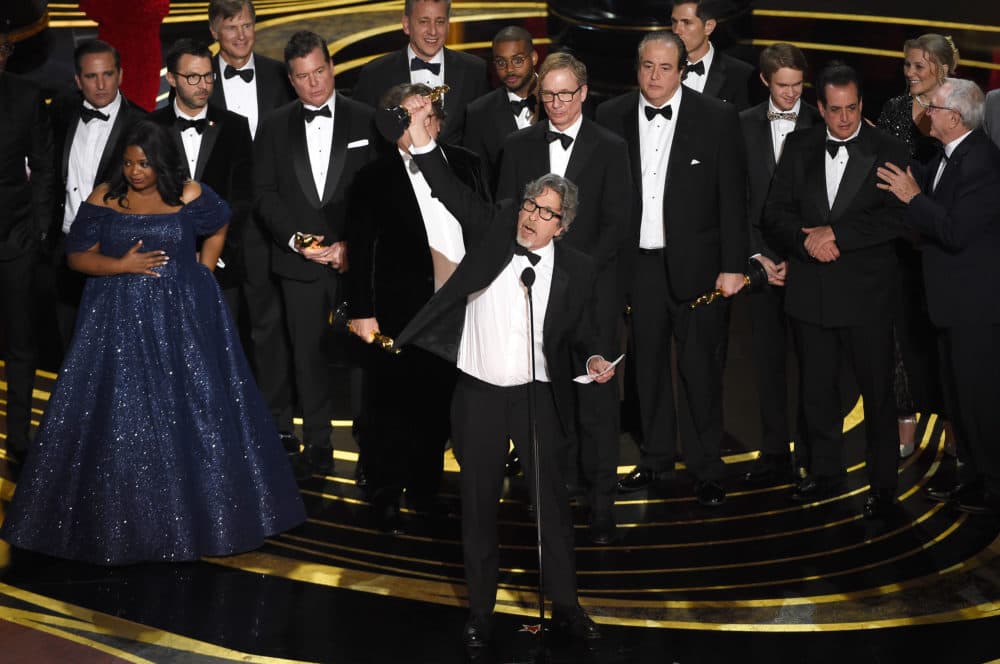 Sunday night's most whiplash-inducing moment came when Spike Lee's long-awaited win immediately followed the Best Original Screenplay award for "Green Book," which went to writers Peter Farrelly, Peabody native Brian Currie and Nick Vallelonga, who recently had to apologize for tweeting anti-Muslim conspiracy theories in agreement with the president.
In addition to a fabulous purple getup that made him look like the coolest Batman villain ever, Lee was wearing the gold knuckle-rings reading "LOVE" and "HATE" worn by the doomed Radio Raheem in his 1989 masterpiece "Do the Right Thing." That seminal movie was famously snubbed in favor of winner "Driving Miss Daisy," to which "Green Book" bears an awful lot of similarities, reminding us of just how far we still have left to go.

---
Hurry Up And Get Off The Stage
This all occurred with curiously little sense of ceremony or occasion. Plagued by a spectacular series of public relations disasters leading up to the event and constricted by the network's demands for an abbreviated running time, the host-less telecast was a rushed and officious affair, the few memorable moments wedged in by force from the winners battling the hyperactive cutting and an insistently blaring orchestra. The event raced across an oddly outfitted stage at Hollywood's Dolby Theatre, inside a cavernous, oblong structure with rippling folds that suggested a cross between a Frank Gehry building and the monster in a David Cronenberg movie.
Opening the show with the current tribute band incarnation of Queen (fronted by "American Idol" runner-up Adam Lambert in place of the late Freddie Mercury) was intended as a nod to Best Picture nominee "Bohemian Rhapsody" — an off-puttingly petty, score-settling biopic sanitized by surviving band members Brian May and Roger Taylor as an extremely profitable exercise in corporate brand management. (Their accompanying movie tie-in arena tour kicks off in July.)
The truncated performance of the first couple verses from two 40-year-old songs by an exhausted legacy act was a sadly fitting way to open this year's telecast, which breathlessly plowed through the 24 awards exhibiting a sense of obligation over occasion, and a sense that most people involved — save for the winners of course — would just as soon get this over with.
---
Best Moments
In the absence of much scripted banter and special presentations, the Oscars' most memorable moments this year were more off the cuff, as when Samuel L. Jackson took a break from presenting to update his pal Spike Lee on the score of Sunday night's Knicks game. (That big, boisterous hug between those two — whose long, often contentious relationship began on "Do The Right Thing" some 30 years ago — is probably gonna be the new lock screen on my phone.)
Olivia Colman's grand, goofy speech upon winning Best Actress for "The Favourite" punctuated one of the night's few upsets, sending perennial nominee Glenn Close home empty-handed for the seventh time. (A cruel twist for an actress whose famous catch-phrase in the 1987 "Fatal Attraction" was "I'm not going to be ignored.")
A win for "Spider-Man: Into The Spider-Verse" was one of this year's more pleasant surprises, breaking the Disney/Pixar stranglehold on the Best Animated Feature category to reward a visually groundbreaking adventure that blew open the trippy, expressionistic possibilities of contemporary computer animation. With young Afro-Latino webslinger Miles Morales swinging into action, it's a movie in which anything and everything is possible, intoxicated by the excitement of the new.
But I don't think there will be much disagreement when it comes to determining the evening's most electrifying interlude. The performance by Lady Gaga and Bradley Cooper of "Shallow," their Best Original Song-winning track from "A Star Is Born," was an instant classic for the all-time highlight reels.
Cleverly mimicking the stage-bound camera Cooper used in the film, the number was presented in an unbroken take — devoid of all the busy cutaways that had the rest of the program buzzing around like a bees' nest full of ants. We simply sat with them as they sang, Cooper eventually moving over to Gaga's piano bench so that two were in tight closeup for the goosebump-inducing finale. The performance was a marvel of patient pacing and smart staging, demonstrating a respect for the power of the art being honored that the rest of this ceremony sorely lacked.