A Fierce Advocate For Improving Health Care Faces His Own Cancer Diagnosis
Resume
Update: Rob Restuccia, whose advocacy for patients helped pave the way for the Children's Health Insurance Program and the Affordable Care Act, passed away on Saturday morning. The nonprofit Community Catalyst, which Restuccia led, confirmed his passing at the age of 69, after battling pancreatic cancer.
"Our hearts are heavy today as we mourn the loss of our dear leader, mentor and friend," said Diane Felicio, interim executive director and chief operating officer at Community Catalyst. "But knowing Rob, he would not want us to get caught up in our sorrow. He would encourage us to harness our collective energy and pour it all into the fight for health justice."
Family, friends and colleagues will gather on Saturday, March 9 to celebrate Restuccia's life at the First Parish Church in Brookline.
---
Rob Restuccia can't always sit up these days to greet the colleagues, friends and family members who stop by his Boston home to visit, help with errands, or draft plans to continue his life's work: improving health care for others.
The man many consider a pioneer in the movement to give patients a stronger voice in health care is in hospice, after stopping treatment for pancreatic cancer.
"I've got a difficult diagnosis and am sort of on the trail towards my death," Restuccia says, "but I feel privileged to be talking about where I am and my current situation."
Privileged, Restuccia says, because he's surrounded by friends and family in Massachusetts, a state with a great health care system and near-universal health coverage. Restuccia, 69, can claim a good share of credit for that.
Thirty years ago, when the Dukakis administration was drafting universal health care legislation, Restuccia made sure patients were part of the process. The Dukakis plan was never fully enacted, but the group Restuccia created, Health Care for All, became the largest consumer health care organization in the state. Restuccia went on to lead the national consumer advocacy organization Community Catalyst. Along the way, he co-founded a nonprofit to help the most complex, low-income patients manage their lives and health care.
Colleagues say there's evidence of Restuccia's insistence on putting patients first in most U.S. hospitals today. Andrew Dreyfus, who has known Restuccia since the late 1980s, mentions translators and social workers as just two examples.
"Across the country I would say there are millions of people who are benefiting every day. They don't know Rob's name, but they're getting better care [because of him]," says Dreyfus, now the CEO at Blue Cross Blue Shield of Massachusetts. "I can draw a pretty straight line to the kind of big changes that have happened in health care over the last few decades and the work of Rob Restuccia."
Those changes include a state and federal partnership that provides affordable health coverage to millions of children, and the Affordable Care Act.
"Across the country ... there are millions of people who are benefiting every day. They don't know Rob's name, but they're getting better care [because of him]."

Andrew Dreyfus, CEO of Blue Cross Blue Shield
Restuccia traces his own drive for change to faces and experiences that showed him health care wasn't good enough or was unjust.
"I'll never forget a 3-year-old boy who needed open heart surgery," Restuccia says. "The surgeon came in to talk to his father. His father didn't speak any English and the surgeon spoke no Spanish."
The surgeon resorted to drawings to explain the procedure he was about to perform, Restuccia says.
Then there was the woman in Florida who didn't have the funds she needed for her cancer care. So her brother made mugs to raise money. Restuccia bought a few.
"That was 20 years ago, and they [Florida] still haven't expanded Medicaid," Restuccia says.
He sees the contrast with his own medical care — how he's had access to the best doctors and hospitals without having to worry about the cost.
Restuccia grew up without health insurance, and he is one of the key reasons most children have it today.
In 1996, colleagues say Restuccia persuaded a broad group of Massachusetts leaders, with the exception of the tobacco lobby and former Gov. William Weld, to support a tobacco tax that would fund a new health insurance program for kids.
"Rob really rallied the community and said, 'This is a moral issue,' " recalls Dreyfus. "And here's the part of the story that may be the most important: Our success led then-Sen. Ted Kennedy to file a bill."
It became the federal Children's Health Insurance Program or CHIP, and it has had bipartisan support for more than 20 years.
When Massachusetts health care leaders revived efforts to insure virtually all citizens, colleagues say Restuccia was a key coalition builder. He leveraged those skills again in states across the country and in Washington, D.C., to help pass the Affordable Care Act.
Restuccia says he doesn't know why some politicians fight efforts to provide health coverage for more people.
"I have a very hard time understanding it," Restuccia says. "I think it's a lack of concern about low-income people and people of color. We have to be really good at working on that because I think there are people who want to make those changes."
Many health care leaders call Restuccia a mentor or an adviser. Massachusetts Health and Human Services Secretary Marylou Sudders tears up remembering all the times she's called on him.
"Rob Restuccia is one of those health care heroes," Sudders says. "He's a giant in my mind when it comes to really improving access for people in the commonwealth and nationally. "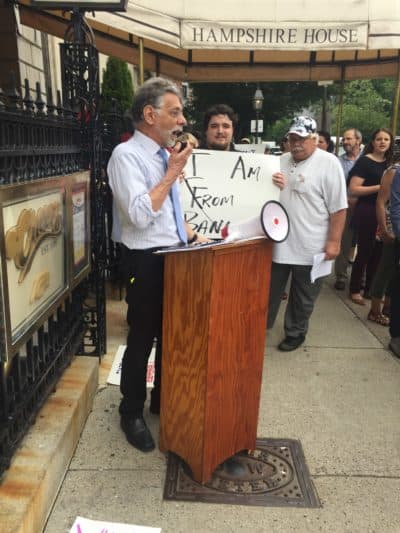 Former U.S. Assistant Secretary for Health Dr. Howard Koh, who served during the Obama administration, says Restuccia has a reputation for tackling seemingly impossible problems — reducing prescription drug costs, helping low-income patients pay health care bills and find housing — and finding fixes.
"He's arguably the leading health advocate of America and certainly the health conscience of America," says Koh, who co-chairs the Harvard Advanced Leadership Initiative. "He's just universally revered and admired."
Koh has known Restuccia since the late 1970s. Between 1997 and 2003, Koh was the public health commissioner in Massachusetts, and Restuccia was the state's forceful consumer health advocate. The two could have become adversaries, but that didn't happen.
"Because I knew that whenever I was interacting with him, he was speaking up for people who didn't have a voice, and he was speaking the truth from his heart," Koh says.
Koh and Restuccia have co-authored articles on public health and are trying to wrap up another one now. Other friends and colleagues say they plan to continue Restuccia's work — to make health care a right in the U.S., not a privilege.
Dreyfus says Restuccia is a model for emerging health care organizers — a blend of coalition-builder and fierce advocate.
"You didn't want to get on his bad side because he knew how to mobilize consumers in a way that had never been done in Massachusetts," Dreyfus says. "You knew, as a health care leader, it wasn't just Rob. He had a kind of army behind him."
This article was originally published on February 25, 2019.
This segment aired on February 25, 2019.