This Mass. State Trooper Really Wants Drivers To Clean Snow Off Their Cars
This article is more than 4 years old.
Social media often reveals pet peeves. For Massachusetts State Police Trooper Dustin Fitch, that pet peeve seems to be drivers who hit the streets without clearing snow off their cars.
Fitch, a 13-year veteran and the force's social media specialist, appears to be on a special mission this winter to highlight how often drivers fail to #ClearSnowBeforeYouGo.
And with more than a foot of heavy snow falling across parts of Massachusetts, Fitch was back at it Monday:
Fitch was unavailable for an interview Monday, but his public safety campaign has stressed to drivers that to prevent crashes, injuries and other serious consequences, state police are looking to pull over anyone traveling with dangerous amounts of snow or ice on their vehicles.
Massachusetts law doesn't specify that drivers must clear snow off their cars, but troopers can issue tickets related to snow or ice on vehicles under two state laws, said Trooper James DeAngelis, a spokesman for the state police. The first is for driving with an unsecured load, which carries a penalty of no less than a $50 fine and up to a $200 fine. The other law pertains to the unsafe operation of a vehicle.
---
Like what you're reading? You can get the stories Boston is talking about sent directly to your inbox with the WBUR Today newsletter. Subscribe here.
---
DeAngelis said Fitch's messages to the public promote "just general safe driving and common courtesy to other drivers around you." He gave the example of ice or snow freezing atop trucks and coming off in large sheets.
This year, a 6-year-old girl was injured in Andover after ice flew off a tractor-trailer and smashed through the windshield of her mother's car.
And, DeAngelis said, "even light fluffy snow can come off and obstruct other [drivers'] views, causing them to crash."
One might not think drivers operate under such dangerous conditions with frequency. But Fitch's Twitter says otherwise.
Post after post shows car after car pulled to the sides of roads, snow covering their roofs, hoods or back windshields. (Fitch's PSA never appears to veer into personal shaming, though; no human faces or license plates are left visible in his posts.)
The post above was also cross-posted to Fitch's Facebook, where he explained that's him in the bottom right, clearing off the driver's car for him because Fitch "wanted to deliberately show how quick it could be done." He wrote:
Came across this today.....can't stress enough the importance of clearing the snow before going anywhere. I educated this driver, cleared his car off and then asked him, "how long did that take?" To which he replied, "Less than a minute."
Fitch's actions were received with largely positive comments.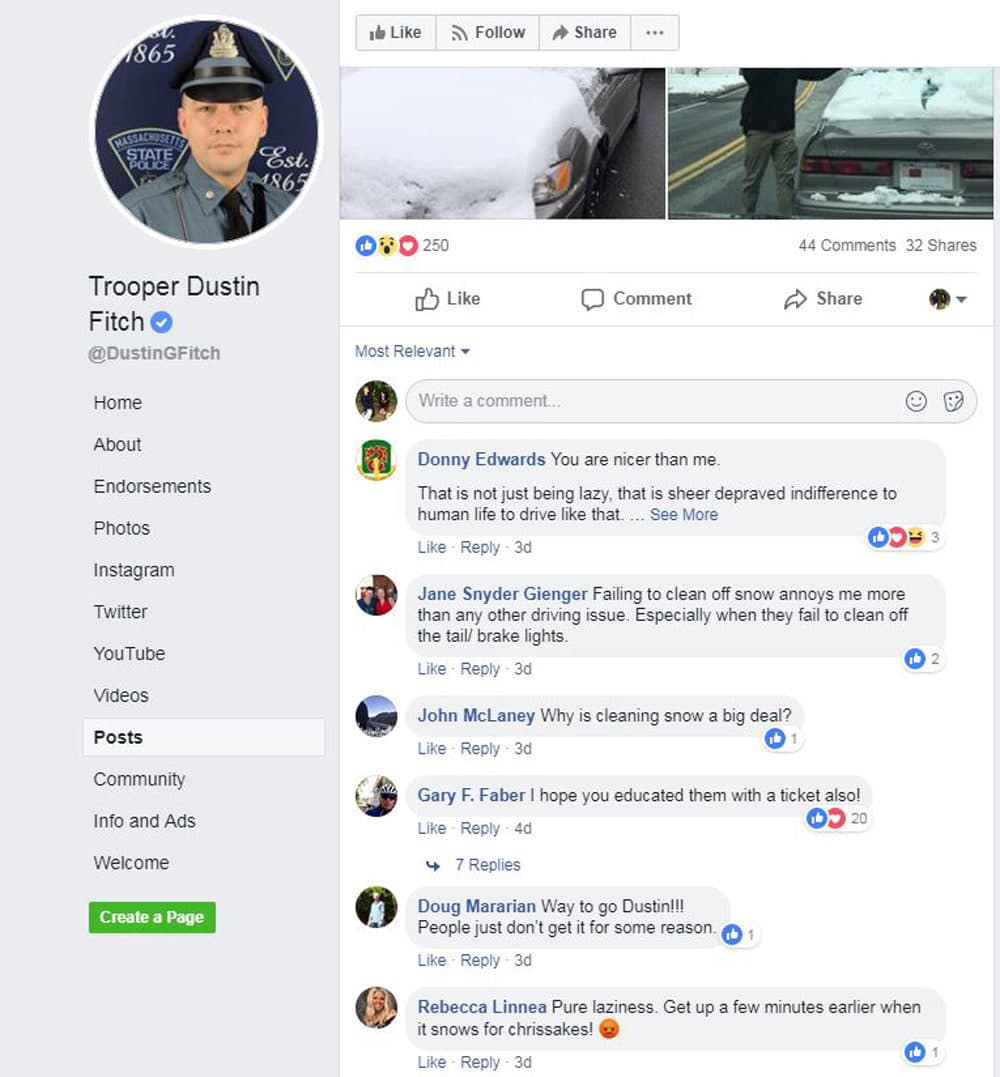 Here are a few more of his tweets:
And Fitch's public safety campaign didn't start this year. Here's a real gem on the topic from last winter:
In sum, "Don't be like Bill." And if you get pulled over by Trooper Fitch for not clearing off your car, don't be surprised.