Man Convicted Of Killing Mother And Her 2 Children Petitions Mass. High Court For Early Parole
A man convicted of killing a pregnant woman and her two young children when he was a teenager petitioned the state's highest court on Tuesday for early parole eligibility.
Attorneys for Daniel LaPlante argued that his sentence conflicts with court rulings in the last several years that say juveniles convicted of murder should be given a meaningful opportunity to re-engage with society.
"The primary question ... is, 'Is 45 years too much to serve for a juvenile homicidal defendant before you're pushing up against the functional equivalent of a life [without] parole bar?' " asked Merritt Schnipper, LaPlante's attorney.
LaPlante was 17 in 1987 when he broke into a home in Townsend, shot and killed mother Priscilla Gustafson, 33, and then drowned her two children, Abigail, 7, and William, 5. He currently must serve three consecutive prison terms of 15 years before he is eligible for parole, at which time he will be 62.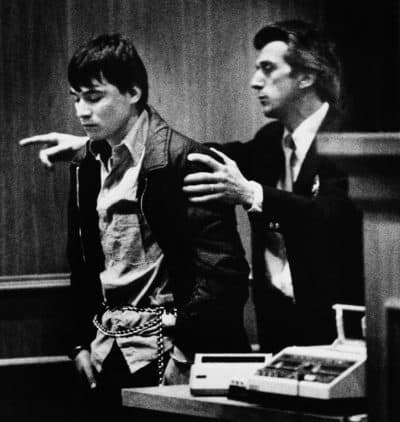 Schnipper cited a recent change in state law that allows juveniles convicted of murder to ask for parole after they've been behind bars for no more than 30 years.
However, the law was not applied retroactively and judges can order consecutive prison terms that extend parole eligibility beyond the limit, especially in cases in which the defendant committed multiple crimes, like LaPlante.
If LaPlante wins his motion, he could be eligible for parole within two years.
Middlesex County Assistant District Attorney Crystal Lyons said LaPlante's claim as a juvenile offender sought to diminish the violence of the crime. She added that the court need only "make a meaningful opportunity for release, not an opportunity for meaningful release," seeking to discredit LaPlante's defense.
"There is no guarantee to any quality fulfillment of life for anybody's life, incarcerated or not," said Lyons.
LaPlante made an previous attempt for early parole in 2017 when his case was restructured due to a high court ruling that outlawed life without parole sentences for juveniles.
At that time, a judge gave him the maximum penalty of 45 years after a forensic psychiatrist evaluated LaPlante and found that he was not remorseful.