Today's Weather: High Pressure System Brings More Sunshine And Breeze
This article is more than 4 years old.
A large high pressure system over the Ohio Valley will be in control of Boston's weather through Thursday.
Although it will be breezy at times today, the winds will die down as this high moves overhead Wednesday.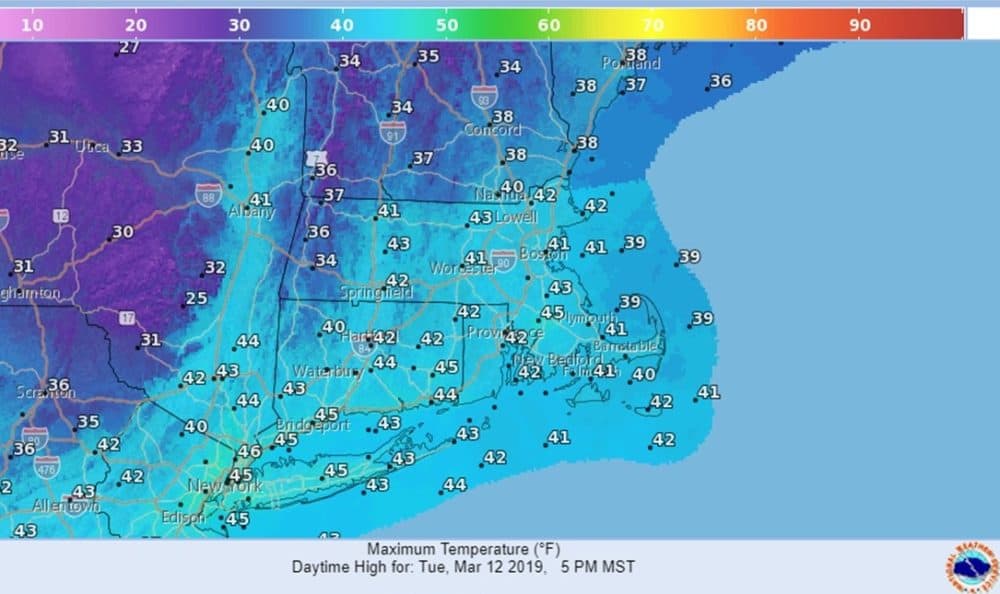 The coldest temperatures over the next several days will occur around daybreak Wednesday, with readings in the 20s. Thereafter, expect a warming trend into Friday.
A storm and associated cold front will approach the northeast Friday. Ahead of the front, there will be clouds and showers. With the wet weather, however, it will turn quite mild as temperatures reach the upper 50s on Friday.
Once the front passes, Saturday appears to the be transition day, as it clears and turns colder by days end.
---
Today: Some morning clouds then sunny, breezy and seasonably cold. High 42.
Tonight: Clear and cold with light winds. Lows 20-27.
Wednesday: Sunshine with increasing afternoon clouds. High of mid 40s.
Thursday: Partly sunny and milder. High of low 50s.
Friday: Mostly cloudy, breezy with showers developing. Quite mild. High 58.
Saturday: Morning clouds, then partly sunny. High 50 but falling through the 40s in the afternoon.