Study: Women And People Of Color Are Underrepresented In Mass. Business Groups
This article is more than 4 years old.
Women and people of color make up more than half of Massachusetts' population, but are hardly represented at the top of the state's most influential business groups, a new report finds.
Only 28 percent of CEOs in these organizations are women and just 4 percent are people of color, according to a study by the Eos Foundation. The private philanthropic foundation said the survey is the first of its kind in Massachusetts.
The study looked at 25 prominent business advocacy organizations, including the Greater Boston Chamber of Commerce, Associated Industries of Massachusetts and the Pioneer Institute. It found a lack of women and people of color across all leadership categories. Among board chairs, the study found just 18 percent are women and 14 percent are people of color.
The study, done in partnership with the Boston Business Journal, is part of the Eos Foundation's "Women's Power Gap" initiative aimed at increasing the number of women leaders in the state.
Eos Foundation president Andrea Silbert said diversity within business organizations is critical because they have major influence on policies in the state.
"These are the folks who go to Beacon Hill, who talk with our legislators, who come up with ideas for the commonwealth," Silbert said in a phone interview. "We need everybody at the table bringing these ideas forward."
Studies have found that organizations with diverse leadership are more profitable, make better decisions and perform better.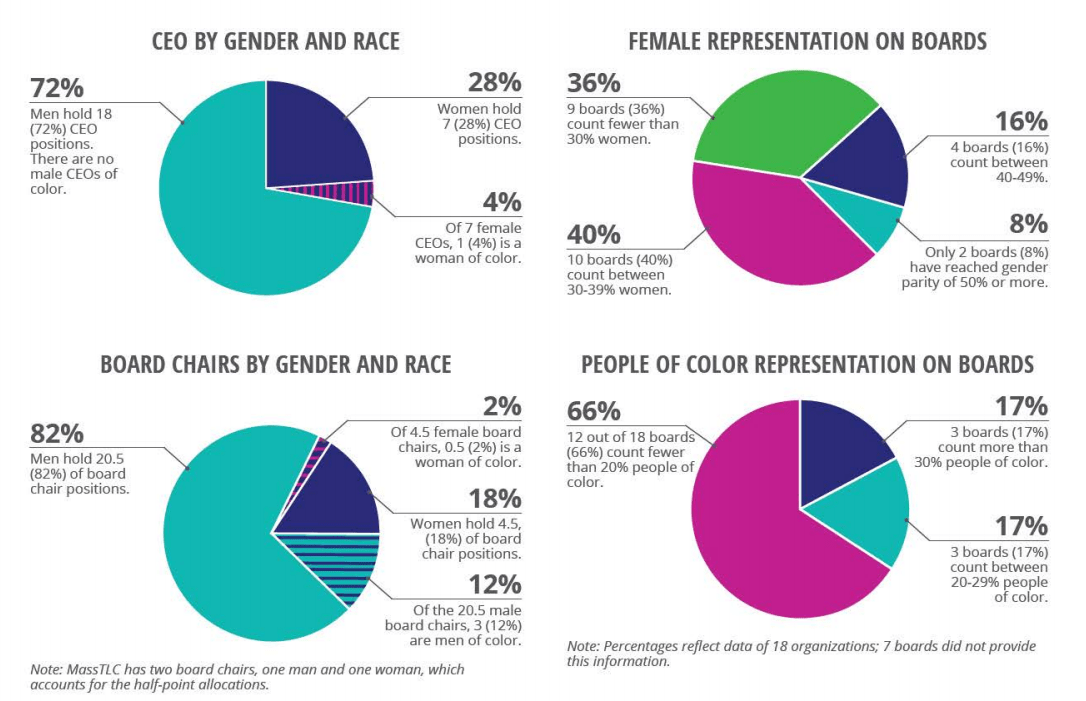 The Eos Foundation study does note some bright spots. A few organizations like the Boston Bar Association and MassBudget have achieved gender parity on their boards, according to the study. And other organizations like The Boston Foundation and the Federal Reserve Bank of Boston have at least 30 percent of people of color on their boards, the study noted.
But, Silbert said, overall progress to diversify boards has been "glacial" over the years.
"There's a good reason for hope but it won't move without intentionality, and particularly on the racial and ethnic diversity where we're very far behind," Silbert said.
The report recommends that organizations create policies to ensure diversity at the board level, reexamine their criteria for board seats and implement unconscious bias training. The Eos Foundation hopes the study provides a baseline for these business groups, according to Silbert. She said organizations should assess their diversity numbers, create a plan and make sure any training or development program they may implement focuses on both prospective members and leaders within their organizations.