Today's Weather: It's Milder, With Showers. Colder Temps This Weekend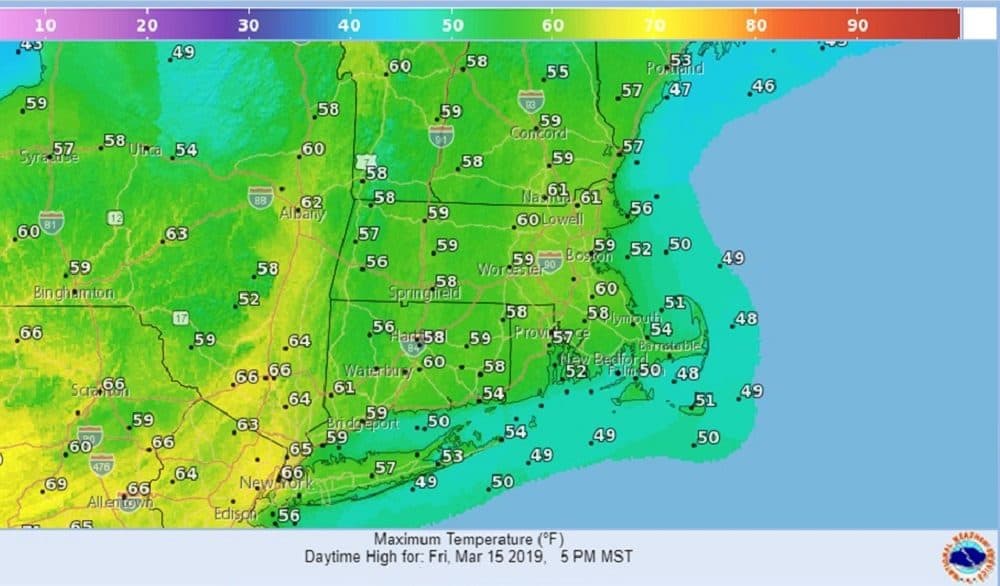 This article is more than 1 year old.
The same storm that brought hurricane winds and blizzard conditions out West will track through the Great Lakes today and into Eastern Canada tonight.
The cold front associated with this system will slice through the Boston area overnight, bringing colder temperatures back for the weekend.
Southerly winds today will make it feel much like the middle of spring, with temperatures rising to near 60 in many locations. With the milder air, however, there will be lots of clouds and scattered showers. Our winds will shift overnight with the frontal passage and the colder air will follow Saturday on brisk northwest winds.
Although it will be less windy Sunday, Saint Patrick's Day will feature partial sunshine and temperatures at or just a tad below normal once again.
Another storm will slide well to our south on Monday.
---
Today: Cloudy, breezy and milder. Few showers likely. High 58.
Tonight: Mostly cloudy. Breezy. Lows mid 40s.
Saturday: Partly sunny. Windy and turning colder. Temperatures dropping from the 40s into the 30s late in the day.
Sunday: Partly sunny, Breezy and cold. High around 40.
Monday: Mostly sunny. Seasonably cold. Highs lower 40s
Meteorologist Dave Goldbaum is in for Dave Epstein.