5 Things To Do This Weekend, From Gender-Bending Fashion To Stave Sessions
This article is more than 4 years old.
Spring is finally here — and this weekend's weather is a mixed bag to prove it. Luckily, there's plenty happening indoors with the MFA's brand new exhibition and women-centered narratives on stage to continue Women's History Month celebrations. Here's what we suggest:
Through Aug. 25
Gender bending fashion isn't anything new. A century's worth of non-gender-normative clothing is currently on exhibit at the Museum of Fine Arts. Pieces worn by Marlene Dietrich, David Bowie, Jimi Hendrix and Young Thug are a part of the show. (Read more about the exhibit in Spencer Icasiano's story.)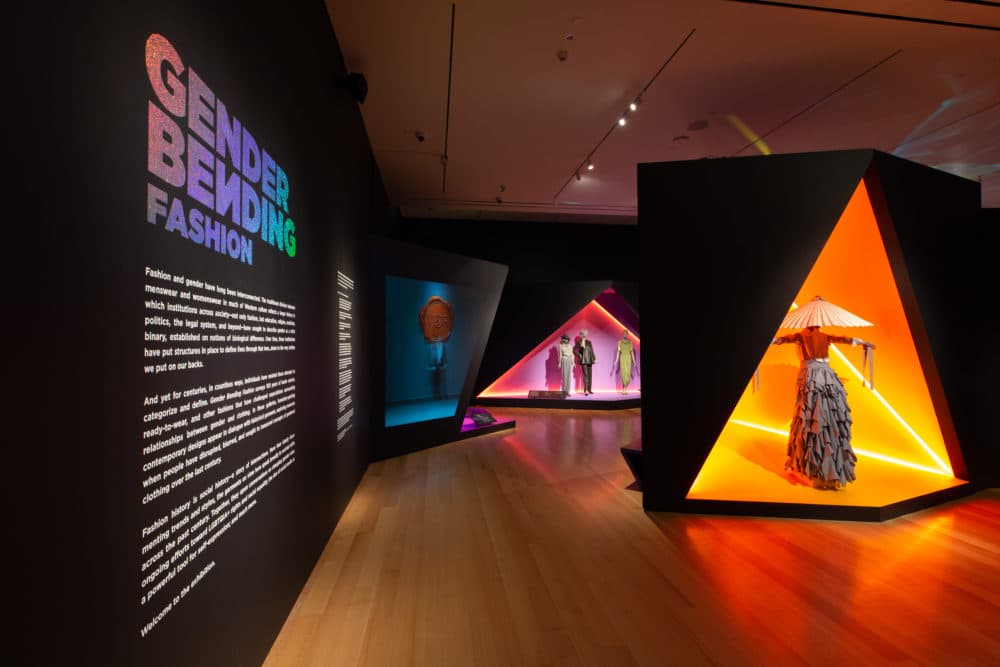 ---
Saturday, March 23 and Sunday, March 24
For Women's History Month, the Boston Center for the Arts is putting on staged readings by women-identified playwrights. There's 11 in total over the course of two days. One of the readings is "Mary," by Ginger Lazarus. The play is a modern take on the story of the Virgin Mary in which this Mary is a lawyer and has some objections to being the chosen one for the immaculate conception. "Purple Haze" by Angel Banks will be read on Sunday and talks about love, heartache, survival and self-love. Check out the full list of performances here.

---
Through March 23
Celebrity Series' annual Stave Sessions, a music series with an emphasis on experimental and mold-breaking music, is back for the fifth year in a row. On Thursday night, the pan-American band LADAMA will perform their cross-cultural alt-Latin music rooted in each of their folk traditions.
Oracle Hysterical and musicians from A Far Cry perform on Friday and mix Baroque instrumentation with contemporary pop (check them out in the video below). On Saturday, indie rock meets Islamic mysticism in the merging of Pakistani "neo-Sufi" singer Arooj Aftab, guitarist Gyan Riley and percussion trio Tigue.
---
Through April 14
Throughout history, men have gotten credit for a lot of things while standing on the shoulders of women. The play "Photograph 51," staged by the Nora Theatre Company at Central Square Theater, tells the true story of the race to unlock DNA in the mid-20th century that laid bare a gender bias in the profession that is still prevalent today. British scientist Rosalind Franklin contributed to the understanding of DNA's double helix structure, but, in the end, three men receive the Nobel Prize for it. (Read more in Jacquinn Sinclair's feature.)

---
Through March 24
Are mainstream films not your cup of tea? Check out the Boston Underground Film Festival. The lineup includes films such as "Clickbait," which reflects the need by some for internet fame, "Hail Satan?," a commentary on the role of organized religion in our society focused on a Salem-based political activist movement, and "Mope," the true-crime-esque story of a murder at a porn company.