Climate Change Is a 'Health Emergency,' Physician Says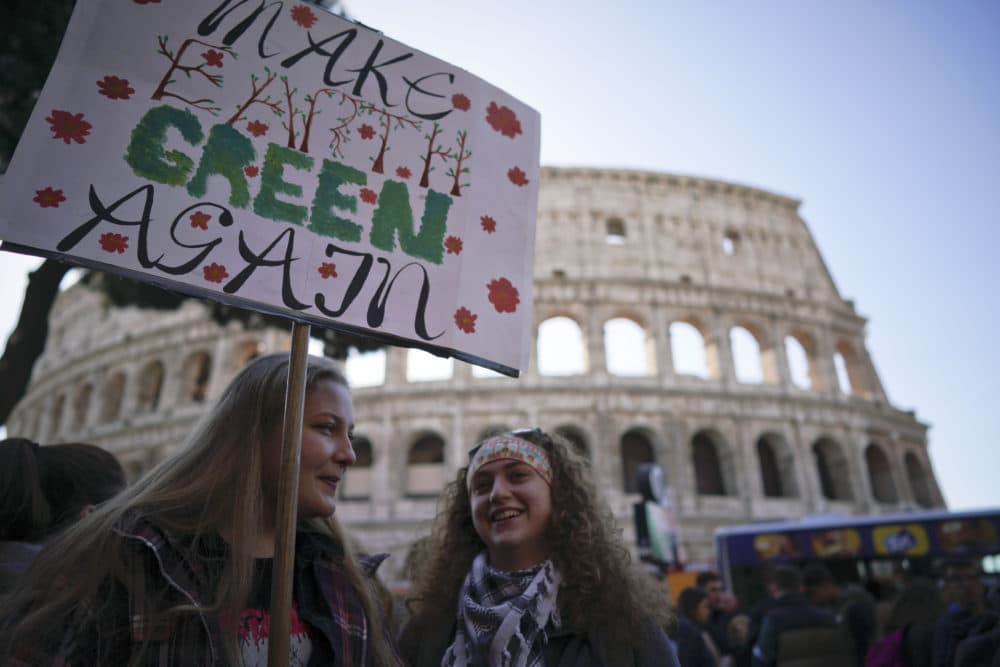 This article is more than 3 years old.
In the fall of 2018, the United Nations Intergovernmental Panel on Climate Change issued a report concluding that humans need to cut greenhouse gas emissions in half by 2030 — and entirely by 2040 — to avoid the worst effects of climate change.
The report prompted Boston physicians Caren Solomon and Regina LaRocque to write an editorial on climate change and health for the New England Journal of Medicine. WBUR sat down with Solomon to talk about what a changing climate means for health in Boston, and the role that health care professionals might play.
The following conversation was edited for length and clarity.
It was interesting that you titled your editorial "Climate Change – A Health Emergency." Did you worry that was too extreme or alarmist?
We struggled with that, actually. We had a different title at first — "Climate Change: Is There a Doctor in the House?" I thought it was kind of cute, but it might have been too cute. I mean, we are in an emergency. If we don't reduce greenhouse gas emissions by 50 percent in what is now 11 years away, the consequences become almost unimaginable.
What worries you most about climate change consequences in Boston or New England?
Sea level rise is clear. We're seeing these increasingly powerful storms and the damage that they're causing  — destroying homes, affecting mental health. We're seeing increasing heat waves, so air quality goes down and some people can't really spend time out of their homes. Children and people with respiratory disease or cardiovascular diseases are at particular risk in those circumstances. Disease vectors are increasing their range. You know, in the past, if we suspected Lyme disease, we'd ask if people were visiting certain areas. Now we know that you don't have to be anywhere other than here to be at risk of Lyme disease.
What could — or should — physicians do with individual patients?
There's a big move to really educate people about what we call "co-benefits" — changes that we make to reduce greenhouse gas emissions that also have other health benefits for people and communities.
Like what?
Like, don't use your car when you can avoid using your car. You should walk. You should bike.
You also suggest that health care professionals have a role in advocating for things like fossil fuel divestment, or for certain government policies. Why? Isn't this beyond your role?
Our responsibility is really to safeguard health — that's why people are going into clinical medicine. And I also think we obviously lately have had a federal government that is pretty much abdicating responsibility in this regard. Physicians were very involved in the turn against cigarettes, and I think there's a real parallel there. But so many people need to be involved to really change how we get our energy and our food, and to minimize waste — physicians are only one piece. But I think we're all becoming much more aware of the seriousness of the situation, and many more people are realizing we need to get involved.
Regarding fossil fuel divestment, one can argue that it really seems morally wrong to continue investing in companies whose processes and products we know are causing enormous harm. There are many medical organizations that have made a pledge to divest — the American Medical Association now has a statement that that they are planning to divest, so there's been a lot of thinking about this.
Do you sense that some physicians don't want to get involved in climate change policy because it's such a politically fraught topic? And if you discuss it with patients, it might turn them off?
I understand it is politically fraught but it really shouldn't be politically fraught. I think that there should be nothing political about recognizing that our temperature is rising and that seas are rising. We should all want to be living on an inhabitable planet.