What To Know About The Tobin Bridge Construction Project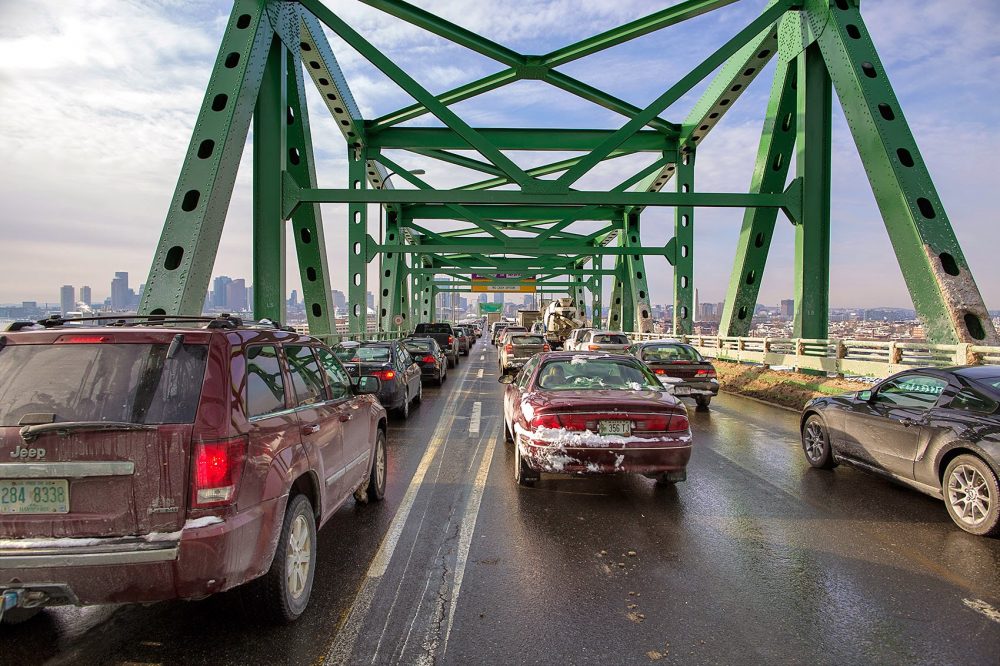 This article is more than 3 years old.
A massive Tobin Bridge construction project that began Monday is expected to bring headaches to commuters as traffic is cut down to just two lanes.
'Get Ready For Some Really Tough Driving'
Massachusetts Highway Administrator Jonathan Gulliver says the project is about "11 times" the scope of the Commonwealth Avenue bridge project that spanned the past two summers. Its completion is expected by 2020.
"It's going to be a pretty tough experience, especially for the first couple of weeks when we start two-lane impacts," Gulliver told WBUR's Morning Edition host Bob Oakes on Monday. "Our experience is that usually when we start a new project like this, it takes a little bit of time for traffic to settle in. ... Get ready for some really tough driving."
The bridge is considered "structurally deficient," but safe, Gulliver and other highway officials said. There have not been significant repairs to the bridge since the 1970s.
Here's what to know about repairs, lane closures, public transportation impacts and alternative routes. Dates are subject to change based on construction progress.
What The Work Entails
Steel repairs to the northbound lower deck
Repaving the southbound upper deck
Resurfacing pavement and steel repairs to the Everett Avenue southbound on-ramp
Deck rehabilitation for the Beacon Street off-ramp (which was completed in 2018)
Construction of a new parking area under the bridge between Williams Street and Third Street

Lane Closures
One lane on Route 1 will be closed to all traffic in each direction starting overnight March 31 through the end of 2020.
Additional closures will occur during "off peak hours." During some nights and weekends in 2019, Route 1 northbound will be reduced to one lane. The same is true for the southbound side in 2020.

Public Transportation Impacts
The 111, 426 and 428 MBTA buses will likely be hit with significant delays
111 commuters should take the commuter rail, Silver Line or subway, the MBTA suggests
426 and 428 commuters should take the commuter rail, alternative bus routes or the subway
Alternative Transportation Options
The MBTA is providing free Silver Line SL3 bus service inbound from the Chelsea, Bellingham Square, Box District and Eastern Avenue stops
Additional Blue Line trains will run during lane closures to accommodate extra riders
The commuter rail is an option for those traveling between North Station and Chelsea
Gulliver suggests that if you have to drive, you should try to take alternative routes. Try using Waze, Google Maps or Apple Maps to find the quickest route at a particular time, he says
More extensive information and updated schedules are available on the MassDOT website. You can also sign up for an email list to receive project updates and meeting notifications.
How People Are Taking It A Day In
A few people on Twitter highlighted that the deployment of the project coincided with April Fools' Day, and some expressed anguish after the morning commute.