Elevational And Ecstatic, Documentary 'Amazing Grace' Showcases An Aretha Franklin Performance Of A Lifetime
This article is more than 4 years old.
When Aretha Franklin sits down at the piano and begins belting out the opening verse to Marvin Gaye's "Wholy Holy," it's maybe three or four notes before the tiny hairs on the back of your neck stand up at attention. They'll stay that way for the next 80 minutes, as you realize you're witnessing the performance of a lifetime.
"Amazing Grace" is a documentary chronicle of the two nights in 1972 that the Queen of Soul spent recording her landmark live gospel album of the same name at the New Temple Missionary Baptist Church in Watts, California. It's an astounding cinematic experience — elevational and ecstatic even to a wretch like me. This is a miracle of a movie, and it's a miracle we get to see it at all.
It has taken 47 years of technical blunders, legal backbiting and painstaking restoration for "Amazing Grace" to finally see the light of a projector, starting off with one of the all-time most inexplicable screw-ups in film production history. The short version is that Warner Bros. executive Joe Boyd (the legendary Boston-born record producer who discovered Pink Floyd) had the idea of hiring a seasoned camera crew to shoot Franklin's recording session. This album was to be a pivotal one for Aretha who, after 11 No. 1 singles and five Grammys, ruled the R&B roost but was considered by some to have strayed from the church where she'd first found her voice.
Backed by her longtime friend and collaborator Rev. James Cleveland with the Southern California Community Choir, "Amazing Grace" was Franklin's glorious return to the hymns of her youth. The result wasn't just the best-selling album of her career, it became the most popular gospel album of all time, treasured even by some of us secular types. Yet the filmed footage of this transcendent performance languished in a vault for more than four decades, unusable.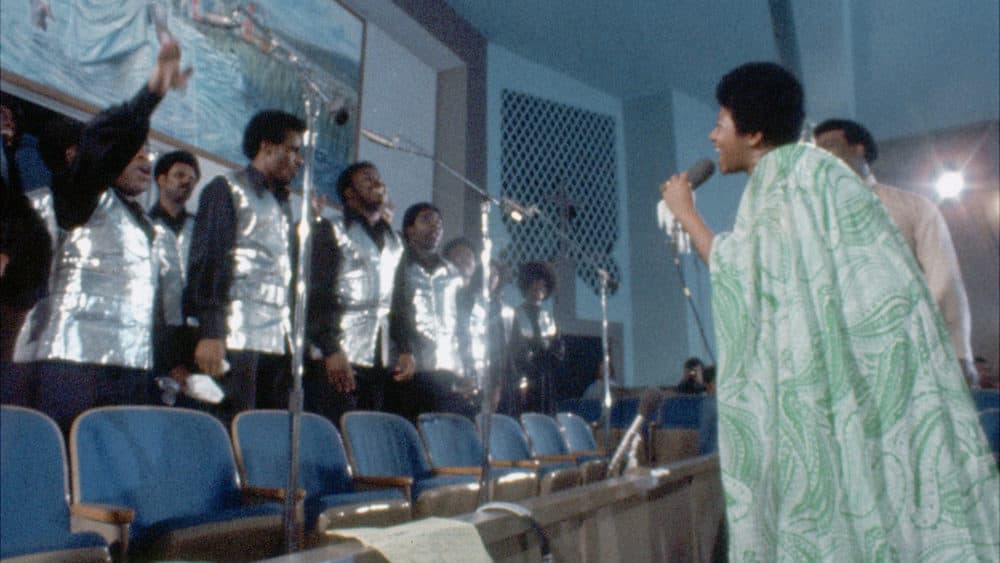 The story goes that Boyd's crew was kiboshed by Warner Bros. film division head Ted Ashley, who insisted instead on hiring young hotshot Oscar-nominee Sydney Pollack despite the "Jeremiah Johnson" director's lack of documentary experience. In a development that remains baffling to any freshman year film student, Pollack and his cameramen didn't bring any clapboards — the slates and sticks used to synchronize separately recorded sound to filmed images in post-production — thereby rendering the 20 hours of 16mm film shot over those two nights impossible to edit.
Pollack went on to have an enormously successful career that included "The Way We Were," "Out of Africa" and his screwball masterpiece "Tootsie" while pointedly staying far away from any further concert films. He was reportedly so haunted by his bungling of the "Amazing Grace" shoot that he once hired lip-readers to try and spot sync points on some of the footage. Over the ensuing decades it became the stuff of both Hollywood and music industry legend, the most famous movie never made.
Producer Alan Elliott spent more than 20 years working to salvage the picture, eventually mortgaging his house to buy the reels from Warner Bros. and promising an ailing Pollack (who died of cancer in 2008) that he'd get it done. Thanks to the "digital detectives" at DeLuxe Labs and some of the same technological advances that made possible last year's completion of Orson Welles' "The Other Side of the Wind," "Amazing Grace" was finally finished and set for release in 2011. What once was lost now was found. Then Aretha Franklin spent the rest of her life suing to keep It from being screened. (The diva still had some understandably hard feelings about the whole debacle.)
It's only now, with permission from the late singer's niece Sabrina Owens that the film can at last be seen in its full, raggedy grandeur. "Amazing Grace" takes place on a cluttered stage strewn with sound blankets and electrical cords. Microphone stands and hanging lights intrude on a lot of our vantage points, while the 16mm footage is grainy and sometimes scratched. Herky-jerky handheld shots snap in and out of focus, often catching other cameramen scurrying around the pews or perched on freestanding ladders, with stray light sources blowing out portions of the frame. We are always aware that we're watching an event that was designed as a recording session first, a concert second, and a film shoot distant third.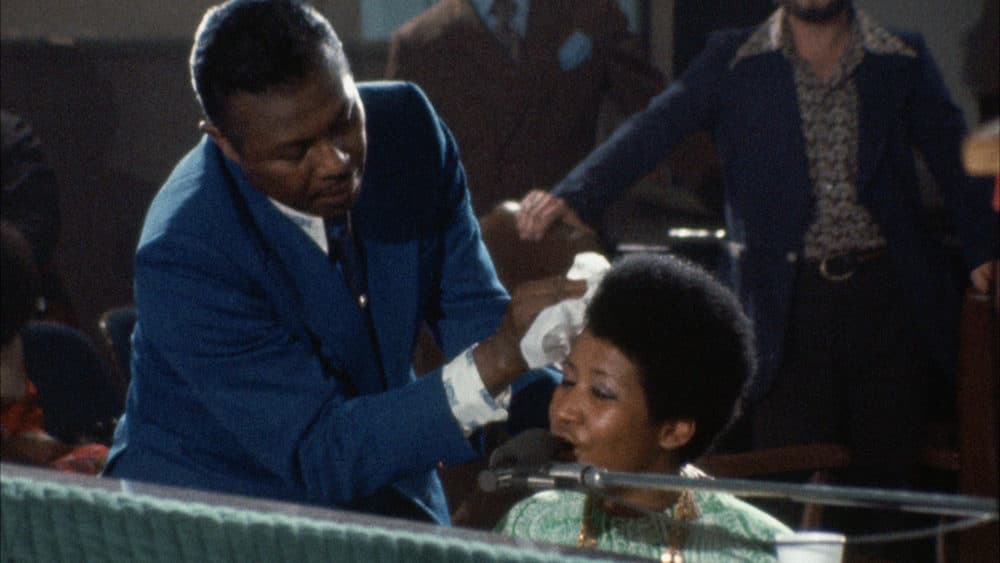 Yet none of these technical shortcomings matter remotely in the slightest, as the joyful noise coming from Franklin and the choir sends your heart soaring. No matter how well you think you know the album, it can't compare to watching the camaraderie of these musicians or the vision of a 30-year-old Franklin at the peak of her powers. Rev. Cleveland emcees both evenings with old-timey hambone brio, while the all-business Aretha seldom speaks. She doesn't need to, instead unleashing that titanic voice on standards such as "Mary Don't You Weep," "Never Grow Old" and a clever medley mashing up "Precious Lord, Take My Hand" with Carole King's "You've Got a Friend."
Franklin's 11-minute rendition of the title track is alone worth the price of admission. As the choir and the crowd catch the Holy Spirit, Cleveland gets up from the piano and collapses into tears, crying into a towel that he'll later toss at a camera in awe of his young protégé. ("Can't she sing?" he asks the audience, adoringly.) You can occasionally spot Pollack running through some of the shots — dressed in the safari jacket that was required wardrobe for movie directors in the early 1970s — wildly gesticulating at stuff he wants his crew to catch.
The haphazard camera coverage pays off in accidental visual pleasures, as when a lens flare envelops choir director Alexander Hamilton in a corona of light resembling a halo. On night two, we get a glimpse of Mick Jagger and Charlie Watts discreetly hanging around the back pew, until Mick seemingly can't help but leap to his feet and start soul-clapping along. (Charlie characteristically remains seated.) This is a room of resplendent afros and church fans working overtime. With all the hollering, dancing in the aisles and testifyin', it looks like everyone's understandably going bonkers during "Amazing Grace," except for Aretha.
As someone who grew up during Franklin's slyly self-parodic "Who's Zoomin' Who?" era and first saw her scolding John Belushi and Dan Aykroyd in "The Blues Brothers," it's a revelation to watch the no-nonsense Aretha here — so reserved, regal and in complete command of her instrument. You come away from the movie marveling at not just Franklin's voice but the careful precision with which she chooses and hits these notes. Exhibiting an unshakable focus almost blessedly impervious to all going on around her, it's as if she's entertaining a private audience with the divine. By the end of "Amazing Grace," she's transformed this makeshift recording studio in a Los Angeles church into a place where we'll never grow old. Respect.
---
"Amazing Grace" opens Thursday, April 11 at AMC Boston Common and Kendall Square Cinema, and on Friday, April 12 at Coolidge Corner Theatre.