What You Need To Know For The 2019 Boston Marathon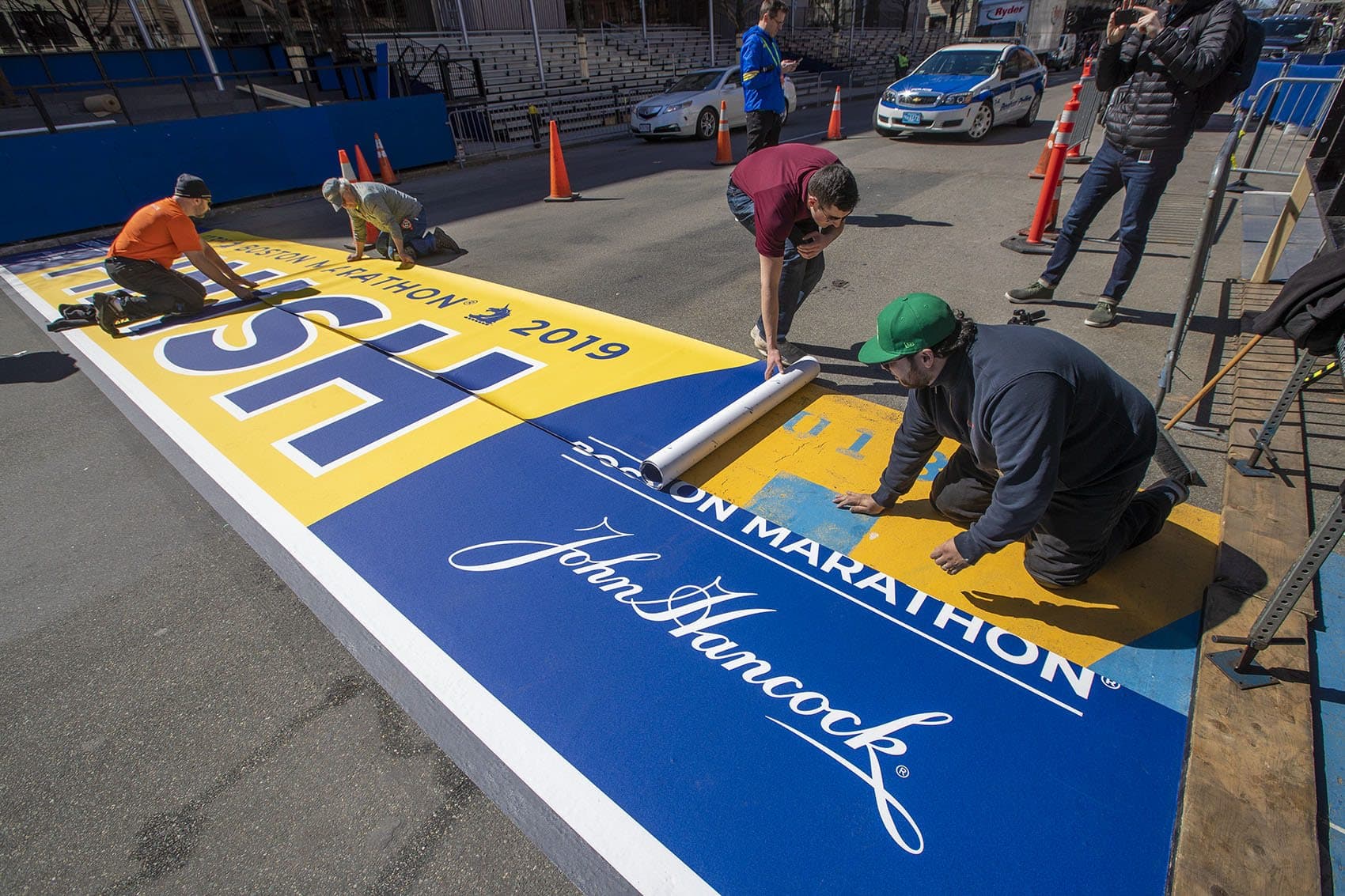 This article is more than 1 year old.
The 123rd Boston Marathon is less than a week away, and as usual, thousands of spectators will gather around the race route to watch.
Patriots' Day is once again likely to be rainy, and it could be fairly chilly, too — though it's still too early to tell for sure. Meterologist David Epstein says a storm will move through the region Sunday night and says temperatures could get up to the mid-60s with some rain and humidity. The Boston Athletic Association is warning of colder temperatures, with rain, strong wind.
Because the weather could be so variable, the BAA has released tips for running in this year's marathon. Read the PDF here. (In sum: Wear layers, hydrate, have an exit plan.)
This year, the marathon falls on the same day as One Boston Day, marking six years since the Boston Marathon bombings.
Note: Start times have been updated below. The BAA announced Friday a modification for Wave 4 due to the weather forecast. All other information for runners remains the same.
Race Start Times:
Wheelchair men: 9:02 a.m.
Wheelchair women: 9:04 a.m.
Handcycle and duo participants: 9:25 a.m.
Elite women: 9:32 a.m.
Elite men and wave one: 10 a.m.
Wave two: 10:25 a.m.
Wave three: 10:50 a.m.
Wave four: Immediately after Wave 3
Race Day Road Closures:
All times are approximate. If a link is not provided to announcements from public officials — which give greater details on the roads closing in that town/city — closure times are based on those listed by the BAA. Some roads in Boston will begin closing over the weekend, too.
Getting To The Starting Line:
Roads will close in Hopkinton at 7 a.m. on race day, and there will be no on-street parking allowed in the town. Whether you're a spectator, volunteer or runner, if you plan to drive there, it's a good idea to arrive at available parking lots early, as space will be limited.
Transportation For Spectators And Volunteers:
Free parking is available at Hopkinton State Park, which is walking distance from the commuter rail. Then, shuttle buses will take you to the race's start. Runner transportation is separate. (See below.)
Transportation For Runners:
This year, runners are being asked to take shuttle buses from Boston Common to the starting line in Hopkinton. Buses are loading in waves by bib number, starting at 6 a.m.
Here are the times, by bib numbers:
101 - 7,799: 6 a.m. - 6:45 a.m.
8,000 - 15,999: 7 a.m. - 7:45 a.m.
16,000 - 23,999: 8 a.m. - 8:45 a.m.
24,000 - 32,699: 8:55 a.m. - 9:30 a.m.
Getting To The Finish Line:
Parking will be restricted on many streets throughout downtown Boston on race day, and with streets around the course closed to drivers, using public transportation is your best bet.
The MBTA's Boston Marathon site has maps and advice on how to take the subway, commuter rail and buses, as well as updates on changes to services. The MBTA is offering a $15 Marathon pass for the Commuter Rail, an unlimited all-day pass valid for all commuter rail lines and zones.
If you want to drive in, the city recommends you don't, and asks you to use the MBTA or Hubway instead. Parking meters will be free, but many of them will be closed, so make sure to check before you park.
What Not To Bring:
It's very similar to other years — no weapons, no backpacks, no coolers or glass containers, no drones. Read more here.
Where To Watch:
The BAA has published a spectator guide with recommended places to get the best views, and how to get there.
How To Watch Live:
CBS Boston WBZ-TV will be airing the marathon live from 7 a.m. to 3 p.m. ET. They will re-broadcast starting at 8 p.m. on myTV38. CBSBoston.com will live stream. NBC Sports will be covering the race live from 8:30 a.m. to 1 p.m. on the NBC Sports Network. More info here.
And here's our guide, from 2014, on the best places to watch the marathon.
Also, follow along with WBUR Monday on our website, Twitter, Instagram and, of course, on air.
This article was originally published on April 11, 2019.