Listen To The Premiere Of John Shakespear's 'Light On,' An Antidote To A Dire National Mood
This is an exclusive song premiere, part of The ARTery's effort to highlight ascending New England musicians.
---
---
On first listen, John Shakespear's "Light On," a tranquilizing melody bathed in reverb and longing, is a lullaby. But the song churns with an undercurrent of foreboding. "If the empire comes crashing down/ In a flash of light/ Or a burst of sound/ Or a world war/ I'll be at your door," Shakespear sings, conjuring an end-of-the-world backdrop to his romantic gesture.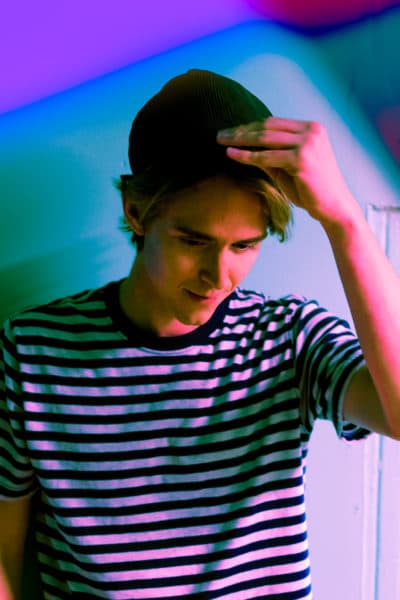 "Light On" is the second single off of Shakespear's debut album "Spend Your Youth," which comes out May 10. "Spend Your Youth" "is sort of a coming-of-age album," Shakespear says. "[It's] trying to look at look at ... the myths that we have about growing up and what it means to become an adult and have a home and a family, or what it means to become a politically aware person." These songs, though gentle, are not meant to soothe.
Shakespear grew up in Cambridge, Massachusetts. As a kid, he attended St. Paul's Choir School in Harvard Square — an intensive, all-boys choral program that included four hours of choir practice or music lessons a day.
"I think I can trace my obsession with vocal harmonies back to that," Shakespear says. That early training may be detectable, too, in his clear, mesmeric croon, which bears more than a passing resemblance to Robin Pecknold of the indie folk band Fleet Foxes. (Shakespear also credits engineers Devon Dawson and Greg Giorgio, who mixed his voice to a cathedral-sized echo.)
After studying creative writing at Princeton, Shakespear returned to the Boston area, where he kicked around the DIY scene and played in the psych-soul outfit Atlas Lab and the pop-funk band Dr. Fidelity. He has since moved to Nashville to continue his creative writing studies in an MFA program, but, he says, "my heart, my home, is kind of always in Boston."
Shakepear says "Light On" started out as a straightforward love song, inspired by "the feeling of being on the road" and missing the person he loved back home. But after the 2016 presidential election, his framework shifted. "Everything was suddenly very dire," Shakespear says. "There was a sense almost that, in the new national context, my community and the people that I loved were even more important." Hence those apocalyptic undertones. In times of crisis, love is a clarifying antidote.
---
John Shakespear's "Spend Your Youth" comes out May 10. He performs at The Burren in Somerville on June 6.