Long Overdue? Late Fees At Some Mass. Libraries Are Getting Canceled
Resume
On a recent Wednesday at the public library in Arlington, people diligently return their books, CDs and DVDs on time.
Then, there's Joanne Tuller.
She is a delinquent book borrower.
"One of them is three months overdue," she says, looking at a slip a librarian printed for her that shows all of the books she owes. "And three of them are two months overdue."
Absent from that slip: late fees. The Robbins Library got rid of them in February.
Tuller says she's grateful for the extra — penalty-free — time she'll have to look for the books.
"I'm sure I have the books at home. I am sure that they will show up eventually," she says. "So, it's a question of how patient the library is going to be about the fact that the books might be another three months in getting returned."
The purging of late fees is a trend happening across the country. Librarians contend that doing away with the charges reduces barriers and expands access to the hallowed halls of knowledge.
Before February, late fees for books at Robbins were capped at $3. Fine limits are relatively low at other libraries that still have them. But Marie Cannon, Robbins' head of circulation, says not many people know that. Many people believe, she says, in the myth of an infinitely-accruing library late fee.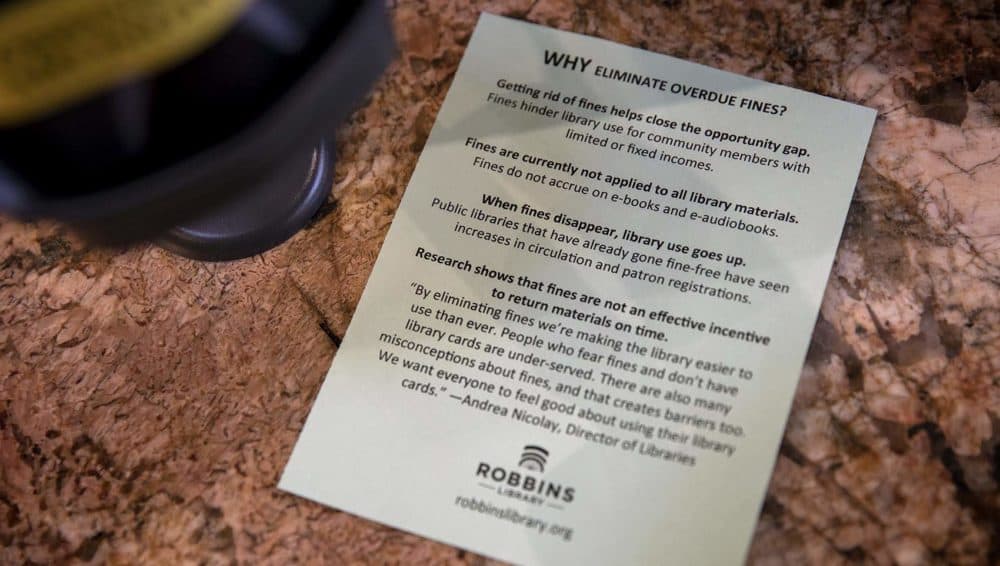 Cannon adds the mere existence of fines prevents people from coming to the library.
"I had a gentleman come in and say, 'I've been dreading this. This is really overdue,' " Cannon says. "And I said, 'Guess what? It's your lucky day. We've just gone fine free.' And I said, 'Go find something else to take home.' Just a sense of relief."
It's a sense of relief librarian Linda Dyndiuk hopes will get more people in the door. She says fees hurt people who benefit most from access to free materials.
"It affects people who are poor more than people who can afford to pay the fines," Dyndiuk says. "Because if you can afford to pay any fines, whatever, you pay them without thinking about them. It's not the sort of fairness and equity that we want to have here."
There are few people who don't like the new library policy. But, up on the third floor — the quietest devoted reading area — you'll encounter some skepticism.
Jim Muzzi comes to the library at least once a week. He has some reservations.
"I'm just concerned that the library will lose some revenue for not charging for late books," he says, a book about the band The Who in hand.
But Robbins Library Director Andrea Nicolay says the library didn't financially benefit from overdue charges.
"The library fines and fees don't come back to the library," she said. "For the town of Arlington, fines and fees would go to the general fund, and that's the case for quite a few municipalities."
Since the change, librarians say they haven't seen an increase in late books.
Tuller, whose books are months late, says she loves the library and wants to return the books so others can enjoy them.
"Libraries are one of the great ideas of civil society," she says. "We all share the ownership and the use of all this information and recreation."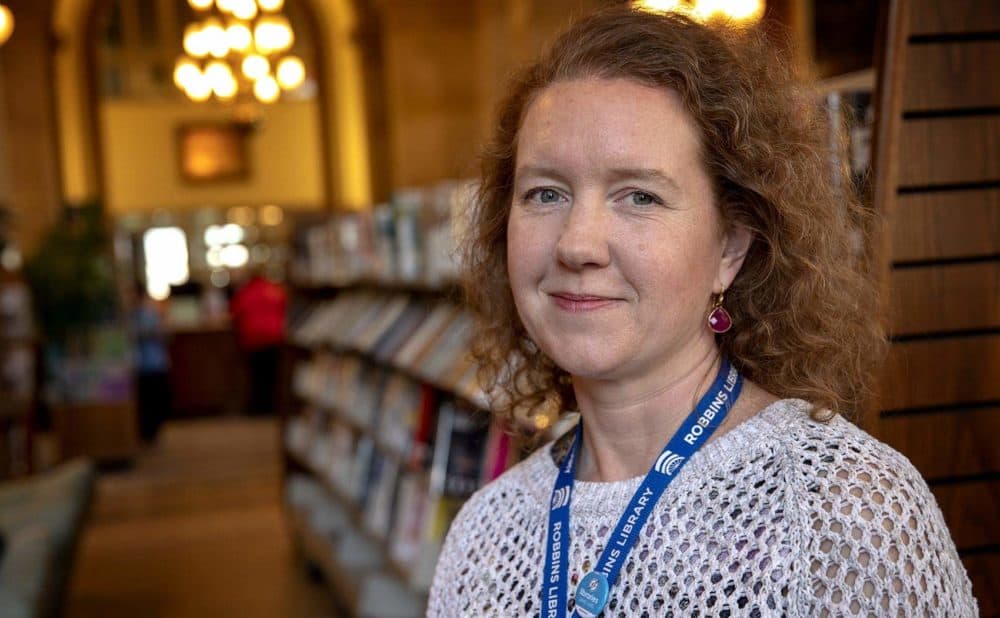 But library director Nicolay says in order for "one of the great ideas of civil society" to work, people need to return their books when they're due. Just because the library is fine free doesn't mean people are absolved of responsibility.
"If you want to use the library again," Nicolay says, "search your car or under your beds for the material and then bring it back."
People who don't bring their books back have a hold placed on their account. And if the materials are lost, they'll have to pay a replacement fee — about $20.
But Nicolay says the end goal of getting rid of late charges is to encourage more library use. Something that may be long overdue.
This segment aired on April 18, 2019.