'Black Odyssey Boston' Mixes African-American Oral History With Homer's Classic Tale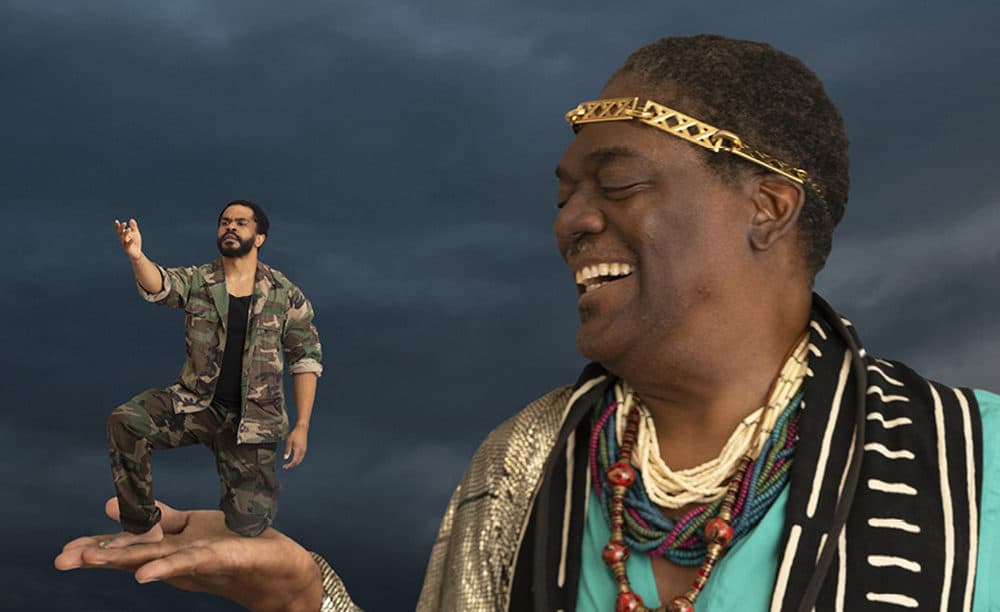 This article is more than 3 years old.
At Central Square Theater in Cambridge, about a dozen creatives of color sit at tables in a black walled room to rehearse. The actors' voices boom and change timbre as they read their characters' lines in preparation for an upcoming performance. The vibe of the group, members of The Front Porch Arts Collective, a black-led theater company, feels more like a gathering of old friends at dinner than a rehearsal.
They're working on the epic play, "black odyssey boston," which runs April 25 through May 19. This subversive take on Homer's classic tale by playwright Marcus Gardley, combines the elements of Boston, informed by interviews with key residents of color, with Greek mythology, African-American oral history and music.
The basic gist of Odysseus' (Ulysses in Roman myths) story remains the same. But, in "black odyssey boston," directed by Benny Sato Ambush, Ulysses Lincoln, (Brandon Green), is a Gulf War veteran presumed dead who fights to find his way back home — both physically and metaphorically — to wife Nella Pell (Elle Borders, who is Green's real-life wife), and son Malachi. During the journey Green says, "Ulysses learns to confront his past, to confront the dark parts of himself, and in doing so, brings out more of his light."
In the midst, intrusive gods, Great Grand Daddy Deus (Johnny Lee Davenport) and Great Grand Paw Sidin (Regie Gibson) struggle to control Ulysses' fate, as bits and pieces of the diaspora — like Afro Cuban chants, references to Martin Luther King Jr. and Tina Turner — add color and depth. Deus and Paw Sidin set the tone in Act 1. The two play a game of chess and partake in verbal sparring reminiscent of the dozens.
"We've been playing this chess game for 136 years," Davenport says. (That's how many years it's been since slavery was abolished, since the play starts in 2001.)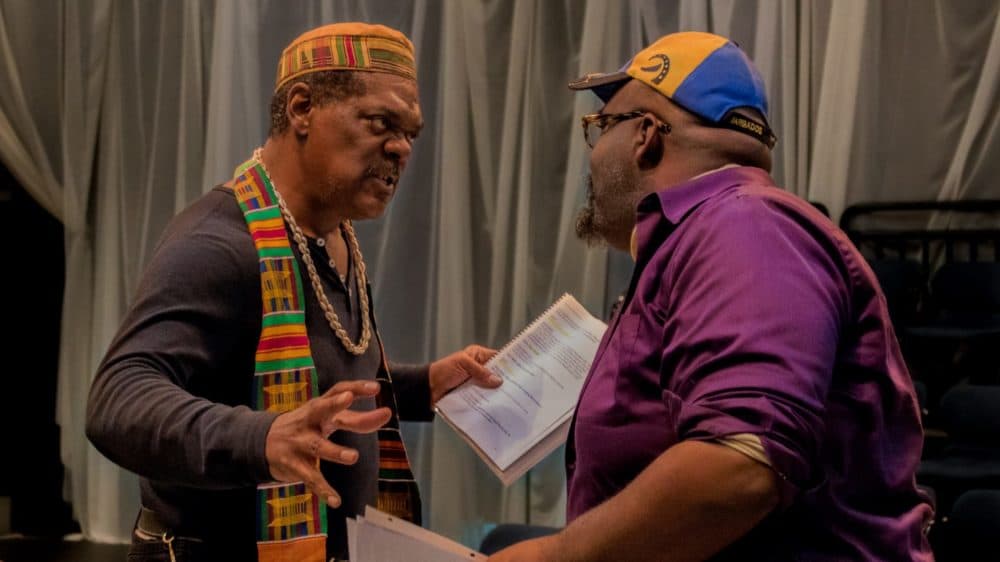 When Front Porch founders Dawn Simmons, accomplished director and executive director at StageSource along with seasoned director, actor and educator Maurice Emmanuel Parent, got in touch with Gardley about staging the play, he asked them to "identify people that we thought could really speak to the history of the city," Simmons said. He used those interviews to learn about and incorporate neighborhoods such as Beacon Hill, Hyde Park and Mattapan, along with a nod to the MBTA, into the script.
The young company, in residence at Central Square Theater, seeks to "advance racial equity in Boston through theater." The team takes a multi-pronged approach to engage artists of color on and off stage. (Full disclosure: WBUR partnered with Front Porch to run a young theater critics workshop this spring.) "We're building programs to affect change," Parent says.
The timing couldn't be better. Parent shared that when he and Simmons were getting serious about The Front Porch, The Boston Globe's series on race came out. The data backed up "what we've all known, we've all felt … if art is the consciousness of society, this sector needs to get it right and hopefully it'll have ramifications all over the city," he said.
Simmons and Parent intend to hit the mark. "There's an existential shift in this city to support artists of color, particularly black artists right now [and] we are definitely capturing the zeitgeist," Simmons explained.
But why is a culturally-specific theater needed?
Borders thinks "We miss something when we ignore affinity. We can be a human tribe and a collective, and still cleave to identities that are deeper than whole," she told me. "When we try to issue that as something that's reductive or something that's passé, we're really missing a unique opportunity to understand that specificity is the universal."
Judging from their previous roles, Borders and other cast members think it's important to represent people they look like and those they don't.
Borders was Hermia/Quince in Actors' Shakespeare Project's "Midsummer's Night Dream," and Davenport has starred in "Gilgamesh," and "Othello," which, he said, angered the late August Wilson, famed playwright who was "adamant about black people doing black theater," with whom Davenport worked. But they've also highlighted equally important characters of color. Green was Nat Turner in ASP's "Nat Turner in Jerusalem," and Davenport put on "Thurgood," a one-man show about the late activist and former Supreme Court Justice Thurgood Marshall.
Now, "black odyssey boston" provides an opportunity to reach people who don't see themselves represented regularly, Borders explained, but it's also "for people who do, to see themselves represented in a different identity. If you can see yourself in the other, then the other isn't so foreign to you, the other isn't an enemy, the other isn't something to be afraid of. It's something to connect with."
---
"black odyssey boston" is at Central Square Theater in Cambridge from April 25 through May 19.  The play is co-produced by Underground Railway Theater.